Bathonea (Turquie) : a substantial harbor town dating from the second century B.C
Bathonea (Turquie) : a substantial harbor town dating from the second century B.C
After Being Stricken by Drought, Istanbul Yields Ancient Treasure
Jennifer Pinkowski
Source - http://www.nytimes.com/2012/01/24/science/istanbul-yields-a-treasure-trove-in-ancient-bathonea.html?_r=1&nl=todaysheadlines&emc=tha210
For 1,600 years, this city — Turkey's largest — has been built and destroyed, erected and erased, as layer upon layer of life has thrived on its seven hills.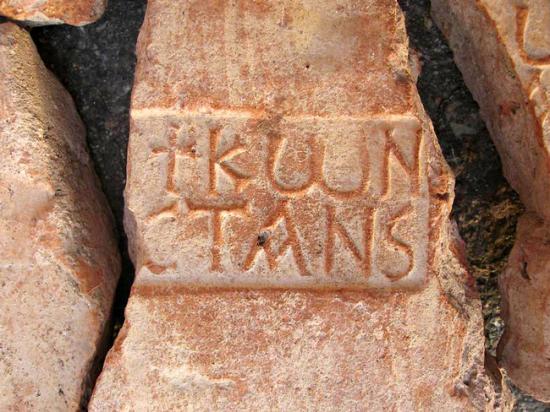 Haldun Aydingun - Hundreds of bricks stamped Konstans, made in Constantinople starting in the fifth century, were found at Bathonea.
Today, Istanbul is a city of 13 million, spread far beyond those hills. And on a long-farmed peninsula jutting into Lake Kucukcekmece, 13 miles west of the city center, archaeologists have made an extraordinary find.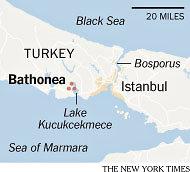 The find is Bathonea, a substantial harbor town dating from the second century B.C. Discovered in 2007 after a drought lowered the lake's water table, it has been yielding a trove of relics from the fourth to the sixth centuries A.D., a period that parallels Istanbul's founding and its rise as Constantinople, a seat of power for three successive empires — the Eastern Roman, Byzantine and Ottoman.
While there are some historical records of this early period, precious few physical artifacts exist. The slim offerings in the Istanbul section of the Archaeological Museums here reflect that, paling in comparison with the riches on display from Anatolia, Mesopotamia and Lebanon.
So Bathonea (pronounced bath-oh-NAY-uh) has the potential to become a "library of Constantinople," says Sengul Aydingun, the archaeologist who made the initial discovery.
After the drought exposed parts of a well-preserved sea wall nearly two and a half miles long, Dr. Aydingun and her team soon saw that the harbor had been equipped with docks, buildings and a jetty, probably dating to the fourth century. Other discoveries rapidly followed. In the last dig season alone, the archaeologists uncovered port walls, elaborate buildings, an enormous cistern, a Byzantine church and stone roads spanning more than 1,000 years of occupation.
"The fieldwork Sengul has conducted over the last few years is spectacular," said Volker Heyd, an archaeologist at the University of Bristol in England who surveyed Bathonea for two field seasons. "The discoveries made are now shedding a completely new light to the wider urbanized area of Constantinopolis. A fantastic story begins to unveil."
In 2008, for example, Hakan Oniz, an archaeologist from Eastern Mediterranean University who specializes in underwater research, investigated a structure in the lake that local lore held was some kind of mystical minaret that appeared and disappeared in relation to the rate of sinful behavior by nearby villagers. The ruins, about 800 feet from shore, may have been a lighthouse.
Since then, Dr. Aydingun's team and researchers from eight foreign universities have found a second, older port on the peninsula's eastern side, its Greek influences suggesting that it dated to about the second century B.C.
Nearby, atop the round foundations of a Greek temple, they found the remains of a fifth- or sixth-century Byzantine church and cemetery with 20 burials, and a large stone relief of a Byzantine cross. Coins, pottery and other artifacts indicate that the church suffered damage in the devastating earthquake of 557 but was in use until 1037, when a tremorleveled it — crushing three men whose bodies were found beneath a collapsed wall, along with a coin bearing the image of a minor emperor who ruled during the year of the quake.
After bushwhacking through nettle-choked underbrush a mile and a half north of the harbor, the researchers excavated a 360-by-90-foot open-air cistern or pool, as well as walls and foundations from several multistory buildings that may have been part of a villa or palace altered over many centuries.
Because the archaeologists are at the beginning of a multiyear dig at a site not known from historical sources, they are hesitant to draw many conclusions. Even the name Bathonea is a placeholder, inspired by two ancient references: the first-century historian Pliny the Elder's "Natural History," which refers to the river feeding the lake as Bathynias; and a work by a ninth-century Byzantine monk, Theophanes, who called the region Bathyasos.
"There is a big question mark over the name," Dr. Aydingun said. "It's too early to say. But the name is not important. The important thing to note is that there are buildings, roads" where "people thought there was nothing."
"But there's something there," she went on. "We need a lifetime to discover what it is. But even by next year, we'll be able to say more."
The archaeologists know this much: The site was large. It sprawled across at least three square miles, and its sea wall is nearly half the length of the one that surrounded Constantinople itself. It was moderately wealthy; the region was a country retreat for the urban elite, drawn by its fertile hunting grounds and Lake Kucukcekmece itself, the freshwater body closest to the city. They built villas and palaces all around the region.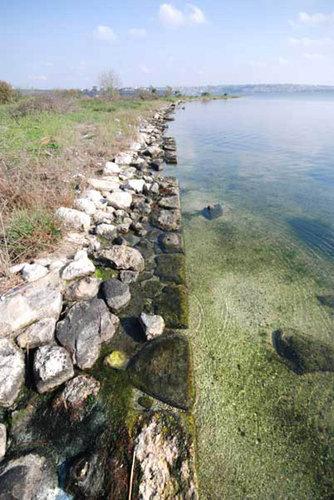 Haldun Aydingun - A sea wall dating to the fourth century extends two and a half miles around ancient Bathonea, on a peninsula in Lake Kucukcekmece.
Roman glass and high-end pottery dating as late as the 14th century were found throughout the site. Marble, including a gorgeous milky-blue variety, lined the walls and floors of the church and at least one of the buildings.
Also discovered were hundreds of bricks stamped "Konstans," which were produced in Constantinople beginning in the fifth century and had mostly been discovered at imperial sites like Hagia Sophia, the sixth-century architectural marvel and primary cathedral of the Byzantine Empire for almost 900 years, and nearby Rhegion, a fifth-century compound on a hill across the lake from Bathonea, overlooking the Marmara Sea.
Bathonea was also well connected. Some pottery was made as far away as Palestine and Syria, typical of places with access to foreign goods. It had wide stone roads, the earliest dating to the Roman era.
But its relationship to Constantinople is still unclear. "I like the idea of Bathonea as a satellite port of a major city," said Bradley A. Ault, a classical archaeologist with the University at Buffalo who has studied ancient port cities in Greece and Cyprus. "It falls in line with Athens and Piraeus, Rome and Ostia."
If that is the case, the port may have served as a safe harbor on protected waters outside the city walls for both commercial ships and the imperial naval fleet. "In the fifth century, they had a major fleet around Constantinople," said Robert Ousterhout, a Byzantine scholar at the University of Pennsylvania. "They had ports around the Golden Horn and the Marmara."
Now 13 to 65 feet deep, Lake Kucukcekmece would have been a deep bay navigable by ships of all sizes, Dr. Aydingun said. Sonar has revealed what may be six Byzantine iron anchors buried in the sand just offshore, and nails commonly used in shipbuilding were unearthed at the site.
In recent years, Istanbul has been the scene of several stunning discoveries during salvage archaeology digs, most notably at the Yenikapi transit project, which unearthed a remarkable array of shipwrecks. No shipwrecks have been found at Bathonea; nor are they likely to be anytime soon, said Mr. Oniz, the underwater archaeologist. The lake is so polluted by industrial runoff that diving in it is dangerous, he said. A new water-treatment facility may make exploration possible within a few years.
The Bathonea archaeologists also hope to uncover more artifacts dating to the earliest days of civilization. In 2007, Dr. Aydingun and Emre Guldogan of Istanbul University found 9,000-year-old flint tools at the site that could be evidence of the earliest pre-pottery farming settlement in Europe. Bathonea's role — and its real name — can be determined only through further study, Dr. Aydingun said.
Ground-penetrating radar has indicated that extensive structures remain beneath the soil. And as all of their efforts have been focused on the waterfront, the archaeologists have yet to investigate the patches of trees and brush farther inland that farmers have long avoided because their plows cannot cut through them.
Dr. Aydingun suspects there is a good reason for that. "I think all of these buildings continue," she said. "Can you imagine?"