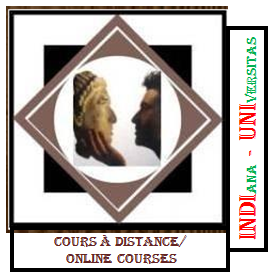 INSTITUT SUPERIEUR D 'ANTHROPOLOGIE
INSTITUTE OF ANTHROPOLOGY
ONLINE COURSES / COURS A DISTANCE
WINTER TERM : January 2017
REGISTER NOW

FORMEZ VOUS A DISTANCE AU METIER DE VOS RÊVES , POUR VIVRE VOTRE PASSION.
COMMENCEZ VOTRE FORMATION DES AUJOURD'HUI
POUR SEULEMENT 60 EUROS PAR MOIS
INSCRIPTIONS
- cours ARC 100: Introduction à l'Archéologie
- cours ANT 100: Introduction à l'Anthropologie Culturelle
(la validation de ces cours donnent accès à l'inscription pour un CSA /DSA en 2018)
- autres cours
LA UNE : 09/12/2016
REVUE DE PRESSE
*
Canada – Indigenous site dating back 2,200 years on Exploits River
*
Iles Salomon - Archaeologists find huge amounts of lithic products
*
USA - Mystery surrounds Bottle Creek Indian Mounds
*
Turquie - Stained glass evidence of high living standards in ancient Bathonea
*
France - Un site de l'Âge du bronze mis au jour à Bayeux
*
Russie - Tsymlyansk :Dozens of 1300-year-old horse bits found
*etc.
*
Lithuanie: Virus found in child mummy suggests recent rise of deadly smallpox
*
Small Mutation Contributed to Evolution of Bigger Human Brains
*

Development of new techniques makes it possible to date Australian Aboriginal rock art
*
Were Neanderthals Religious?
*
Tell Qarassa North (Syrie): first to domesticate cereals
ARCHEOLOGIE
*
Barovo (Macédonia):Archeological Research Explore First Antique Temple
*
Analysis of Iron Age ceramics suggests complex pattern of Eastern Mediterranean trade
*
Sutton Hoo (G-B):Scientists discover new material from ship burial
*

Pylos (Grèce): Lord of the Rings, new findings from warrior's tomb
*

Mexico (Mexique): Archaeologists uncover 650-year-old circular temple to god of wind
PATRIMOINE
*

Jordanie : Aerial photography shows off archaeological treasures—and reveals sites at risks​
EXPOSITIONS
*
Vikings​
*

The Golden Age of King Midas
*
"Kesavinyas" : Hairstyles from ancient and medieval India
ARCHEOTECHNO
*
Finding a perfect match using underground insight from the Cayman Islands
*
New technologies and tools to map and protect underwater treasur
*

New digital tools could help speed up cultural heritage work
*

Synchrotron reveals lost archaeological information
*

Robot archaeologists: taking the risks out of underwater fieldwork
ARCHEOSTORIES
*
'Ruins In Reverse': Abandoned Star Wars Sets
ARCHEOCINENEWS
*
Anthropologist Richard Leakey asks for less sex and violence in a film about his life, starring Brad Pitt​