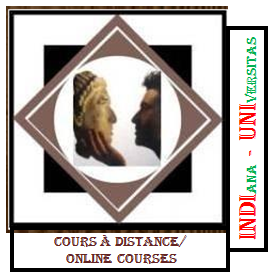 INSTITUT SUPERIEUR D 'ANTHROPOLOGIE
INSTITUTE OF ANTHROPOLOGY
ONLINE COURSES / COURS A DISTANCE
WINTER TERM :JANUARY 2018
REGISTER NOW

FORMEZ VOUS A DISTANCE AU METIER DE VOS RÊVES , POUR VIVRE VOTRE PASSION.
COMMENCEZ VOTRE FORMATION DES AUJOURD'HUI
POUR SEULEMENT 80 EUROS PAR MOIS
INSCRIPTIONS
- cours ARC 100: Introduction à l'Archéologie
- cours ANT 100: Introduction à l'Anthropologie Culturelle
(la validation de ces cours donnent accès à l'inscription pour un CSA /DSA en 2019)
- autres cours
LA UNE : 23/02/2018
REVUE DE PRESSE
*
G-B - Vindolanda: Archaeologists Unearthed A Pair Of Scary Looking Ancient Roman Boxing Gloves
*
G-B - Chester: Archaeologists find Roman barrack block
*
Inde – Oil press belonging to 10th century C.E. near Andipatti with a Tamil script
*

Turquie - Ancient road destroyed in Aydın
*etc.
Traces of indigenous 'Taino' in present-day Caribbean populations​
Interdisciplinary approach yields new insights into human evolution​
Doubts on Early Humans in California​
Gough's Cave (G-B): Cheddar Man Had Dark Skin
Grosseto (Italie): Could these be the oldest Neandertal tools made with fire?​
ARCHEOLOGIE
Angamuco (Mexique): Laser scanning reveals 'lost' ancient Mexican city 'had as many buildings as Manhattan
Avendaños Cave (Mexique): What Was This 2,000-Year-Old Parrot Mummy Doing in Mexico?
Mésopotamie: Clay tablets from the cradle of civilisation provide new insight to the history of medicine
Gird-i Shamlu (Iraq): Riddles in time and space
Edfou (Egypte): Newly discovered buildings reveal clues to ancient Egyptian dynasties
PATRIMOINE
*

Jordanie : Aerial photography shows off archaeological treasures—and reveals sites at risks​
EXPOSITIONS
5,000 Years of Native American Moundbuilding
*
Vikings​
*

The Golden Age of King Midas
ARCHEOTECHNO
*
Finding a perfect match using underground insight from the Cayman Islands
*
New technologies and tools to map and protect underwater treasur
*

New digital tools could help speed up cultural heritage work
*

Synchrotron reveals lost archaeological information
*

Robot archaeologists: taking the risks out of underwater fieldwork
ARCHEOSTORIES
*
'Ruins In Reverse': Abandoned Star Wars Sets
ARCHEOCINENEWS
*
Anthropologist Richard Leakey asks for less sex and violence in a film about his life, starring Brad Pitt​