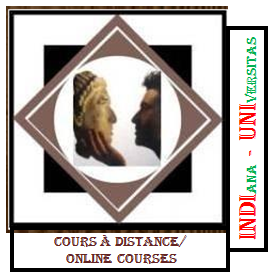 INSTITUT SUPERIEUR D 'ANTHROPOLOGIE
INSTITUTE OF ANTHROPOLOGY
ONLINE COURSES / COURS A DISTANCE
WINTER TERM : JANUARY 2019
REGISTER NOW

FORMEZ VOUS A DISTANCE AU METIER DE VOS RÊVES , POUR VIVRE VOTRE PASSION.
COMMENCEZ VOTRE FORMATION DES AUJOURD'HUI
POUR SEULEMENT 80 EUROS PAR MOIS
INSCRIPTIONS
- cours ARC 100: Introduction à l'Archéologie
- cours ANT 100: Introduction à l'Anthropologie Culturelle
(la validation de ces cours donnent accès à l'inscription pour un CSA /DSA en 2019)
- autres cours
LA UNE : 15/11/2018
REVUE DE PRESSE
*
Bolivie - Mazo Cruz : Archaeologists discover 15th century indigenous tombs
*
USA – Coronado : Traces of 16th-Century Battle Found
*
Israel - Face depicting Jesus Christ discovered at ancient church in Negev Desert
*
Egypte -Kom Ombo : Skeleton of heavily pregnant wonan with broken pelvis found
*etc.
Skull damage suggests Neandertals led no more violent lives than humans​
Archaeologists can determine a person's sex by analyzing a single tooth
Ancient DNA analysis yields unexpected insights about peoples of Central, South America​
Did Rampant Inbreeding Contribute to Early Humans' High Rate of Skeletal Deformities?​
Lubang Jeriji Saléh cave (Borneo) : World's 'oldest figurative painting' discovered​
ARCHEOLOGIE

Linzi (Chine) : Hundreds of Tiny Terracotta Warriors Found Guarding 2,100-Year-Old Site
Tenea (Grèce) : Ancient Lost City Has Been Found
Atacama (Chili) : Ceremonial Complexes Revealed
Hatnub (Egypte) : This 4,500-Year-Old Ramp Contraption May Have Been Used to Build Great Pyramid

Doliche (Turquie) : When the Syrians bathed like the Romans
PATRIMOINE
*

Jordanie : Aerial photography shows off archaeological treasures—and reveals sites at risks​
EXPOSITIONS
5,000 Years of Native American Moundbuilding
*
Vikings​
*

The Golden Age of King Midas
ARCHEOTECHNO
*
Finding a perfect match using underground insight from the Cayman Islands
*
New technologies and tools to map and protect underwater treasur
*

New digital tools could help speed up cultural heritage work
*

Synchrotron reveals lost archaeological information
*

Robot archaeologists: taking the risks out of underwater fieldwork
ARCHEOSTORIES
*
'Ruins In Reverse': Abandoned Star Wars Sets
ARCHEOCINENEWS
*
Anthropologist Richard Leakey asks for less sex and violence in a film about his life, starring Brad Pitt​