PART.2
Artifacts included bronze bowls originating in Persia, some 3,700 miles to the south-west, dating from the tenth or eleventh centuries. One of the burials dates to 1282, according to a study of tree rings, while others are believed to be older. 
The researchers found by one of the adult mummies an iron combat knife, silver medallion and a bronze bird figurine. These are understood to date from the seventh to the ninth centuries. 
Unlike other burial sites in Siberia, for example in the permafrost of the Altai Mountains, or those of the Egyptian pharaohs, the purpose did not seem to be to mummify the remains, hence the claim that their preservation until modern times was an accident.
The soil in this spot is sandy and not permanently frozen.A combination of the use of copper, which prevented oxidation, and a sinking of the temperature in the 14th century, is behind the good condition of the remains today.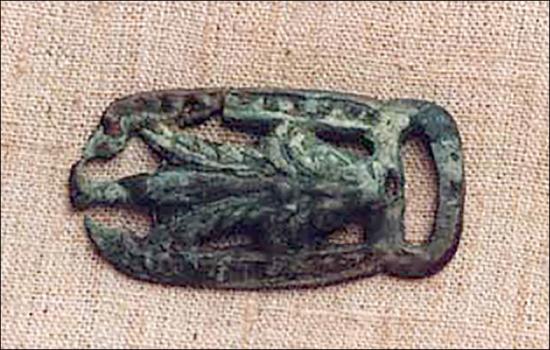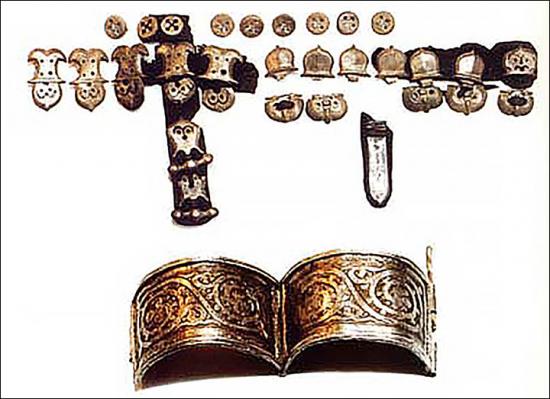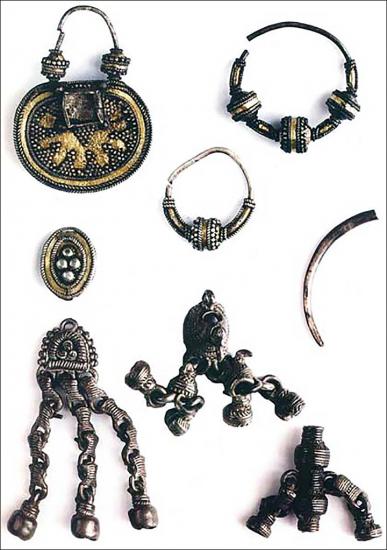 Belt buckle, fragments of the belt, bracelet and silver decorations researchers found inside the burials. Pictures: Natalya Fyodorova
Natalia Fyodorova, of the Ural branch of the Russian Academy of Sciences, said: 'Nowhere in the world are there so many mummified remains found outside the permafrost or the marshes. 
'It is a unique archaeological site. We are pioneers in everything from taking away the object of sandy soil (which has not been done previously) and ending with the possibility of further research.'
In 2002, archeologists were forced to halt work at the site due to objections by locals on the Yamal peninsula, a land of reindeer and energy riches known to locals as 'the end of the earth'.
The experts were disturbing the souls of their ancestors, they feared. However, work is underway again, including a genetic study of the remains headed by Alexander Pilipenko, research fellow of Institute of Cytology and Genetics, Siberian Branch of the Russian Academy of Sciences.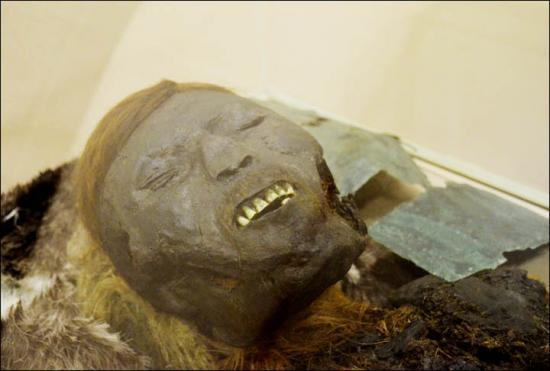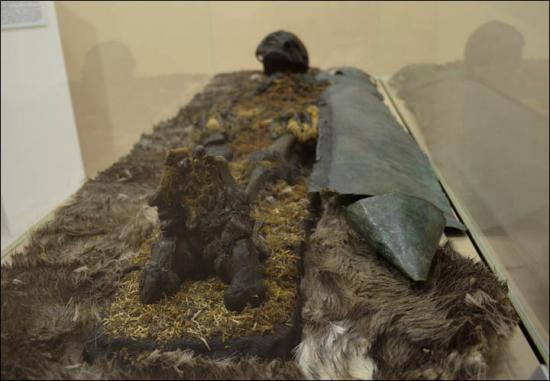 'Nowhere in the world are there so many mummified remains found outside the permafrost or the marshes'. Pictures: Kate Baklitskaya, Go East
Fyodorova suggests that the smashing of the skulls may have been done soon after death 'to render protection from mysterious spells believed to emanate from the deceased'.
With work underway again, archeologists hope for clearer answers.