Zaoyang (Chine): 30 tombs, 28 chariots and 98 horse skeletons dating back 2,800 years found
Zaoyang (Chine): 30 tombs, 28 chariots and 98 horse skeletons dating back 2,800 years found
Mary-Ann Russon
Source -http://www.ibtimes.co.uk/china-30-tombs-28-chariots-98-horse-skeletons-dating-back-2800-years-found-hubei-1482500
Archaeologists from Peking University have discovered a group of 30 tombs, 28 chariots and 49 pairs of horse skeletons dating back 2,800 years in Zaoyang city, Hubei Province in China.
The tombs are believed to belong to high-ranking Chinese nobility and date back to the Spring and Autumn Period in Chinese history (770-476BC).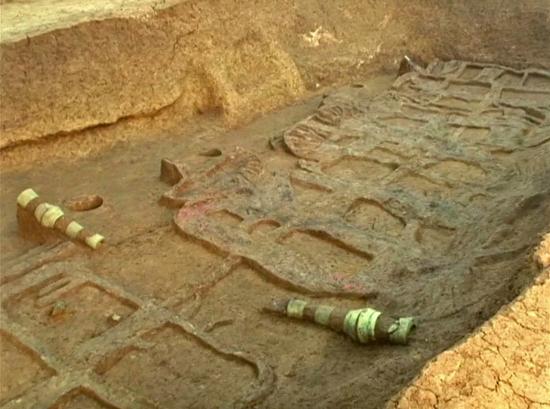 28 Chariots from the Spring and Autumn Period have been found buried side by side together(CCTV, Reuters)
All the tombs have been found on the same piece of land, with a separate "mass grave" of at least 28 wooden chariots buried together on their sides in a pit that measures 33m long by 4m wide.
"This chariot and horse pit is different from those discovered previously along the Yangtze River. The chariots and horses were densely buried," Liu Xu, a professor from School of Archaeology and Museology of Peking University told China Central Television (CCTV).
"Many of the wheels were taken off and the rest parts of the chariots were placed one by one."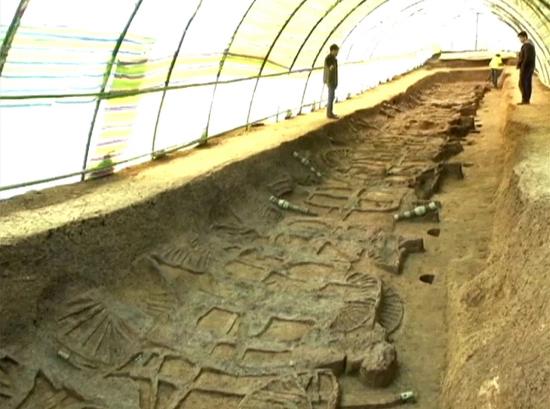 The chariots lie side-by-side in a long pit measuring 33m by 4m(CCTV, Reuters)
At least 49 pairs of horse skeletons (98 horses in total) were buried together in a pit. Two horses would have pulled a chariot together(CCTV, Reuters)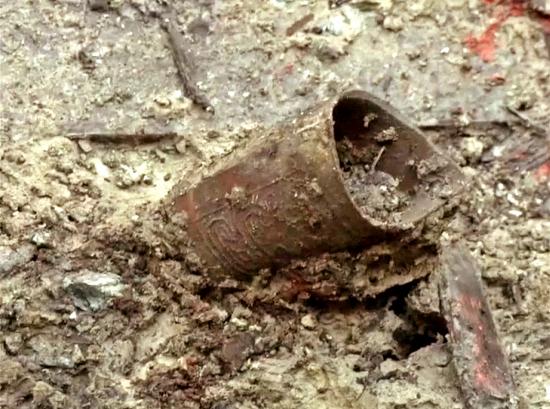 A beautifully inscribed metal object being unearthed from the tomb(CCTV, Reuters)
In the three months they have been excavating, the archaeologists have also unearthed another pit, five metres away from the chariot pit, which holds at least 49 pairs of horse skeletons.
"Judging from the way the horses were buried, they were buried after they were killed, as there was no trace of struggle. Second, it is the way they were laid...back to back, lying on their sides. It means that two horses pull one chariot," said Huang Wenxin, researcher from the provincial archaeological institute.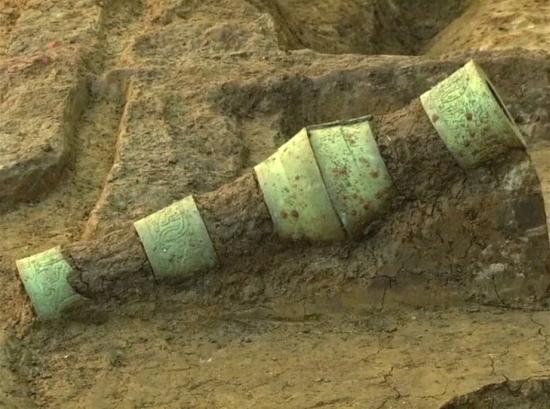 A long engraved bronze object that could have been the axle for a chariot(CCTV, Reuters)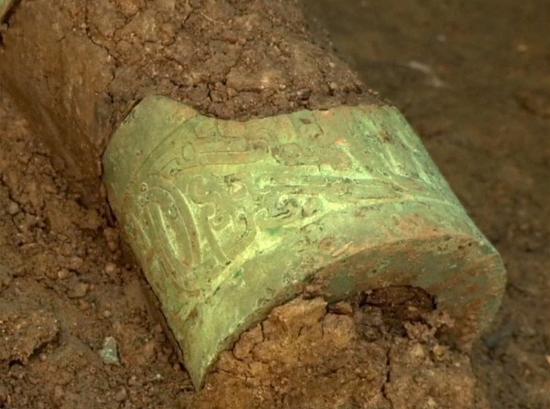 Close up of the engravings on the chariot axle(CCTV, Reuters)