Xinhuanet
Source - http://www.kaogu.cn/en/detail.asp?ProductID=4360
Archaeologists with the Chinese Academy of Social Sciences say they have excavated an ancient cluster of rare Zoroastrian tombs on the Pamirs Plateau, in west China's Xinjiang Uygur Autonomous Region.
Photo of the site
The tombs were found in Xinjiang's Taxkorgan Tajik Autonomous County, a region neighboring Afghanistan and Pakistan, at an altitude of 3,050 meters.
Carbon dating indicates the tombs were constructed 2,500 years ago during the Spring and Autumn Period.
They were arranged on a platform, with lines of black and white stones stretching alongside like sun rays.
"The ray-like stone strings like sunshine and the black-and-white arrangement symbolize light and dark, good and evil. They are basic elements in Zoroastrian theory. They are clearly symbolic of Zoroastrianism," said Wu Xinhua, head of the archaeology team.
A Zoroastrian "flame pot" was also found in the tomb. About 30 centimeters in diameter, this round wooden pot had 15 burned pebbles inside. It might be the oldest such pot ever discovered.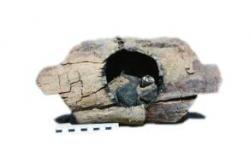 Wooden pot
Other Zoroastrian aspects of the tombs included their setting on high, open land, with water to the front and mountains to the rear; and the fact that the remains appeared to have been disinterred and reburied, in accordance with Zoroastrian custom.
A bamboo comb, silk cloth, woolen fabrics, and agate pearls from Mesopotamia were also found. Some of items were from south and east China, and some were from Persia (today's Iran) or central Asia, indicating the major cross-cultural junction of the Pamirs Plateau might have been the birthplace of Zoroastrianism.

Eyebrow pencil from the tomb
"If it proved true, it would be the most significant finding in this discovery," Wu said.
One of the world's oldest religions, Zoroastrianism is based on a good-and-evil dualism, with a focus on the worship of fire even in the afterlife, explaining the "flame pot" in the tombs.