Chinese Institute of Archaeology
Source - http://www.kaogu.cn/en/detail.asp?ProductID=3651
In April 2012, an excavation has been conducted by Xi'an Municipal Institute of Archaeology in coordination with an infrastructure project at the Wanda Square in the Daminggong Palace area in Xi'an, which uncovered 15 tombs from Han Dynasty. Although having been looted many times in the history, these tombs, mostly in a large size, maintain a patch of valuable artifacts, especially 11 porcelains from the Tomb M5, providing important materials for studying Han Dynasty tombs in Xi'an as well as the Han culture.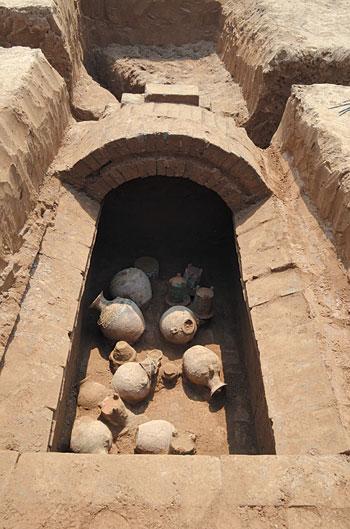 The tombs may be grouped under three types according to their shapes and structures: Type I, pit tombs containing a brick-built chamber, including Tomb M3 and M7; Type II, catacombs with a shaft type passage, including Tomb M8, M9 and M13, with M8 and M9 containing a brick chamber; and Type III, catacombs with a sloping passage, including the other 9 tombs, some of which are multi-chambered, and some are filled with sand in different parts.
The unearthed artifacts totaled more than 170, with ceramics taking the largest number, including gray clay type and glazed red clay type. They are shaped as various models of tripods, pots, jars, lamp, incense burner, table, plate, granary, kitchen range, Zun vessel, cauldron, and models of well, pig, dog, chicken and duck. Bronze objects include mirrors, coins, horses and chariots fittings and crossbows. There are also other items like Jade fillings of mouth, nostril, anus and hand, stone ink slabs, glass ear pendants and shells. 11 primitive porcelain wares have been found in the Tomb M5, including 2 similar jars and 9 double-eared pots.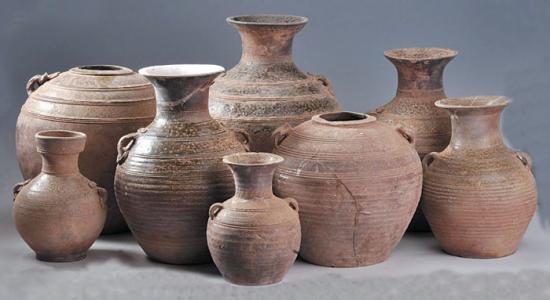 The 15 tombs could be given a date according to their forms and burial complex. Tomb M1 and M2 could be from no later than mid- and late East Han Dynasty. The other 12 tombs could be dated to late West Han period remains, and Tomb M14 could be dated back even to mid- and late West Han Dynasty. The region where the cemetery lies is about 4,800 m east by south to the Chang'an city-site of Han period. Therefore it is in high possibility that the tomb occupants were locals from the capital city. Some tombs show signs of high social status, such as the large tomb size, use of skylights and corridors, being filled with sand as prevention to tomb-robbing, especially the burial of 11 primitive porcelains. According to previous excavations the primitive porcelains were mostly sighted in middle and large sized tombs, and rare in small ones. The phenomena that one tomb contains 11 then-precious objects is also unusual. These findings provide very important materials for researching the Han period primitive porcelains in Xi'an region.      (Translator: Tong Tao)