XI'AN (Chine) - Ancient Xi'an tomb ready to reveal secrets
XI'AN (Chine) - Ancient Xi'an tomb ready to reveal secrets
Ancient Xi'an tomb ready to reveal secrets
Source - http://english.eastday.com/e/110409/u1a5830397.html
XI'AN - Chinese archaeologists prepared to excavate a tomb built more than 2,000 years ago in the ancient capital of Xi'an.
The tomb, discovered in a southern suburb of the city, which is now the capital of Northwest China's Shaanxi province, could help experts study the Western Han Dynasty (206 BC - AD 24).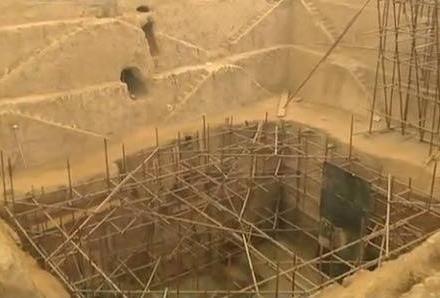 Ding Yan, a research assistant of the Shaanxi provincial institute of archaeology and head of the tomb archaeological excavation site, said the tomb was the only one not robbed among the 14 tombs in the family cemetery of Western Han general Zhang Anshi (? - 62 BC).
"The tomb might be the tomb of Zhang Anshi's daughter-in-law," Ding said.
To protect relics in the tomb, the archaeologists inserted a small optic tube to examine the inside environment.
"We saw a number of relics by looking at the inside of the tomb and took photos with the equipment. With the information we got from the examination we can prepare to preserve the relics being unearthed from the tomb," Ding said.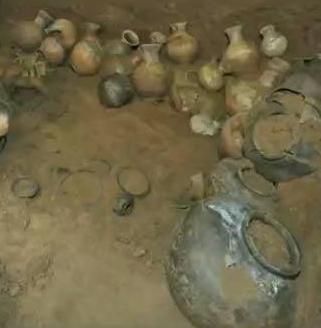 On Thursday, experts from the Institute of Earth Environment under the Chinese Academy of Sciences extracted some gas from the tomb for examination.
Cao Junji, a researcher and deputy director of the institute, said that it was the first time they had extracted gas from an ancient tomb in China and it was rare during archaeological excavations in other countries.
Cao said the oxygen content inside the tomb was about 19 percent, compared with 21 percent in normal air.
"From the gas taken out from the tomb we learned that there is about 1,000 times the methane gas content of normal air and about 10 times the carbon dioxide content inside the tomb," Cao said.
According to historical records, Zhang Anshi once assisted three emperors of the Western Han Dynasty in securing their rule. He had three sons, and his second son, Zhang Yanshou, was given a rank of nobility by the emperor.
Zhang Anshi's cemetery, which covers an area of nearly 61,600 sq m, was found in 2007 when the city developed an industrial park.
"In the past three years, we have excavated some 40,000 sq m in the cemetery, unfortunately, most of the tombs were robbed, but we still found more than 2,000 pieces of precious relics including bronze, gold, silver, pottery jade and pottery figures," Ding said.
The tomb chamber is scheduled to be opened on Saturday or Sunday if conditions are suitable, Ding said.
Source:China Daily