700-year-old Ming tomb discovered in Xi'an
CNTV.CN
Source - http://www.kaogu.cn/en/detail.asp?ProductID=3212
Compared with the rich tomb sites of Han and Tang dynasties, there are few sites of Ming dynasty discovered. But recently, a tomb from Ming dynasty dating back to 700 years ago has been discovered in Xi'an, Shannxi Province.
Meanwhile, a group of tomb sites dating back to 1600 years ago has also been found at a construction site. Both discoveries have great archaeological value.
The tomb that dates back to the Ming dynasty has four rooms featuring beautiful carvings on its doors. The rooms were made of stone, and the gap between the stones were sealed with a special material that made the tomb environment very stable.
Wang Wangsheng, researcher of Shaanxi Archaeological Research Inst., said, "The main room of the tomb hasn't been opened or evacuated. There are some blue and white porcelain pieces outside the main tomb room. Inside the main tomb, there may be some porcelain works and perhaps some surprises will be waiting for us."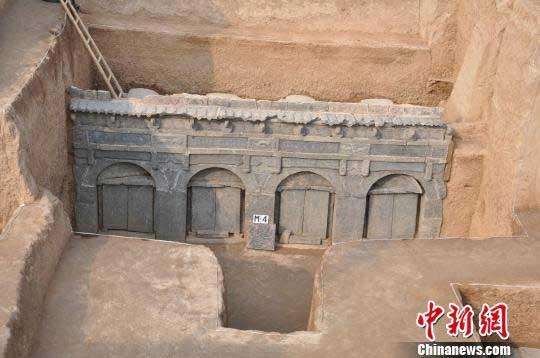 According to the record on the tomb, the owner of the tomb is an officer called "Zhang Sanhuai" who served during the Wanli period of the Ming dynasty. His three wives were buried beside the main room in three other tomb rooms. Archaeologists are trying to use the most advanced technologies to evacuate the tomb in hopes to get more information about the tomb.
Elsewhere, at a tomb group belonging to the sixteen kingdoms period of 1600 years ago, about 40 cultural relics have been unearthed in good condition. Among them, 10 terracotta figurines with black or white warrior cloths.
Although the cultural relics date back more than 1500 years, the colors are still vivid and beautiful. According to archaeologists' deduction from the unearthed records, the surname of the tomb owner is Liang.
And the research is expected to continue in order to discover more about these tombs.