What was a day at school like for Julius Caesar?
What was a day at school like for Julius Caesar?
Europe's oldest children's book reveals daily life in the Roman Empire
University of Reading
Source - http://www.archaeology.wiki/blog/2015/03/02/day-school-like-julius-caesar/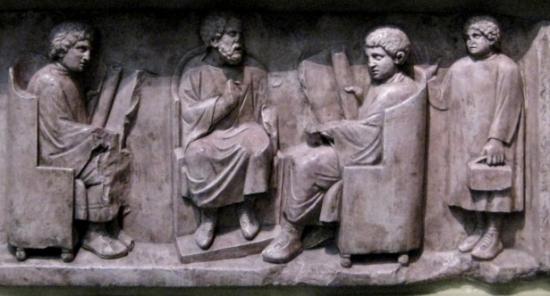 Relief found in Neumagen near Trier, a teacher with three discipuli (180-185 AD).
Why did Roman parents send their child to school with a slave? How did the Greeks and Romans learn each other's languages? Any why did the Romans need a shower and a scrape after a visit to the bathhouse? The answers and other priceless insight into daily life in the Roman Empire are revealed by the first English translation of Europe's most ancient children's book.
The Colloquia of the Hermeneumata Pseudodositheana is the work of a leading classicist – Professor Eleanor Dickey of the University of Reading. The Colloquia were manuals written to help ancient Greeks and Romans get around in each other's languages. They tell of a day in the life of a schoolchild and his teacher as well as containing numerous dialogues that shed light on daily life in the Roman Empire.
The book combines an English translation of original 'colloquia' that Professor Dickey compiled from ancient manuscripts and books during a four-year project, funded by the Arts and Humanities Research Council and the British Academy, with a ground-breaking study of their origins.
While much has obviously changed, some scenarios in the book will ring a bell with many modern families, from the daily tasks of shopping and banking, to a telling off for a husband returning home late a little the worse for wear. Parts of the Colloquia are among the Western world's oldest surviving children's books. The schoolroom scenes describe exactly what exercises were used in school and how they were performed.
Professor Dickey, from the University of Reading's Department of Classics, said: "The Colloquia offer an unparalleled treasure trove of information on the daily life of adults and schoolchildren during one of the most important periods in our history.  In particular the book tells of a school life very different from ours.
"There were no raised hands and the teacher never spoke to the class as a whole but only to students individually. There was no fixed start time so the class was constantly being disrupted by the arrival of more students – who did not come in quietly but had to say hello to everyone and be greeted by the whole class in return.
"No set curriculum meant parents paid for what they wanted their child to learn. There were also no set classes, year groups or times for attendance… but children wouldn't get away with skipping lessons. The majority of parents sent their children to school with a slave who not only kept them safe on the way there but also reported back any errant behaviour."
Professor Dickey's quest to write the two-volume book began by piecing together the original 'Colloquia'. Her journey led her to libraries and museums across Europe to read medieval manuscripts containing portions of the 'Colloquia', and to decipher papyri – fragments of ancient books from the third to sixth centuries AD. Professor Dickey then translated the original Latin and Greek text into English so that it could be used by a wider community.
"Reading foreign languages was very difficult in antiquity," continued Professor Dickey. "The colloquia are completely bilingual. Instead of being presented with material in a foreign language which they had to read or translate like modern students, the ancient language learner was given text and translation side by side – and asked to memorise it.
"Writers did not leave spaces between the words, so if you did not already know the language you could not divide up the words enough to look them up in a dictionary. Although most of the material probably dates to the second or third century AD, some of it is older; the schoolroom scenes may even have been used by Caesar when he was a schoolboy."
Professor Dickey's book has also cleared up a mystery which has confounded historians – how Romans coped with the fact that the water in their public baths was often filthy.
Professor Dickey continued: "After a visit to the baths the Romans should not have needed more cleaning – or so you would think. But after bathing in several different tubs of water the characters in the colloquia take a shower and scrape themselves before drying with towels. It turns out the water at most bathhouse facilities was rarely changed, possibly only once a month. So a shower and a scrape were needed to rinse the dirty bath water off."
The first volume of The Colloquia of the Hermeneumata Pseudodositheana was published by Cambridge University Press in 2012; the second volume was published in February 2015.