Website Tracks At-Risk Historic Sites
Website Tracks At-Risk Historic Sites
Website Tracks At-Risk Historic Sites
Rossella Lorenzi
Source - http://news.discovery.com/archaeology/website-tracks-at-risk-historic-sites-110315.html
A new internet platform has been launched today to rescue cultural heritage sites on the verge of being irremediably lost, said Global Heritage Fund, a California-based nonprofit organization that focuses on historical preservation.
Called Global Heritage Network (GHN), the platform is the first early warning and threat monitoring system for saving endangered sites in developing countries, where financial resources and expertise are limited.
Combining Google Earth, scientific mapping from Esri, satellite imagery from DigitalGlobe, and social networking, the platform aims to serve as an early warning system for site conservation leaders, archaeologists, local communities, government officials, and volunteers.
"Destruction of our global heritage is a 'silent crisis' happening far away in developing countries. GHN's combined satellite and ground reports clearly show the incredible losses we are facing in just the past 10 years," Jeff Morgan, executive director of Global Heritage Fund, told Discovery News.
Indeed, the GHN database shows a collection of about 500 heritage sites in the developing world.
Each site is identified by a color, which determines the threats scale. Destroyed sites are marked with black spots, "rescue needed" sites are signed in red, while at risk and stable sites are indicated with orange and green marks respectively.
Overall, more than 200 sites are considered to be under threat due to uncontrolled development, unsustainable tourism, insufficient management, looting, and war and conflict.
"Over 80 sites are identified as 'rescue needed,' and threat and planning dossiers have been published on 40 of these sites," Morgan said.
Among the seriously endangered sites are the ancient city of Nineveh in northern Iraq, which was capital of the Assyrian empire from 705 to 612 B.C.; the town of Allianoi in Turkey, which boasts the largest Roman baths in Asia Minor; and the Durrës amphitheater in Albania, the largest Roman amphitheatre in the Balkans, with a capacity of 20,000 people.
Red spots also mark the archaeological complex of Pachacamac in Peru, where archaeologists have identified at least 17 pyramids (many of them irreversibly damaged by the El Niño weather phenomenon); the ancient Khmer temple of Preah Vihear in Cambodia; the sacred city of Kandy, which was the last capital of the ancient kings' era of Sri Lanka; the minaret of Jam in Afganistan, famous for its intricate brick, stucco and glazed tile decoration; and the Klasies River Caves in South Africa, occupied as early as 125,000 years ago.
Threats are reported from the field from professional site monitors and international experts, but also local communities, volunteers and travelers.
Photographs and video footage to document negative impacts or successful preservation efforts are uploaded continuosly to GHN groups.
"We expect the international community and national governments to now use the tools at their disposal to reverse destruction and work together to save our vanishing heritage," Morgan said.
If successful, the project could be extremely rewarding, from both a cultural and economical point of view.
A previous GHF report, called Saving Our Vanishing Heritage, estimated that the 500 sites listed in the GHN database have the potential to generate over $100 billion in visitor revenues annually by 2025, and millions of dollars in new jobs, business and investment opportunities.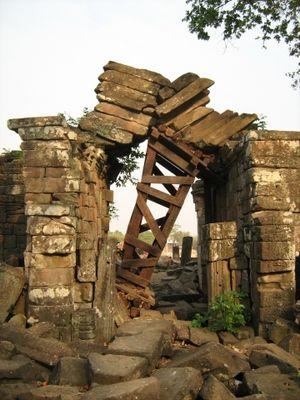 Photo: Following the heavy monsoon rains of 2009, portions of the amazing Face Tower #18 at the temple complex of Banteay Chhmar in Cambodia have become destabilized and are now threatening collapse. Courtesy of GHF.