Wawayanda (USA) : Why Wawayanda is historic
Wawayanda (USA) : Why Wawayanda is historic
Why Wawayanda is historic
Ron Dupont
Source -http://www.northjersey.com/news/passaic_morris/143927286_Why_Wawayanda_is_historic.html
How do you decide what is "historic," anyway? There're lots of opinions. The National Park Service, which administers the State and National Register of Historic Places, has four criteria: 1) It demonstrates a broad trend of history, 2) It's associated with somebody who was famous, 3) It represents an excellent example of a type, or 4) It is archaeologically significant. Plus, there is the concept of "integrity."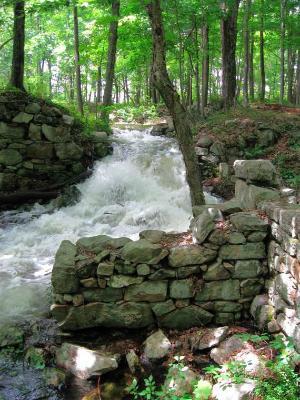 PHOTO/RON DUPONT  - The raceway at Wawayanda Village, which is opened annually by park management, shows where water ran past the foundation of the water-powered sawmill that operated there from c. 1816 through the 1890s.
Basically, "integrity" means: is the building/place/etc. still more or less as it was when it became significant? If it's the house of a famous author, does it more or less look as it did when he/she lived there? If it's been changed beyond all possible recognition, then it lacks "integrity" and is difficult to assert as "historical."
So—when you're dealing with something like Wawayanda Village, which is all more or less gone, and has been for over a hundred years, how do you claim "integrity"? It's all old foundations and archaeological sites--and therein is the answer. It lacks architectural integrity, but it retains a great deal of archaeological integrity, which is still worth a lot, especially when dealing with areas where we can learn a lot from archaeology—like historic industry.
The Wawayanda Lake Historic Archaeological District uniquely preserves the standing ruins, archaeological sites, features, settings, and landscape of activities embodying regionally and/or nationally significant events of American industrial and social history from c. 1790 to c. 1919.
These include the iron industry of the New Jersey Highlands, the summer youth camping movement, and the 19th century summer recreation era. It is also uniquely associated with significant persons involved in those events. In addition, it contains several known prehistoric sites that have the potential to provide archaeological data about our past.
The majority of natural lakes in the New Jersey Highlands were developed as resort areas in the late 19th and 20th centuries. Their archaeological integrity was thus severely affected. The Lake Wawayanda area has seen relatively limited disturbance. As such, the archaeological integrity of most of its known prehistoric sites remains good. It is likely to provide additional archaeological data about prehistoric inhabitants and life in the New Jersey Highlands.
From c. 1750 to c. 1860, a significant charcoal iron industry developed in northern New Jersey. During these years, New Jersey was one of the United State's largest producers of iron. Most of this production centered on furnaces in often-remote areas, where good access to waterpower, ore, and timber was more vital than easy access to transportation.
Their isolated nature frequently led them to be self contained (or nearly so), with communal and/or family worker housing, storehouses for raw materials, barns and stables, a store supplying foodstuffs and consumer goods, and often, other mills that processed ore or waste iron, as well as other products of the surrounding area. These facilities were frequently under a sole ownership, and often provided minimal living and working conditions. Because of their isolation, they also typically featured a company-owned store that was the sole practical source of goods for employees. As such, later historians dubbed them "iron plantations."
There were numerous iron plantations in the New Jersey Highlands at places such as Boonton,Ringwood, Long Pond, Hamburg, Franklin, Clinton, and elsewhere, as well as in southern New Jersey. Wawayanda was a relatively late example of this type. The advent of anthracite fuel pushed the industry west into Pennsylvania, where sites with rail access became a necessity. In this way the familiar "company towns" of the late 19th and 20th centuries gradually replaced earlier, remote iron plantations.
Wawayanda embodies distinctive characteristics of an iron plantation: 1) access to water power, iron ore, and timber for fuel, yet remote from major transportation routes 2) centralized ownership, 3) company-owned employee housing and provisioning. Because of its relative isolation, Wawayanda had facilities not just for employee provisioning, but farms for feed and produce, and pasturage for draft animals used in carting and mines. It was a relatively self-contained industrial community that extracted maximum value from available resources of all types.
The iron furnace and industrial village at Wawayanda played a significant role in the charcoal iron industry of the mid-19th century New Jersey Highlands. It was the last of the "iron plantations" as well as the last furnace to use charcoal. In spite of these traditional elements, the owner/operators of the facility used cutting edge hydropower and heated blast technology.
As a notable effort to advance the charcoal iron industry of the Highlands, the developments at Wawayanda were featured in a major iron industry trade magazine in 1850. It thus occupied a unique transitional phase of regional ironmaking, between the charcoal iron-plantation pattern of the 18th and early 19th centuries, and the more technologically sophisticated hot blast furnaces of the mid and late-19th centuries.
The tightly integrated industrial plant at Wawayanda made the maximum use of available waterpower, with six water-powered plants in roughly 1,500 feet of stream, with a fall of approximately 50 feet.
Many other furnace/industrial village sites operated in the northern New Jersey Highlands during the time period of Wawayanda Furnace. Most were either effaced by later land use or were heavily altered by 20th century development. Because of the generally low intensity use of the land at Wawayanda, no new structures were added nor was there a need to demolish or efface the sites of older structures and sites. The site thus has a high level of archaeological integrity, as well as integrity of landscape and setting. Visible archaeological remains reveal a great deal of the site's history.
The furnace itself uniquely reflects both a typical charcoal iron furnace of the era, and a transitory period in the mid-Atlantic iron industry, between earlier charcoal cold-blast technology and later anthracite-heated blast. Wawayanda used the older fuel but the newer blast technology.
The most intact iron plantation in Northern New Jersey is Long Pond Ironworks Historic District. This site does not, however, have an intact furnace such as that at Wawayanda. Remains of other iron plantations survive, but their locales were generally heavily altered by later land use: Ringwood (effaced for conversion to private estate), Boonton (submerged by reservoir), Hamburg (destroyed by later industrial development at the site), Franklin (ditto, then site razed for public park).
Ironworks at Pompton and Andover were erased by later commercial and retail development at the site, while Charlotteburg, Clinton, and Freedom Furnaces, like those at Boonton, were wholly or partially destroyed by reservoirs.
While Wawayanda's structures vanished, the furnace itself and the attendant ruins and features, along with the overall setting itself, remain highly intact, providing a very clear and intelligible view of a 19th century iron plantation, such as does not survive at other locations. The raceway system that served Wawayanda's manufacturing buildings survives largely intact, and in fact is annually flushed by opening the lake's main dam. It is thus one of the few places in the region where the surviving raceway system of a 19th century industrial village can still periodically be seen in operation.
The Wawayanda property is significantly associated with its builder, William L. Ames, scion of a prominent Massachusetts family of industrialists. He is regionally significant for his role in advancing the commercial and technological development of the iron industry of northern New Jersey, at Franklin and Wawayanda, as well as for his subsequent financial problems, which gained wide local notoriety. Ames carried on an ongoing correspondence with his family in Massachusetts, and the documentation this provides regarding Wawayanda produces historically significant insights into the commercial and industrial history of the era.
The Wawayanda property is also significantly associated with William L. Ames' brothers, Oakes and Oliver Ames Jr., owners and operators of the property from 1847 to 1869. Oakes Ames was on-site manager for periods of time, and both men made management decisions regarding the property. Both were nationally significant industrialists, known both for their family's shovel manufacturing operations, and later for their involvement in the construction of the Union Pacific Railroad. Oakes Ames in particular gained national notoriety for his involvement in the Credit Mobilier Scandal.
Wawayanda is also significantly associated with John H. Brown, a regionally significant manager and industrialist in the iron and limestone industry who managed Wawayanda Furnace for the Ames family in the 1860s.
Wawayanda is the only site outside of New England that is significantly associated with the Ames family members. While the Wawayanda site retains archaeological integrity, their other major industrial site, Franklin Furnace, has been completely effaced. Now a public park, there are no visible industrial remains.
Archaeologically, Wawayanda could provide information about the lifeways of the people who worked at the ironworks, about which comparatively little information exists. Little is known about the exact nature of the workers' ethnicity, housing, diet, or their standard of living generally. Archaeology at the site could also provide new insights into the historic industrial processes that occurred at the site, which included iron smelting, ore crushing, charcoal making, timber milling, shingle manufacture, wooden box manufacture, grain milling, brick making, and blacksmithing.