Walnut Grove (USA): Slave quarters sought in dig
Walnut Grove (USA): Slave quarters sought in dig
Kim Kimzey
Source - http://www.goupstate.com/article/20140608/ARTICLES/140609653/1083/ARTICLES?p=1&tc=pg
Lead archaeologist Lamar Nelson shows off a piece of copper he thinks slaves on the site could have worn as jewelry.  Alex Hicks Jr./alex.hicks@shj.com
An archaeological excavation held last week at Walnut Grove Plantation unearthed several items and a structure.
Lamar Nelson led the effort. Nelson and several volunteers with the Foothills Chapter of the Archaeological Society of South Carolina participated in what Nelson said is the first major excavation at the colonial-era site in Roebuck.
A team of archaeological volunteers are excavating sites at Walnut Grove Plantation looking for artifacts to learn more about the people who lived there from the 18th to 20th centuries. Workers at the Walnut Grove EU1 - this is one of two sites being currently worked on by the team.ALEX HICKS JR/alex.hicks@shj.com
Nelson said a smaller excavation of a cellar was done in the 1970s.
Volunteers searched for relics in two sites near the house once occupied by the Moore family.
According to a written statement from the Spartanburg County Historical Association, the excavation is "an effort to find out more about the lives of the men and women who lived on the property from the 18th to 20th centuries."
Nelson said they were searching for the slave quarters that once sat on the property.
"There's not a lot known about the slaves," he said.
He said no known maps or records exist to indicate the structure's location.
The plantation dates to 1763. Charles and Mary Moore "raised ten children in the house they built and lived in for 40 years," and Moore relied on 12 African-American slaves to help operate the plantation, according to the historical association's website.
Nelson visited Walnut Grove Plantation earlier this year and identified 18 potential sites.
Volunteers focused their efforts at two sites, unearthing numerous artifacts as they dug 30 centimeters into the soil.
"We may find it; we may not," Nelson said of the slave quarters. "But we're definitely on a structure."
Volunteers uncovered handmade brick circa mid-19th century and nails from the same era.
By Thursday morning, they had discovered part of an oil lamp, horse bridle, brass skeleton key, along with numerous shards of ceramic and glass.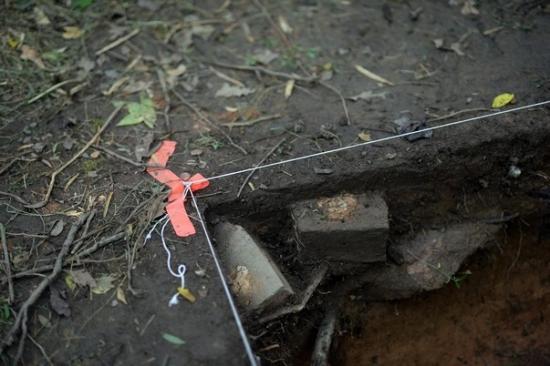 ALEX HICKS JR/alex.hicks@shj.com
Nelson said some artifacts date around 1760, although he thinks most are from 1840 to 1850. 
"It's all exciting. It's hard to single out one individual piece," Nelson said of the finds.
Excitement grew Thursday morning after volunteers made one discovery — a tarnished, dirt-caked item that could be a pendant.
"This is a possible slave necklace," Nelson said.
Slaves had no access to jewelry and made their own like Native Americans, he explained.
He imagined the copper polished and gleaming.
"That's probably 150 years old," he said.
Participants were not only trying to locate slave quarters and artifacts. Some also wanted to see whether it was possible to find latent fingerprints on artifacts.
Jon Eizinger, a crime scene investigator and latent print expert for 16 years, flew to Spartanburg County from South Dakota to assist Jessica Phillips with the project.
Eizinger and Phillips are National Forensic Academy graduates.
"We don't even know if there's going to be prints on any of this," Eizinger said.
He said the odds were low.
"The items themselves accept prints well in a normal setting, but then when you take and stick them in the ground with the environmental conditions over a hundred years or more, the constituents of the print have likely disappeared," Eizinger said.
Eizinger said the main obstacle was removing dirt without damaging possible prints.
They tried different approaches and Phillips came up with the idea to freeze dirt on mud-caked items, before blowing off the dirt to prepare the surface so they could use modern forensic fingerprinting processing techniques.
Despite the heat, humidity and bugs, about 18 volunteers participated each day in the excavation.
Nelson said it was the first time some students had taken part in an archaeological dig.
"I think they're hooked," Nelson said. "It's been great."
Morgan Lynch, 12, of Pauline participated with his mother, Kathy, and grandmother.
Kathy said Morgan was unenthusiastic at first, but resistance eventually gave way to anticipation. When Kathy left about noon Thursday to run an errand, Morgan was happy to stay behind and continue working. An archaeological dig so close to their home "is a once-in-a-lifetime chance," Kathy said.
Nelson said collected items will be cleaned, identified and returned to the Spartanburg County Historical Association. The goal is to have the items back before Festifall in October. The annual event draws more than 200 re-enactors, storytellers and artisans who turn Walnut Grove Plantation into a colonial-era village, according to the historical association's website.
"The research that we're doing is a beginning," Nelson said.