Wadi al Hayl (UAE) - Progress Ploughs Through UAE Petroglyphs
Wadi al Hayl (UAE) - Progress Ploughs Through UAE Petroglyphs
"Progress" Ploughs Through UAE Petroglyphs
Tafline Laylin
Source - http://www.greenprophet.com/2011/01/progress-threatens-uae-petroglyphs/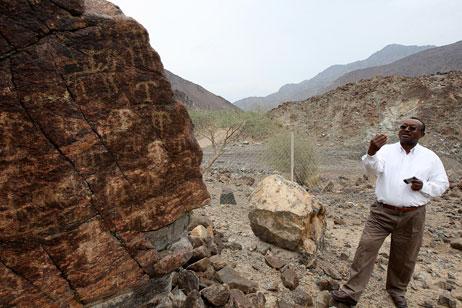 Archaeologists in Fujairah at working against the clock to save the UAE's precious rock art.
Without an historical record, our future would seem shallow. A future sans identity. A future that lacks the benefit of hindsight to inform important decisions. Because ancient relics – fossils, petroglyphs, and architecture – shed light on our origin, they also help us to put the future into perspective.
Otherwise, we would think of ourselves as mostly urban people with no tool-making or agricultural history, without a rich menu of mythology and culture. Which is why archaeologists in the United Arab Emirates are fighting so hard to protect the few remaining petroglyphs from encroaching industrial development.
Throughout the UAE mountains, once inaccessible petroglyphs are threatened by development. Many of these ancient drawings date back to the iron age, between 1300 BC and 300 BC, and depict our ancestral relationship to nature.
Telling etchings of hyenas and camels and leopards, of people riding horses and fighting battles that are at once so remote and yet so similar to our own could be lost without a national effort to steer development away from known rock art locations.
Salah Ali Hassan, the resident archaeologist at the Fujairah Museum, and his associate Dr. Michele Zlolkowski have been working to relocate small petroglyphs to the museum, while larger installations are left behind and cordoned off with fences.
Dr. Zlolkowski has been racing against time to build a database of known sites, but this is hard work. and she could use national assistance, she told The National.
The team hopes to drum up support for their cause at a March archaeology symposium in Al Ain.
Meanwhile, more than 100 petroglyphs near Wadi al Hayl in Fujairah are potentially at risk since manufacturing plants and garages plan to expand their operations into the area. Dr. Zlolkowski believes that community engagement is the key to protecting petroglyphs.
Formerly in Hassat al Risoum, translated as "rock with drawings," locals defeated a road construction project that would have destroyed an area rife with ancient sketches.
"When people found out they will be losing their ancestor's petroglyphs, they reacted. So that is what we need, on a national level," Dr Ziolkowski said.
While a certain amount of mining and development is inevitable, it is not helpful to bulldoze through history with blinders on. But if the rock art sites are not known, then it will be difficult to take developers to account.