Wadi Abu Subeira (Egypte): Palaeolithic rock art on the verge of destruction
Wadi Abu Subeira (Egypte): Palaeolithic rock art on the verge of destruction
Photos Per Storemyr
Source - http://per-storemyr.net/2012/04/06/wadi-abu-subeira-egypt-palaeolithic-rock-art-on-the-verge-of-destruction/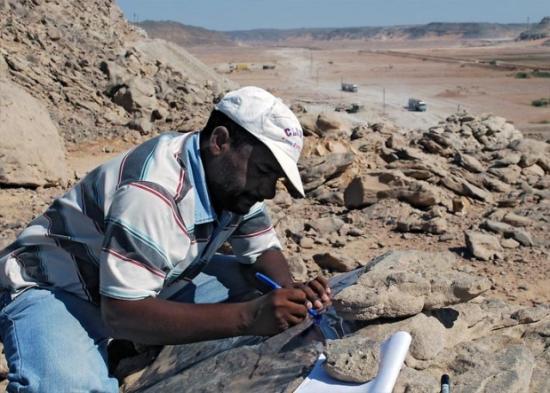 Emergency in Wadi Abu Subeira: Adel Kamel of the Supreme Council of Antiquities in Aswan recording Late Palaeolithic rock art. In the background: Heavy trucks transporting clay from the numerous mines in the wadi. The clay is used in the Egyptian ceramics industry.
In 2007 one of the most important recent archaeological discoveries in Egypt were made in Wadi (Chor) Abu Subeira near Aswan: A team led by Adel Kelany of the Supreme Council of Antiquities (SCA) found a stunning assemblage of petroglyphs dating to the Late Palaeolithic era (c. 15-20.000 years ago). Ongoing surveys have shown that the initial find was the tip of the iceberg only, which makes Subeira perhaps the richest place of "Ice-Age" art in North Africa, comparable to the site of Qurta, 50 km to the north. Unfortunately, the Subeira rock art is extremely threatened by modern mining, which lately has proven to be even more widespread than previously thought: A truly unique testimony of mankind's early art is now on the verge of destruction.
The rock art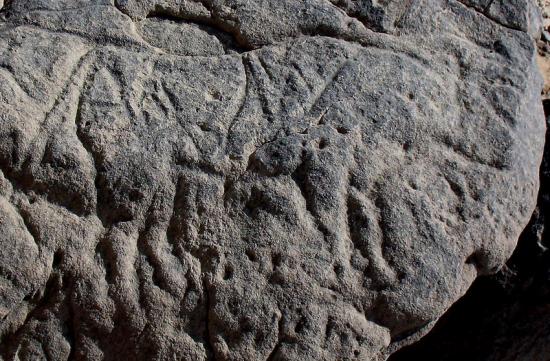 15-20.000 years ago the waters of the Nile were much higher than today. The broad Wadi Abu Subeira may have been a small "fjord", reaching several kilometres into the Eastern Desert: A great habitat for wildlife in the otherwise hyperarid environment and a great place for humans to stay – to fish and hunt – and to access the interior of the desert and perhaps the Red Sea.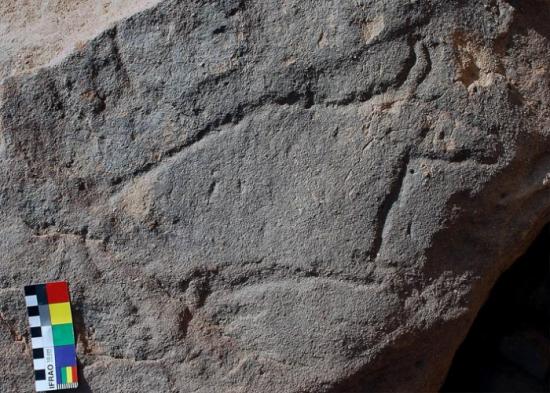 It seems that it was along this "fjord" that the Late Palaeolithic humans made their art. They pecked many aurochs (wild ox), hartebeest, fish, hippopotami and even a very large, beautifully executed Nubian ibex, which publication is forthcoming. Over the millennia erosion along the slopes of the wadi has probably destroyed many pictures, and most are now found on boulders and slabs. However, some are still in-situ, implying that it is possible to reconstruct site distribution.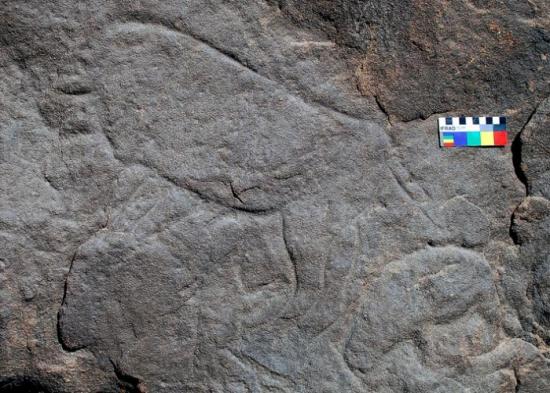 The rock art is comparable to the better-known occurrences at Qurta by Kom Ombo, where Dirk Huyge and his Belgian team has recently confirmed the age of this type of rock art: It is definitely belonging to the Late Palaeolithic era, and thus comparable to the great "Ice-Age" art in Europe – especially in the Late Magdalenian period. It is yet entirely unclear whether there is a relationship in terms of long-distance influence and intercultural contact, but, according to Huyge, the Egyptian occurrences clearly "introduce a new set of challenges to archaeological thought". This is why it is so important to safeguard the Wadi Abu Subeira rock art and the associated archaeological sites for the future – otherwise we will lose an important place that may help us finding out whether there was in fact contact between North Africa and Europe in the Late Palaeolithic.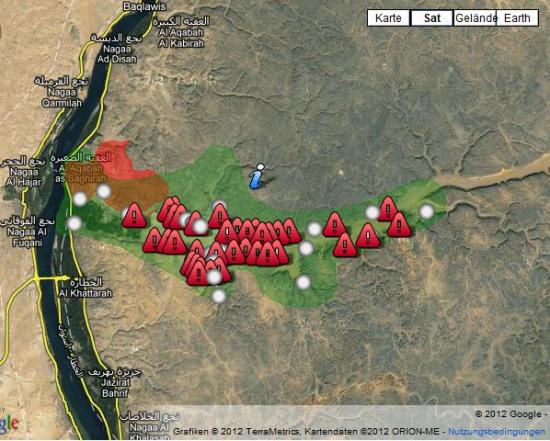 Green: Rough outline of archaeological sites, including Late Palaeolithic rock art
Dots: Selected archaeological sites
Red: Modern stone quarrying (some places discontinued).
Red triangles: Spots of modern clay and iron mining, greatly intensified since 2010-2011
Blue: New concessions for iron mining
The mineral wealth – the threats
Wadi Abu Subeira was not only a place to fish and hunt and make rock art – it was also a place of great mineral wealth for ancient peoples. The slopes of the wadi feature massive amounts of silicified sandstone (quartzite), which was used for making tools as far back as the Early Palaeolithic. The stone was superior for making grinders, an activity that may have started in the Late Palaeolithic, which saw the small beginnings of "protoagriculture" – the systematic collection and processing of wild plants. For this grinding stone was needed!
Also, like the rest of the Aswan region, Wadi Abu Subeira is very rich in iron ore – hematite and ochre. When ground to pigment, Palaeolithic (and later) humans made heavy use of the wonderful red colour, such as for body painting. It is thus very likely that the Subeira hematite and ochre deposits were exploited already in the Palaeolithic.
A great gift for ancient man, hematite and ochre is the curse for Adel Kelany and his archaeological team attempting to survey and protect the rich archaeology of Wadi Abu Subeira. For there is still a big need for red pigments, and hematite and ochre can, of course, be made into steel! Lately, the iron mining in the wadi has greatly intensified, seemingly after new concessions were given to various companies by the Egyptian mining authorities (see map above). The new concessions are so extensive that they may effectively wipe out nearly all archaeology from the wadi – as if the wadi was not threatened enough from other mining activities! For, until recently, the greatest risk was related to widespread clay mining for the Egyptian ceramics industry. However, since the clay is occurring in thin layers only, most of the work was undertaken as underground mining, following these thin layers. This mode of mining caused some destruction by the mine openings, but did not wipe out everything nearby.
Survey and protection
Adel Kelany and his team has until recently been able to deal with the clay mining companies, working together with them to ensure as little destruction of archaeology as possible. Many archaeological sites are also guarded by SCA-personnel and some are fenced off – all to avoid both mining attempts and robbery. As we all know, in the wake of the Egyptian revolution last year, robbery at archaeological sites has skyrocketed because of the security vacuum that developed, and which still is a big problem.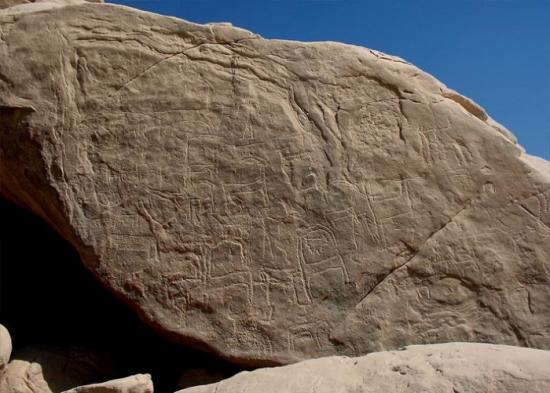 But it is more difficult to deal with large-scale iron mine concessions, though Kelany and his SCA team is in constant dialogue with the companies and various authorities to show them the locations of the archaeological sites, trying to persuade them to stop – or not start – working in the vicinity of such sites. They have the strong Egyptian antiquities law behind them, but in view of economic interests it is hugely difficult to enforce the law – not only in Egypt!
At the moment we can only hope that Adel Kelany and SCA will be successful in their protection attempts, offering them the moral and other support they may need. But these are very difficult times in Egypt, with administration and political organisation in a relatively chaotic state, and presidential elections soon coming up. As more information about the situation appears, I will keep watching it at this website. Fingers crossed for one of the most significant archaeological sites in Egypt.
Article written with the aid of Adel Kelany and Dirk Huyge.
Storemyr, P., Kelany, A., Negm, M. A., Tohami, A. (2008). More "Lascaux along the Nile"? Possible Late Palaeolithic rock art in Wadi Abu Subeira, Upper Egypt. Sahara, 19, 155-158.
Kelany, A. In press. More Late Palaeolithic rock art at Wadi Abu Subeira, Upper Egypt.Annales du Service des Antiquites de l'Egypte.
Dirk Huyge, Dimitri A.G. Vandenberghe, Morgan De Dapper, Florias Mees, Wouter Claes and John C. Darnell, 2011. First evidence of Pleistocene rock art in North Africa: securing the age of the Qurta petroglyphs (Egypt) through OSL dating.Antiquity, 85, 330: 1184–1193.