Vizhinjam (Inde) - An Ancient Port
Vizhinjam (Inde) - An Ancient Port
Vizhinjam An Ancient Port
Periplus of the Erythraean Sea points out a city situated near a sea and had important trade relations with countries such as ancient Iran, Rome and Mesopotamia
Rayson P Tennyson
Source - http://www.yentha.com/news/view/1/2705
Trivandrum: Six years of excavation has proved that Vizhinjam is indeed Balitha, an ancient port. Archaeologists claim to have evidence to prove that Vizhinjam was in fact an ancient port and that it had significant trade relations with the Romans and Mesopotamians. Clinching evidence was uncovered when excavations were carried out by the University of Kerala in association with the University of Cambridge at Vizhinjam.
"Earlier there were assumptions that there was an ancient port at Vizhinjam. But there was no archaeological evidence. But after this excavation, we now have valuable evidence - Turquoise Glazed Pottery (TGP), Amphora (vase-shaped ceramic container), Torpedo pottery, pearls and glass beads of different kinds - to support that Vizhinjam was engaged in major trade relations with other countries", said Dr. Ajithkumar, Head, Dept. of Archaeology and Project Director.
"We can now conclude that the ancient port Balitha was situated near the present harbour", he said. He also said that Vizhinjam has a natural anchorage suitable for large ships and close to the trade route which makes it an ideal location for an international port.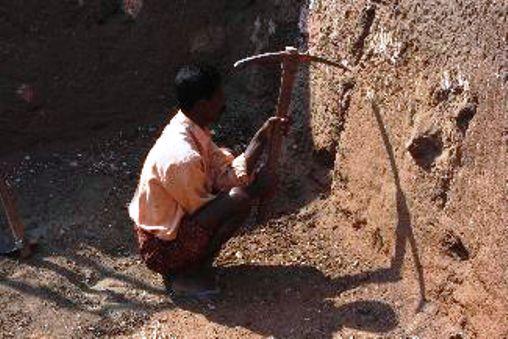 Work continues at the excavation site
Periplus of the Erythraean Sea (describes navigation and trading opportunities along the coasts of the Red Sea, East Africa, and as far as India. It is a firsthand description by someone familiar with the area, and is nearly unique in providing accurate insights into what the ancient world knew about the lands around the Indian Ocean) points out a city named Balitha was situated near a sea and had important trade relations with countries such as ancient Iran, Rome and Mesopotamia. Till now it was an assumption that Vizhinjam was the ancient Balitha, but now it has been proved with evidence.
This excavation is now in the final stages. "In 2005 we discovered the remains of a fort which was supposed to be surrounding Balitha. It was really an encouragement to our efforts and we continued with our research and mining", added Dr. Ajithkumar.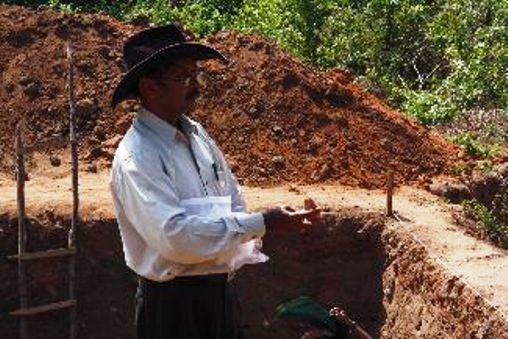 Dr. Ajithkumar with a piece of ancient pottery
Having the support of the University of Cambridge was indeed a great boost to this team. "We were fortunate to receive a helping hand from Cambridge and their representative Robert Harding. Beyond his knowledge in the subject, he was a great help financially too", Dr. Ajith remarked. He also said that they are planning to seek financial help from the Government of Kerala.

A team of post graduate, M.Phil and research scholars from the department of Archaeology assisted Dr. Ajithkumar and Robert Harding in this project.