Source - http://www.ecns.cn/2018/01-17/288777.shtml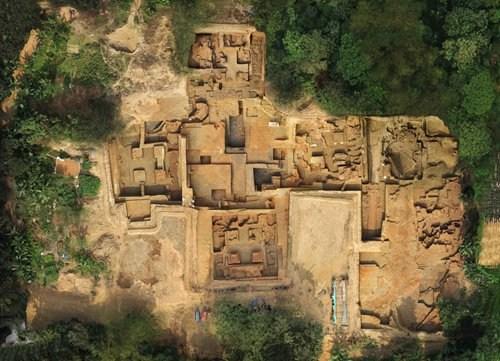 An aerial view of the excavation site (Photos/Courtesy of Guo Weimin)
A team of archaeologists from China and Bangladesh announced the results of their four-year excavation of the Vikrampur Ruins in Bangladesh at a special archaeological forum.
Located in the Munshiganj district, near the Bangladesh capital of Dhaka, the excavation is providing some valuable clues about the history of Atisa, a famous Bengali leader and Buddhist master, who according to Tibetan historical records was born in the area.
The excavation site is believed to be the remains of the ancient city of Vikrampur, a major Buddhist center that was the capital at one time or another of the Chandra (900-1050), Varman (1080-1150) and Sena (1100-1230) dynasties.
Historical significance
The excavation is significant not only for its historical finds, but also for what it means for relations between China and Bangladesh.
"This marks the first time that China has collaborated with a country in the Indian subcontinent on an archaeological excavation, "Guo Weimin, the director of the Institute of Cultural Relics and Archaeology of Hunan Province, told the Global Times on Monday.
"The excavation was initiated by the Agrashar Vikrampur Foundation in Bangladesh in 2013. They first started off by exploring a 344-square-meter area in the village of Nateshwar in Munshiganj.
"Later, the Ministry of Foreign Affairs in Bangladesh, another sponsor of the project, asked the Chinese embassy in Bangladesh for financial and technical help. Soon after, the Institute of Cultural Relics and Archaeology of Hunan Province was asked to take part in the excavation," he said, explaining how the cooperation began.
"The most important find was the excavation of two building ruins, a Stupa courtyard and a Vihara [monastery] dating from around 780 to 950," Guo told the Global Times.
Through the symbols discovered on site, experts have determined that these two building complexes are related to Atisa.
"From the seventh to the ninth century, when the Indian subcontinent was at its most prosperous, this place was the capital of East India. It was also where Atisa got his start before he went to Tibet and became the forefather of the Kadam school of Tibetan Buddhism," Guo explained.
These ruins are also significant for another reason, according to Chai Huanbo, the Chinese head of the joint excavation team and a researcher with the Hunan Institute of Archaeology, as they were part of one of the last Buddhist complexes in the Indian subcontinent to be destroyed after Islam became the dominant religion in the area from the 13th to 16th centuries.
"In 1204, Turkic general Ikhtiaruddin Mohammad Bakhtiar Khalji defeated Lakshmana Sena [a ruler of the Sena Dynasty]. He then started his Muslim reign the next year. When his Muslim army invaded Vikrampur in 1223, almost all the Buddhist monasteries were destroyed to provide bricks and columns for Islamic mosques."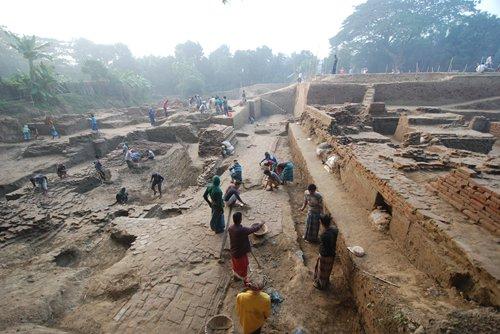 Archeologists work at the Vikrampur Ruins excavation site in Munshiganj district, Bangladesh. (Photos/Courtesy of Guo Weimin)