Viet Nam: Underwater treasures tell stories about the past
Viet Nam: Underwater treasures tell stories about the past
Source - http://vietnamnews.vn/learning-english/276571/underwater-treasures-tell-stories-about-the-past.html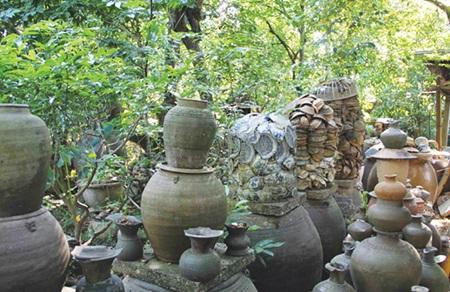 Priceless treasures: Items which have been uncovered by researcher Ho Tan Phan, found in the Huong River bed in Hue. - VNS Photo Phuoc Buu
The country's leading archaeologists met over the weekend during a 3-day conference held in Hue City, which included announcements describing new archaeological discoveries.
Additionally, this year's annual event, chaired by the Viet Nam Archaeology Institute, introduced a new branch in the study of archaeology – underwater archaeology.
During the meeting, from September 17-19, participants heard about 356 archaeological findings unearthed around the country.
Further, there were 51 announcements about new stone age findings, including the discovery of human bones at Hang Oc archaeological site, dating back 6,000 to 7,000 years, located in Thai Nguyen.
Also, metal age archaeology had 59 new findings, presenting new discoveries that enriched the knowledge of the nation's history and the cultures of communities, including Dien Bien, Phu Tho and Ha Noi in the north; Ha Tinh, Quang Nam and Khanh Hoa in the central region; and Ba Ria - Vung Tau, Dong Nai, Binh Phuoc and Long An in the south.
Historical archaeology saw the most achievements during the year, with 180 new findings. Archaeological work at the Luy Lau ancient citadel in Bac Ninh Province, the Ho Citadel in Thanh Hoa Province, and at the Ha Noi-based Thang Long Citadel have revealed new information about the feudal history of different monarchies.
Meanwhile, work at Chu Dau sites in Hai Duong Province, Vinh Nghiem Pagoda in Bac Giang Province and Da Tuong Temple in Quang Ngai Province have increased the general knowledge about crafts and religions of the Vietnamese people.
"The work has been done scientifically and gives valuable significance to the profiling of heritages around the country," said Associate Professor Bui Van Liem, deputy director of the institute.
Of note, for the first time underwater archaeology was presented at the meetings, with eight announcements about findings, including excavations underwater in Cu Lao Cham islet in Quang Nam Province and at Thuan An Beach in Thua Thien-Hue Province.
Yet some at the meeting said there was less focus and a lack of information from underwater archaeologists.
Researcher Ho Tan Phan, who owns a complete set of items found in riverbeds that reflect the nation's history from prehistoric times, told Viet Nam News that he had expected the conference to present more.
"Underwater archaeology has greater importance than underground excavations, since each underground site could tell about only one or two layers of history, while underwater archaeology presents all of our history, so it should be emphasised more," he said.
"Furthermore, seawater excavations do not tell much about the nation's history, since the seas primarily carried foreign trade. River excavations, however, are the key, as items with rich information about the country are available in the riverbeds."
The researcher, based in the former royal capital city of Hue, expected that archaeology would do more to exploit the underwater sector, after being neglectedfor 40 years. — VNS