Archaeological finds bring nation's history into focus
Source - http://vietnamnews.vnagency.com.vn/Life-Style/230778/archaeological-finds-bring-nations-history-into-focus.html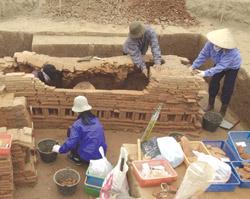 Ha Noi Museum staff excavate a sepulchre in Ha Noi's Dong Anh District. New findings throw greater light on the country's relics and heritage. — VNA/VNS Photo Ngoc Truong
Nearly 500 new findings of Stone Age, Metal Age and Cham Pa - Oc Eo civilisations at excavation sites throughout the country in the past year had made considerable contributions to building scientific files, planning preservation and bringing to light the country's relics and heritage, according to Prof Tong Trung Tin, rector of the Viet Nam Archaeology Institute at an annual workshop of the archaeological sector held here yesterday.
Among the discoveries, the finding of a system of caves, which were dwelling places for early peoples between 20,000 to 4,000 years ago at a Nature Heritage Site in Trang An in the northern province of Ninh Binh, was one of the most important findings, he said.
The finding would play a key factor for international experts to consider and support the file submission of the Trang An Tourism Complex Site to UNESCO for recognition as a World Heritage Site.
Research at the caves in Ninh Binh has raised people's awareness of the value of local caves system to protect the environment and promote tourism.
Tin also highlighted the potential for Viet Nam's archaeological sector, with shipwrecks off the central province of Quang Ngai and in the Lo River in the northern province of Tuyen Quang yet to be explored.
However, Tin expressed his worries about the sector's capabilities to conduct serious research on shipwrecks due to a lack of funding, human resources and equipment.
Researcher Pham Quoc Quan, former director of the National History Museum of Viet Nam, confirmed that experts had confirmed recent shipwreck found in Quang Ngai dated back to the 14th century, but experts had been unable to explore the ship due to a lack of proper human resources and equipment. The researcher said an iron cage would be made to protect the ship from looters before the stormy season arrived.
Quan also said that 18 companies and individuals had put in bids to unearth the ship, and Doan Anh Duong Company, a company with nine-years experience, had won the contract.
Quan added that by early next year, experts from the museum would examine and unearth the antiques.
"We have not figured out the measurements of the ship or the number of antiques inside," he said. "We spent two years bringing ashore 150,000 antiques from a shipwreck in Cu Lao Cham a few years ago."
Experts said that the ship contained various ceramic wares made in China during the 14th and 15th centuries, and coins from the 12th and 13th centuries had also been found.
Quan quoted historic documents, saying that the local sea area was a resting place for Chinese trade ships on the "silk way on the East Sea". "That's why this is the most valuable find in terms of culture, history and economy found so far in the country," he said.
The two-day workshop, which ended yesterday, gathered hundreds of experts from all over the country, who shared nearly 500 reports on topics involving the Stone Age, Metal Age, Cham Pa and Oc Eo History and Culture. — VNS