Veeranam (Inde) : An Iron Age megalithic burial site
Veeranam (Inde) : An Iron Age megalithic burial site
Iron Age burial site found near Tiruvannamalai
T.S. Subramanian
Source - http://www.hindu.com/2011/06/26/stories/2011062653971800.htm
It is spread over three km and can be dated to 1,000 BCE-300 CE
Many cairn-circles have dolmenoid cists on the surface within the circles
Residents of nearby villages have destroyed a large number of these cairn-circles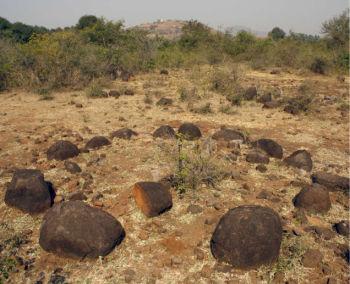 PHOTO: K.T. GANDHIRAJAN

These megalithic burial sites (cairn circles), discovered near Veeranam in Tiruvannamalai district, can be dated to 1,000 BCE-300 CE. The granite slabs of the dolmenoid cists, broken by villagers, are strewn around.
An Iron Age megalithic burial site, dotted with cairn-circles, has been discovered near Veeranam village, at the foot of a chain of hills, in Tamil Nadu's Tiruvannamalai district.
This sprawling site, spread over about three km in Tandaramapattu taluk, can be dated to 1,000 BCE-300 CE. What is interesting about the discovery is that many of the cairn-circles have dolmenoid cists on the surface within the circles. Cairn-circles are rough stones arranged in a circle, and dolmenoid cists are box-like structures made of granite slabs. The cairn-circles indicate burial chambers below, with urns containing bones and pottery with paddy, beads, knives, swords and other artefacts.
Poems in the Tamil Sangam literature (300 BCE to 300 CE) celebrate these megalithic burials, which can unlock the secrets of the social life of that age. But residents of nearby villages have already destroyed a large number of these cairn-circles near Veeranam and carted away the stones and granite-slabs for building cowsheds and compound walls, and for laying floors. A quarry is working nearby, in the hills.
The discovery was made by a team led by K.T. Gandhirajan, who specialises in art history. The team included Professor G. Chandrasekaran, former principal of the Government College of Fine Arts, Chennai; K. Natarajan, sculptor; and A. Amirthalingam, painter.
Terming it a vast, unexplored site, Mr. Gandhirajan said: "It is an important site in northern Tamil Nadu, which is being destroyed fast. It has not been excavated so far, and it may yield a lot of Palaeolithic tools." There are two types of burials here: cairn-circles with dolmenoid cists on the surface and plain cairn-circles.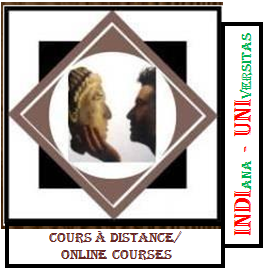 CIV 109 - 209 : Ancient India
Hidden secrets
"These burial sites have hidden secrets of the social life of the Sangam age. The poets of the Sangam age talk about such burial sites, which are equally or more important than the Tamil-Brahmi sites," Mr. Gandhirajan said. But the cairn-circles near Veeranam are being destroyed by villagers living a few km away. A quarry is mining granite in the hills close to the site and "if the quarry extends its operation, the site will be destroyed."
K. Rajan, Professor of History, Department of History, Pondicherry University, said there were several references in the poems of the Sangam literature to the megalithic burials. One of the poems, for instance, spoke about 'paral uyar padhukkai,' that is, elevated stone circles ('paral' means stones, 'uyar' referring to elevated and 'padhukkai' meaning circles).
Dr. Rajan, who has discovered scores of megalithic burial sites including cairn-circles, dolmens and menhirs, said the Veeranam and other sites in Tiruvannamalai district could be dated to 1,000 BCE — that is, 3,000 years before the present.
"Destruction of these megalithic burial sites is going on at a very fast rate," he said. Vandalism had destroyed the superbly built dolmens at Mallanchandiram in Krishnagiri district. Industrialisation has erased the megalithic burials at Mankulam near Madurai. Urbanisation and construction of a dam at Orathupalayam have destroyed the Iron Age burial sites near Kodumanal, near Erode.
Sites destroyed
Hundreds of megalithic burial sites that have been destroyed include those on the Vandalur-Kelambakkam Road near Chennai, Venpakkam near Singaperumal Kovil, also near Chennai, in and around Pudukottai, at Kallampalayam in the Nilgiris, Vellaripatti, near Madurai on the Madurai-Tiruchi Road, at Porunthal village and Ravimangalam, both near Palani.
The advent of huge earth-moving machines, used for laying highways and digging big pits, hastened the destruction of the Iron Age burial sites, Mr. Gandhirajan said.
He wanted the Tamil Nadu Archaeology Department or the Archaeological Survey of India to prepare a list of the surviving sites, fence them off and declare them protected monuments under the Ancient Monuments and Archaeological Sites and Remains Act.