Västra Vång (Suède): Viking-age 'gold men' unearthed
Västra Vång (Suède): Viking-age 'gold men' unearthed
Oliver Gee / Photos: Blekinge Museum
Source - http://www.thelocal.se/20131115/viking-age-gold-men-found-in-southern-sweden
Swedish archaeologists have revealed a secret hoard of ancient trinkets including gold figures and Viking coins, with experts hoping the find will reveal more information about the Iron Age in Sweden.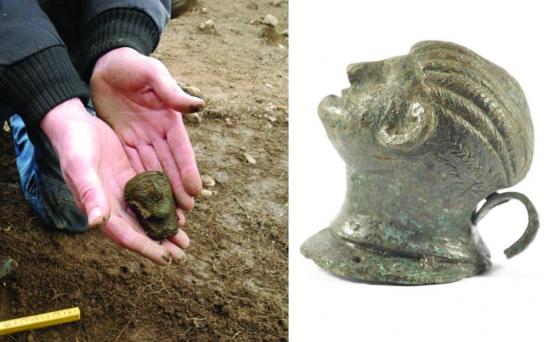 "The initial find was a real surprise," archaeologist Mikael Henriksson told The Local. "But it sunk in after a while."
The initial find Henriksson refers to is his own discovery of a bronze Celtic mask back in 2004, on a hill in a valley in Västra Vång in Blekinge. After eight years, a whole team was dispatched to the area to conduct a thorough excavation with geo-radars where the team found what Henriksson called a site "of great importance" dating back to the Iron Age, between the birth of Christ and the early Middle Ages.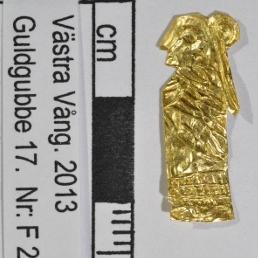 The team uncovered a number of trinkets there over a period of two years, including gold foil heads of men and women that were likely used to decorate large cauldrons. 
Since then, the team kept the finds secret from the public to avoid plundering, and retrieved a total of 29 of the anthropomorphic gold foils (known as guldgubbar in Swedish) - the third biggest find of its kind in Swedish history. The team also found five bronze-cast heads, fragments of a vessel, as well as other bronze objects, Roman glass, gold spirals and Viking-age coins.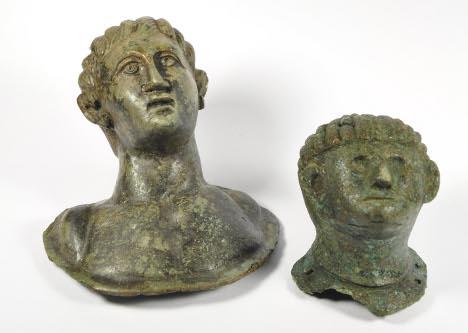 As to whether the artefacts were left on purpose or abandoned, Henriksson cannot say, but added that it was turbulent times when the objects were used.
"There were masses of people moving around Europe, it was right after the fall of the west Roman empire and it was every tribe for itself. It affected all of Europe. But what we can say is that the vessels we found were used for ritual drinking and feasting, and were even sacrificial. The area may have been buried or it may have been deserted and left for good. Or it could have been a ritual burial site - we're still not really sure."
But the finds are of great importance, he added, stating that comparing the trove with other similar finds in southern Scandinavia may shed more light on the Iron Age in Sweden. 
"This is a unique opportunity to establish a cooperation of a kind that hasn't been possible before," Henriksson told The Local.
The artefacts will be on display in the Blekinge Museum in summer, with images of the finds to be uploaded to the website soon.