Another Room, Metal and Organic Objects Revealed!!!
Ministry of Antiquities
Source - https://www.facebook.com/Ministry-of-Antiquities-336764893195328/
In a press conference held a while ago at the Ministry of Antiquities' Ahmad Pasha Kamal Hall – Zamalek , Dr. Mamdouh Eldamaty declared the results of analyzing the radar scans performed by Hirokatsu Watanabe in 26-27 November 2015 that aimed at examining specific walls within the Tomb of Tutankamun (KV 62) using a specially modified ground Penetrating Radar.
Eldamaty declared that results reached by Watanabe suggest the presence of two empty spaces or cavities beyond the decorated North and West walls of the Burial Chamber.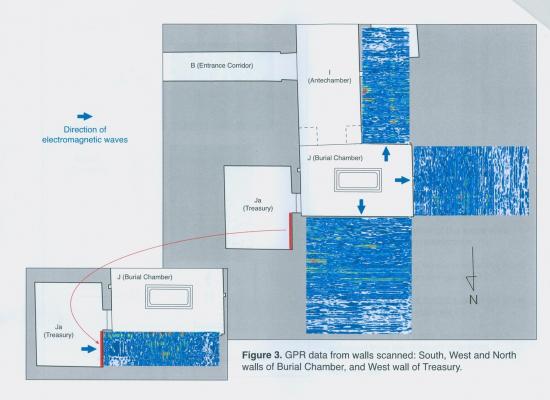 Within those cavities, added Eldamaty, analyzed data suggest the presence of metallic and organic substances. Those results, as Watanabe suggests, coincide with the supplementary elements of the KV 62 ground plan recently proposed by Dr. Nicholas Reeves.
Furthermore, based on the GPR data curves that might indicate door lintels were also detected above the detected cavities, which can be seen as an entrance to those cavities.
Another digital radar survey will be made at the end of this month (March) for more accurate results and a press conference will be held on the 1st of April to announce its results.
Finally, Eldamaty said that the coming period will witness multiple steps to be taken in order to reveal more about the secrets of King Tut, describing this event as a rediscovery of the Golden Pharaoh's Tomb that might lead us to the "Discovery of the century".