San Antonio de Valero (USA): Archaeologist May Have Discovered Earliest Spanish Mission, Alamo's Original Location
San Antonio de Valero (USA): Archaeologist May Have Discovered Earliest Spanish Mission, Alamo's Original Location
Source -http://www.hispanicallyspeakingnews.com/latino-daily-news/details/archaeologist-may-have-discovered-earliest-spanish-mission-alamos-original-/28207/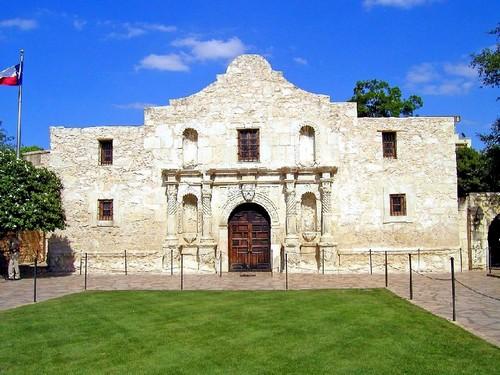 Photo: UT Educ
Texas archaeologists are excited about the possibility they have located the oldest Spanish mission in San Antonio and the precursor to the famous Alamo.
Remnants, that include broken pottery and rosary beads, have been located on a 3-acre parcel of land by city archaeologists and by the University of Texas' Center for Archaeological Research.  The items are thought to belong to the 1718 Mission San Antonio de Valero. 
The Mission San Antonio is thought to be the oldest Spanish mission in San Antonio and one of Texas' first missions.  The Mission moved twice before moving to its final destination and being renamed the Alamo. 
Father Antonio Oliverares, a Spanish missionary, built the first mission in an unknown location.  What is known is that the first mission consisted of temporary structures that were eventually destroyed.  The mission then moved closer to the San Antonio River until it was destroyed by a hurricane around 1720.  In 1724 the mission moved to its final location, renamed the Alamo by the Spanish cavalry and the rest they say is history.
The armies of five countries have occupied the Alamo: Spain, Mexico, the Republic of Texas, the Confederate States of America and the U.S.  The Alamo is no longer remembered for the missionary work conducted there but for the Battle of 1836 that pitted Mexican General Santa Anna against Jim Bowie and David Crockett; a pivotal event in Texas' fight for independence.
The Mission San Antonio de Valero is considered one of the first Spanish missions in Texas playing a critical role in the settlement of the Southwest region.  The first inhabitants of San Antonio de Valero were members of Indian tribes, like the Pachaque and Coahuiltecan Indians, that the Spanish were trying to convert to Catholicism.  The mission is named after a Spanish Marquis who served as a viceroy in the region.
Archaeologists are planning more excavating and date testing of the items found.  Specifically the excavating team is testing for 'puebla polychrome' a type of majolica that exited before 1725. 
Ironically, the 3-acre parcel of land, where the archaeological remnants were found, is owned by the Christopher Columbus Italian Society.