Neil Prior
Source - http://www.bbc.co.uk/news/uk-wales-south-west-wales-25689652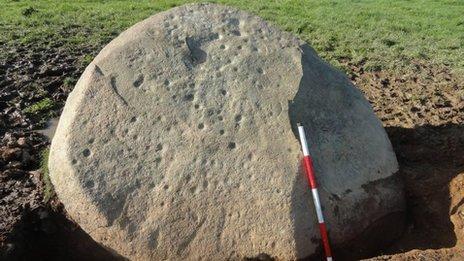 Marks on the Trefael Stone are now thought to resemble stellar constellations
A ritual burial site in Pembrokeshire may have been in use 10,000 years ago - almost twice as far back as expected, said archaeologists.
The Trefael Stone near Nevern was reclassified as a Stone Age burial chamber after its capstone was studied.
But a three-year dig has since found beads dating back much further, perhaps to the Neolithic or Mesolithic periods.
Dr George Nash said the carbon dating of bones found there also suggested it was used as recently as 1,900 BC.
Bristol University and the Welsh Rock Art Organisation excavated at the site from 2009 and had permission to examine 1.9kg of cremated human bones.
Dr George Nash, who headed the dig, said that rather than trying to pinpoint a single moment in time, the excavation had revealed a site which was of symbolic significance to ancients for millennia.
He said: "The best comparison I can come up with is with a medieval churchyard.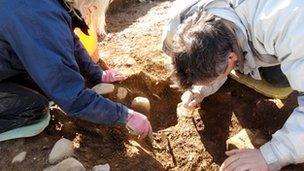 The dig has found beads dating back 10,000 years and human bones from 3,900 years ago
"When you walk around it, the most obvious examples of graves from about 100 years ago, but when you search a little further you can see the evidence of older burials, and how the site has altered and evolved over the centuries.
"Why this site, or any other, became of such significance is still under debate."
However, the best theory appears to be that sites such as these symbolised the periphery of prehistoric territories where hunter-gatherers would have met to trade and negotiate.
"Because they would have come back there generation after generation, it became ingrained in their collective psyche as a place of almost romantic importance," said Dr Nash.
For centuries the Trefael standing stone was largely disregarded as just one of hundreds of similar Bronze Age monuments.
Yet closer analysis of its distinctive cup marks now indicate that they loosely match the pattern of stellar constellations.
This would only make sense if, rather than standing upright, it had originally been laid flat as a capstone which would have once been supported by a series of upright stones.
Dr Nash believes the Trefael Stone in fact topped a Neolithic burial chamber, probably a portal dolmen, which is one of western Britain's earliest burial monument types.
"Many years ago Trefael was considered just a simple standing stone lying in a windswept field, but the excavation programme has proved otherwise," he said.
"It suggests that Trefael once lay in the heart of a ritualised landscape that was in operation for at least 5-6,000 years.
"The geophysical survey has shown that most of the area within a 1km (0.6 mile) radius of the site has significant archaeological remains beneath the soil, including at least seven probable barrows and a number of later prehistoric enclosures.
"The discovery of human remains and their subsequent date range is the icing on the cake."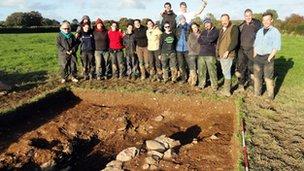 The team dug at the site for three years to discover its secrets
Though after 6,000 years of continuous use, Trefael appears to have been abandoned shortly after the date of the human remains unearthed there.
Dr Nash said: "We'll never have all the answers. It's amazing that we've found this much in the notoriously acidic Pembrokeshire soil, which normally destroys any ancient artefacts.
"But it's not surprising that the significance of Trefael seems to have fallen away after the mid-Bronze Age. It ties in with what we know of similar burial sites around Europe.
"As the importance of metal grew, those who controlled the natural resources became ever more powerful.
"So Bronze Age Wales moves away from the democratised society of mass ritual burials, to one where power is concentrated in the hands of a relatively small warrior elite."
The Trefael Project is run by members of the Welsh Rock Art Organisation, a non-profit research body specially interested in researching and promoting prehistoric rock art in Wales.