TREBENISTE (Serbie) - Prince's treasure 2,500 years old
TREBENISTE (Serbie) - Prince's treasure 2,500 years old
Prince's treasure 2,500 years old
Milena Marjanovic
Source - http://english.blic.rs/Culture-Showbiz/7626/Princes-treasure-2500-years-old
BELGRADE - For the first time since its restoration and a three-year absence from the country, the famous krater of Trebeniste, the most significant discovery from late 6th and early 5th centuries BC, is back in Belgrade. As of 7pm today, visitors to the National Museum will be able to see the masterpiece in its renewed allure after it had undergone restoration in Italy.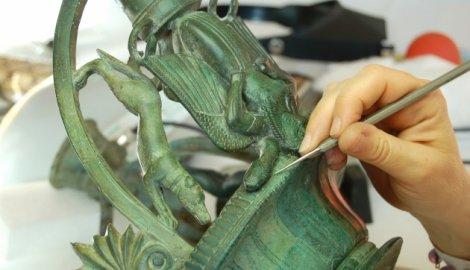 This memorable event has been organise to coincide with Belgrade's National Museum Day, which celebrates 167 years since its foundation.
The exhibition entitled "Italy and the restoration of a magnificent krater – Prince's Treasure of the National Museum" will commence with a speech by the museum director Tatjana Cvjeticanin and subsequently officially opened by Minister of Culture, Information and Information Society of Serbia, together with Armando Varicchio, the Italian ambassador to Serbia.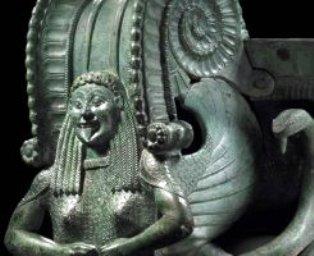 The display was first set up in Rome and Padova in Italy, and has now returned to Belgrade. The centrepiece of the Greek antiquities exhibition in the National Museum is the magnificent krater, which was restored by experts from Rome's Special Direction for Cultural Goods.
Apart from the krater with a tripod, there are 30 more exhibits displayed, such as a mask and a pair of sandals made of gilded tin, a bronze helmet, a gold and silver cup, a horn, a decorative pin, an aryballos from Trebeniste, a hydria, a bronze colander, belts, earrings, and many more artefacts.
The bronze krater from early Bronze age, a vessel used to hold wine, was initially discovered by archaeologist Nikola Vulic in the village of Gorenica near Trebeniste, Macedonia, and has been part of Belgrade's National Museum's permanent showcase ever since.
It is an exceptional find and a rare example of bronze work from the 6th century BC and has therefore been the subject of popular interest. Although it has been conserved twice – the second time in the 1960s – it needed a new treatment, as the vessel rosin support had started to deteriorate.
- "A team assembled from experts from various institutions was in charge of of conservation and analysis of the krater, but we also worked on determining the manufacture process of certain elements of the krater. The proportions of the krater were determined in Italy, as the piece was compared with similar ones found around the same period in Macedonia.
Through the process of using a Greek measurement, we have now got a renewed, slightly more elongated, krater," said Italian archaeologists Angelini and Colaccichi.