Traverse (USA) : A prehistoric crossroads
Traverse (USA) : A prehistoric crossroads
Traverse Corridor: A prehistoric crossroads
Some artifacts from the area date back 10,000 years
Loraine Anderson
Source - http://record-eagle.com/local/x1181957070/Traverse-Corridor-A-prehistoric-crossroads
Little was known about prehistoric northwestern lower Michigan in 1966, when anthropologist Charles Cleland and his college archaeology students started 40 summers of digging around.

Cleland, then a Michigan State University professor looking for field-study opportunities for his students, had a hypothesis. He postulated that a prehistoric "Traverse Corridor," stretching from the base of Grand Traverse Bay to the Mackinac Straits, was used by early Native Americans during their warm-season migrations thousands of years ago.

His theory earned a National Science Foundation grant that funded the initial discovery in the late 1960s and 1970s of 30 to 40 prehistoric summer villages and many smaller camp locations in this region.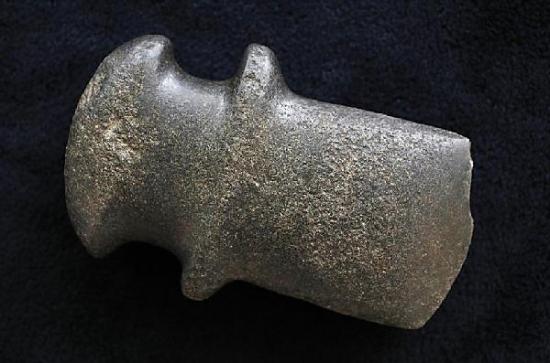 A full-grooved Michigan axe head found in the late 1960s

Today, this continuous avenue of Great Lakes coastal plains and inland lakes is known as a summer fishing, hunting and gathering ground used by two different groups of prehistoric people about 1,800 years ago at the latest.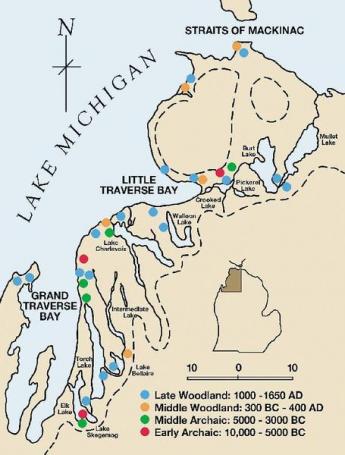 One group came from Canada to catch and dry fall-spawning whitefish and lake trout along the Great Lakes shoreline to take back to winter camps in interior forests. Archaeological evidence indicates they used gill nets by 900 A.D., Cleland said.

The second group came from the southern parts of the Upper Great Lakes, Ohio Valley and as far away as Georgia. They relied more on agriculture but also hunted, fished, grew corn and gathered a variety of foods in the open marshes, mixed lowland and upland forests around the inland lakes.

Cleland retired from MSU in 2000. He now lives in Norwood with his wife, Nancy, an ethnobotanist who also worked on some of the excavations and writing projects. Cleland's most recent book, "Faith in Paper," was published this fall by University of Michigan Press.
Artifacts
The stone tools, flint arrowheads, copper spear points, decorative marks on pottery shards and animal bones found a half-century ago in this region explained much about the area's earliest summer residents.

Numerous discoveries shed light on the region's rich history:
n The earliest evidence of human presence in this area is a 10,000-year-old flint spear point found at Skegemog Point in Antrim County that dates back to the Early Archaic era.
A socketed copper point made from Upper Peninsula copper discovered in area archaeological digs iover the last half century. Prehistoric Great Lakes Indians were working pper into tools along Lake Superior were among the earliest people on Earth to make metal tools.

n Both groups of prehistoric people used chert, or flint, obtained from a stone quarry on the northeast side of Grand Traverse Bay to make tools such as chipped stone hammers, hide scrapers, knives, projectile spear points, axes and adzes, which were used to shape and trim lumber.

n The average village covered about an acre while the largest were about three acres. Cleland said it's hard to determine how many people lived in them during prehistoric times, before the written word. But archaeologists know from early written documents that an average 150 people, or about 30 families, lived in summer villages.

n Evidence of fishing nets includes bark cordage remnants, piles of whitefish bones at certain fishing grounds and grooved or notched stone net sinkers lying in continuous lines on the exposed and underwater lake bottoms. Whitefish are difficult to catch with hook and line or spear. Archaeologists believe the stones anchored the nets while cedar boughs were used to keep the tops afloat.

n Charred seeds found in fire pits indicate that edible green lambs quarter, hawthorn and elderberries were gathered in August and September.

n U.S. 31, as it passes Little Traverse Bay around Petoskey and Bay View, is near a prehistoric portage between the bay and the Inland Waterway, a system of lakes and streams that lead to the Straits of Mackinac.
The artifacts supported Cleland's hypothesis that Native Americans used a prehistoric corridor to travel the region.

"They revealed a whole lot about prehistoric life here that had not been known before," he said.

It's possible the two groups met and influenced each other during their summer migrations to an area where fish were plentiful and corn could grow, he said. Lakes made the climate along the corridor milder than other Michigan places at the same latitude.

Cleland and his summer seminar students surveyed and excavated other sites across the state into the 1990s. The spots they worked included Fisherman Island State Park near Charlevoix; Mackinaw City and Crooked Lake in Emmet County; Bois Blanc Island in Cheboygan County; the Les Cheneaux, Drummond and Garden islands; Fort Brady in Sault Ste. Marie; and Huron Indian Village in St. Ignace.
Cleland's find
Cleland has the distinction of finding the only organic Paleo-Indian artifact in Michigan — a piece of barren-ground caribou foot bone uncovered in 1962 in southeast Michigan.

Barren-ground caribou today are found mostly in Alaska and northern Canada.

Paleo-Indians were the first people to cross the Bering Straits between 15,000 B.C. and 7,000 B.C. and archaeological evidence indicates they arrived in the Upper Great Lakes about 12,000 B.C. as glaciers retreated.

Paleo-Indian sites are rare; only three or four exist in Michigan. Identifying organic remains at these sites is even rarer.

"I was thrilled," Cleland said of his discovery. "It was an important find. We knew from other sites that Paleo-Indians hunted caribou and mastodon, but we didn't know they were hunting in the East. It was one of the first indications of Paleo-Indian caribou hunting anywhere in the United States."