Transition to Christianity: Art of Late Antiquity, Third to Seventh Century AD
Transition to Christianity: Art of Late Antiquity, Third to Seventh Century AD
Transition to Christianity: Art of Late Antiquity, Third to Seventh Century AD
7 Dec 11 – 14 May 12
Source - http://www.theartnewspaper.com/whatson/event/Transition-to-Christianity:-Art-of-Late-Antiquity,-Third-to-Seventh-Century-AD/1122496
New York - Onassis Cultural Center
The late antique, a period spanning 400 years beginning in the third century AD, which marked the transition from classical antiquity to the early medieval period, was for centuries largely clouded in mystery and false impressions.

It was not until the 1960s and 70s that scholars began to debunk the long held assumption that the period was characterised mostly by doom and gloom.

This exhibition, co-organised by the Onassis Found­ation and the Byzantine and Christian Museum in Athens, features more than 170 artefacts that illustrate the distinct character and culture of the late antique.

Several are recent archaeological finds and many have never been on view outside Greece. According to historian Peter Brown who served on the exhibition's advisory committee, scholars examining the late antique in the middle of the last century drew parallels between their recent turbulent history (two world wars and the Cold War), and the last centuries of the Roman empire, which was characterised by a series of military and social upheavals.

It was not until the 1960s that a younger generation of scholars first began to realise that there was indeed life after the third century, and this exhibition supports this more recent theory.

Slobodan Curcic, the show's chief curatorial consultant, says the aim is not to "dazzle" with "the splendour of the displayed pieces", but to present several important themes that reveal what is distinct about the period.

The show is arranged in seven thematic sections including "Christianity on the Rise: from Recognition to Authority", which explores the ram­ifi­cations of Emperor Con­stantine's recognition of Christ­ianity and shows how imperial and Christian imagery merged.

"Death and New Life" focuses on burial practices and the rise of the cult of saints, and "Genesis of Christian Art" examines how pagan art forms such as portraiture were appropriated and adapted by artists to suit the needs of this new religion.

"Christianity introduced a specific need for the veneration of its holy men and women as a distinctive form of religious expression.

Appropriation of portraiture in this context, along with the aesthetic shift toward two-dimensional representations yielded [an] art form that eventually became known as the icon," says Curcic.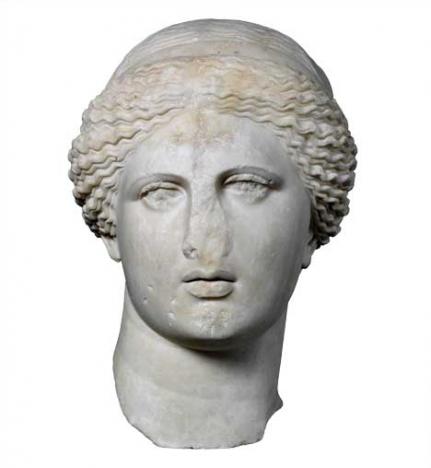 A first-century head of Aphrodite
Highlights of the exhibition include a first-century head of Aphrodite from the National Archaeological Museum in Athens, a pair of fourth-century gold pendants set with gold coins of Constantine and three of the nine extant David plates on loan from Cyprus.

Discovered in 1902, the cast-silver plates depict scenes from the life of the King David. n Emily Sharpe Categories: Archaeology & Ancient art