Tower of London calls in team of scientists to investigate mysterious Medieval wall painting
Tower of London calls in team of scientists to investigate mysterious Medieval wall painting
Tower of London calls in team of scientists to investigate mysterious Medieval wall painting
Source - http://www.culture24.org.uk/art/painting+%26+drawing/art315743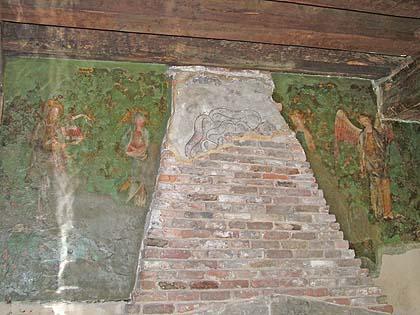 The Byward Tower wall painting at the Tower of London
The Tower of London has allowed scientists to use eye-scanning software and infrared laser technology on a mystery Medieval wall painting which has baffled curators at the royal landmark.

A team led by Nottingham Trent University's Dr Haida Liang used a portable Optical Coherence Tomographer, which allows them to see layers beneath the surface of paintings, and multispectral scanning – known as PRISMS – to investigate areas of the 14th century Byward Tower wall painting.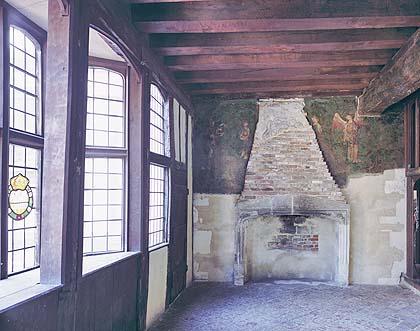 The purpose of the 14th century painting is unclear
"This is an incredibly rare Medieval wall painting of extremely high quality," said Building Curator Jane Spooner.

"It's such an important work of art, of national and international significance, so it's important for us to know as much about it as possible to be able to preserve it.

"I first met Dr Liang when she approached us with an interest in looking at the painting. She was developing these techniques and wanted to work out how they could work in a relevant way.

"Scientific research into these paintings is very useful both in understanding how they were made and helping us come up with strategies into preserving them.

"The samples we were taking were the size of a pinhead anyway, but it's great if you can avoid doing that. This non-invasive research is ideal because it doesn't cause any damage."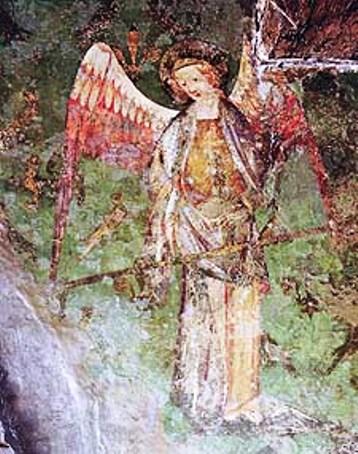 Complex scanning techniques have allowed the layers of the painting to be revealed
Dr Liang, who has spent six years developing her methods for examining paintings and archaeological relics, said being involved in the project had been "a real privilege".

"Using the Optical Coherence Tomographer is a technique borrowed from medical imaging – it was first developed to look at the eye in 3D," she explained.

"In 2004 we started using it, but we've never really scanned a wall painting before. The technique allows you to be about a centimetre away from the painting and probe into it without touching it. It gives you the internal structure of the painting.

"We developed the PRISMS system a few years ago in our lab. You can just put it on ground level and look at a painting far away.

"If you think about the rainbow, with different colours, we are collecting colours from the visible part of the spectrum and the near-infrared."

The Byward Tower wall painting is the only surviving Medieval painted interior at the Tower, depicting a crucifixion with flanking saints featuring St Michael the Archangel as the most intact figure.

Curators from Historic Royal Palaces have launched a research project to find out why the mural was made and ensure it is preserved effectively.