Tottori (Japon): Image of shark found on ancient bronze sword
Tottori (Japon): Image of shark found on ancient bronze sword
Kunihiko Imai
Source http://ajw.asahi.com/article/behind_news/social_affairs/AJ201602260038
This ancient bronze sword from the Yayoi Pottery Culture period bears an image of a shark. (Eijiro Morii)
Tests on an ancient bronze sword taken out of storage in the Tottori Prefectural Museum have surprised researchers.
The blade of the weapon from the second century B.C. bears an engraving of a shark, the first time an image of this kind has been found on a bronze object.
The problem is that the provenance of the weapon remains a mystery. It was donated to the museum 26 years ago by the family of a collector who lived in the prefecture and had died. Other than that, nothing is known of the sword. There are no records of where it was found.
Researchers are curious because earthenware vessels and wooden objects from the Yayoi Pottery Culture (300 B.C.-A.D. 300) have been discovered at sites facing the Sea of Japan with images of sharks, but never on a bronze object.
The artifact has been dated to the mid-Yayoi period.
The finding was announced Feb. 10 by the Tottori prefectural government and the Nara National Research Institute for Cultural Properties.
The sword is about 42 centimeters long.
The Nara research institute recently examined the blade and noticed the 2.3-cm-long etching of a shark. Based on its streamlined shape and the characteristics of two dorsal fins and other details, researchers concluded it is not an image of a dolphin or ordinary fish.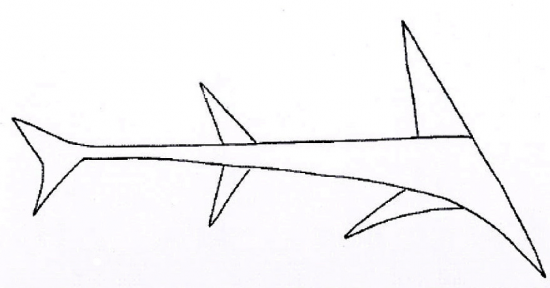 An illustration of the shark on the blade (Taken from material provided by the Tottori prefectural government)
Researchers already know that Japanese people in ancient times were familiar with sharks as the fish feature in the mythological story of "Inaba no Shirousagi" (Hare of Inaba). Inaba is the old name for the eastern part of Tottori Prefecture.
Earthen vessels and wooden objects from the Yayoi period with drawings of sharks have been unearthed at archaeological sites such as Aoyakamijichi in Tottori, Hakaza in Toyooka, Hyogo Prefecture, and Shiroedakojin in Izumo, Shimane Prefecture.
"In the Sanin region (primarily Tottori and Shimane prefectures) during the Yayoi period, a cultural unity existed through trade, and people there probably drew sharks as a symbol," said Isao Yumura, a researcher with the Tottori Prefectural Archives. "Sharks repeatedly shed and replace their teeth. Shark meat also is rich in ammonia, which makes it difficult to go rotten. Perhaps sharks were a symbol of regeneration or longevity."
Yumura's office is currently engaged in compiling a book on the prefecture's history. It had asked the Nara research institute to examine the bronze sword as part of that effort.
The shark engraving was probably applied with a sharp stone or metal tool.
"I suspect the bronze sword may have come from a different area and that the engravers etched their own mark," said Yozo Nanba, director of the Nara research institute's Center for Archaeological Operations.
The artifact will be exhibited in the Tottori Prefectural Museum in Tottori city until May 8.