Top 10 Discoveries of 2017
Top 10 Discoveries of 2017
PART.2
Iron Age Britain's Oldest Gold
Staffordshire, England
MARLEY BROWN
Four torcs found in Leekfrith, Staffordshire, in England, are the oldest examples of British Iron Age gold. The smallest torc was likely worn around the forearm, the others around the neck - Joe Giddens/PA Archive/PA Images
Four torcs uncovered in Leekfrith are the earliest Iron Age gold items ever found in Britain. They can be dated to between 400 and 250 B.C. based on their stylistic qualities, says Julia Farley of the British Museum, who notes they were most likely worn by women. The torcs' age is remarkable because, for several hundred years starting around 800 B.C., people in Britain appear to have largely abandoned wearing and manufacturing gold jewelry. One explanation is that the trade networks that brought gold to England had broken down. Tin and copper, used to make bronze, which had been key imports, were no longer needed once locally produced iron became available. Societies became focused on community survival rather than individual status. "Communal identity might have been more important than things which emphasize an individual's power, like wearing loads of bling," Farley explains. She believes the torcs were likely made on the continent and show that personal adornment was coming back into vogue as Europe grew cosmopolitan again. "The simplest explanation," Farley says, "is that they came across the channel as gifts or trade goods, or perhaps the women even came over wearing them."
Rome's Oldest Aqueduct
Rome, Italy
ROSSELLA LORENZI
A section of what is believed to be the Aqua Appia, Rome's oldest aqueduct, extending more than 100 feet, has been uncovered during construction of a new subway line near the Colosseum - Bruno Fruttini
Construction workers on Rome's new "C" metro line uncovered what is believed to have been part of the Aqua Appia, Rome's oldest-known aqueduct, which dates back to 312 B.C. The remains were found near the Colosseum, at around 55 to 60 feet below Piazza Celimontana, a depth usually unreachable by archaeological excavation, says Simona Morretta of the Archaeological Superintendency of Rome. The section of aqueduct measures 6.5 feet tall and is made up of large gray, granular tufa blocks arranged in five rows. "The total absence of any traces of limestone inside the duct suggests that its use over time has been limited," says Morretta, "or that the structure was abandoned just after a maintenance intervention." It stretches for more than 100 feet and continues beyond the investigation area bounded by concrete bulkheads.
Aztec Warrior Wolf
Mexico City, Mexico
ROGER ATWOOD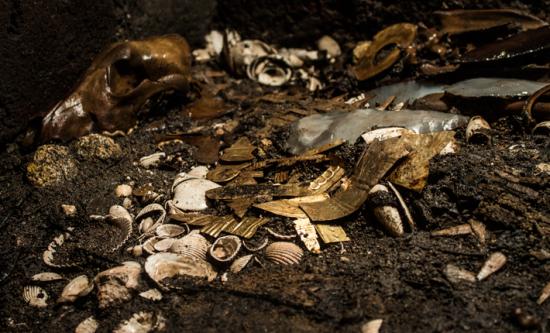 The adorned skeleton of a wolf, including its skull (top left corner), has been discovered in a burial in Mexico City. Gold artifacts placed with it appear to have been intended to treat the wolf as if it were a human warrior - Mirsa Islas/Courtesy Templo Mayor Project
Archaeologists excavating at the foot of the Aztecs' Great Temple, in downtown Mexico City, discovered a dazzling collection of gold artifacts and the skeleton of a juvenile wolf. Occupying a stone box the size of a dishwasher, the gold artifacts are the finest yet excavated at the 40-year-old dig, says lead archaeologist Leonardo López Luján. They include ear and nose ornaments and a piece of body armor known as a pectoral—glittering, stylized versions of attire that were used to decorate the sacrificed wolf, as if the canine were symbolizing a human warrior. The wolf's head faced west, signaling that it was "the companion of the sun, after the sunset, during its journey to the underworld," says López Luján. The offering was buried during the reign of Ahuitzotl (1486–1502), a time of war and great imperial expansion for the Aztecs.
Super Fruitcake
Cape Adare, Antarctica
DANIEL WEISS
A nearly edible Huntley & Palmers fruitcake has been discovered in a hut on Antarctica's Cape Adare. It is thought to have been left behind in 1911 by members of a British expedition - © Antarctic Heritage Trust
The discovery of a 106-year-old fruitcake on Antarctica's Cape Adare may help redeem the delicacy's much-maligned reputation. The centenarian cake was found by a team from the Antarctic Heritage Trust in the continent's oldest building, a hut erected in 1899, and is thought to have been left there in 1911 by members of the Northern Party, part of British explorer Robert Falcon Scott's Terra Nova expedition. The tin holding the Huntley & Palmers fruitcake was somewhat rusty, but the cake itself was in fine shape—likely due to the cold, dry conditions. "It felt and looked like a new fruitcake," says Lizzie Meek, the trust's program manager. "It was only if you got quite close to it that you could smell that slightly off smell of butter that's gone wrong."
Finding Indianapolis
North Pacific Ocean
JARRETT A. LOBELL
The heavy cruiser USS Indianapolis was photographed on July 10, 1945, just six days before she embarked on her final mission - Courtesy U.S. Navy
The sinking of USS Indianapolis is ranked as one of the greatest disasters in U.S. naval history. The much-decorated Portland-class heavy cruiser left San Francisco on July 16, 1945, with 1,196 crewmen aboard. Her final mission, as she raced to the naval base on the North Pacific island of Tinian, was to deliver components of "Little Boy," the atomic bomb dropped on Hiroshima. Mission completed, the ship set out along a prescribed course only to be hit by torpedoes fired from a Japanese submarine on July 30. Indianapolis began to sink within a mere 12 to 15 minutes. Three and a half days passed before aircraft spotted survivors. The wreck of Indianapolis was lost for 72 years. Now, it has been found, some 18,000 feet under the North Pacific.
Because no distress call was received and her deck logs did not survive, the official Navy record of the ship's location when she sank relied primarily on the testimony of her surviving captain, who confirmed that he had followed his assigned route from Tinian to the Philippines. By comparing this route with the position of LST-779, a tank-landing ship newly identified as having been the last known vessel to have had visual contact with the cruiser, 11 hours before she sank, naval historian Richard Hulver and archaeologist Robert Neyland suggested a new position for the wreckage of Indianapolis. Though there have been efforts to locate her before, "No one thought they would ever see Indianapolis again," says Hulver. "But I was hopeful." Using an autonomous undersea vehicle able to scan the remotest depths of the seafloor, a research team located the ship. Until now, Indianapolis' 316 survivors, 18 of whom are still living, had provided the only evidence of her triumphs and tragedies.
Source - https://www.archaeology.org/issues/281-1801/features/6163-top-10-discoveries-of-2017