Tirukovilpattu (Inde): Oldest shrine dedicated to goddess Cauvery 'detected
Tirukovilpattu (Inde): Oldest shrine dedicated to goddess Cauvery 'detected
L. Renganathan
Source - http://www.thehindu.com/news/national/tamil-nadu/oldest-shrine-dedicated-to-goddess-cauvery-detected/article7005271.ece?ref=tpnews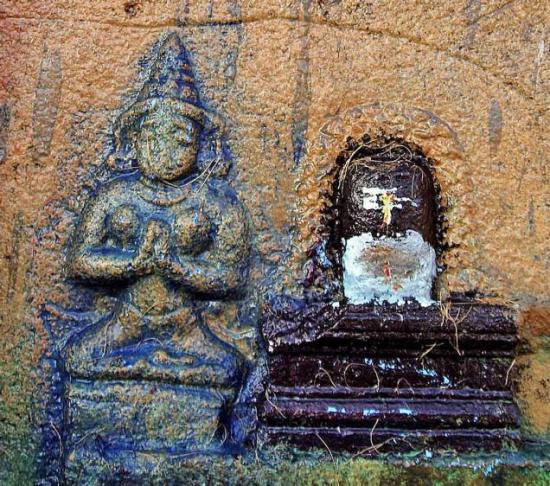 Kaveri Nangai worshipping Lord Shiva at Tirukovilpattu village in Thanjavur district.— Photo: R.M. Rajarathinam
Establishing a direct connection between a site, referred to in the Karanthai Copper Plates of the 10th century AD, and an old Shiva temple at Tirukkoilpattu near Thanjavur, archaeologists here claim to have detected the oldest shrine dedicated to goddess Cauvery in the Cauvery delta region.
Studying Tirukoilpattu-Arunthavapuram villages near Ammapettai in Thanjavur district, archaeologist Kudavayil Balasubramanian was able to correlate the site as one among the 51 villages that were served by the massive Tribhuvanamadevi Pereri, named by its creator King Rajendra Chola I after his mother and spouse of King Rajaraja I, Tribhuvanamadevi.
In the Karanthai copper plates of King Rajendra Chola, preserved in the Government Museum, Chennai, Tirukoilpattu is referred to as Rajarajeswarapuram and the temple, that is now known as Sri Vajrapureeswara, was then called Rajaraja Eswaram, Dr. Balasubramanian told The Hindu .
At the Vajrapureeswarar Temple near the Dakshinamurthy Goshtam, bas relief images of the Cauvery worshipping Lord Shiva with folded hands are found etched on the wall.
To clearly indicate that the woman worshipper is indeed Cauvery, line art image of a flowing river replete with tortoise and fish is inscribed on the wall above the deities.
Separate shrine
There is a separate shrine dedicated to the Cauvery in the temple and that is referred to as pidari amman safeguarding the huge tank.
In fact, the studies have revealed the boundaries of the Tribhuvanamadevi Pereri, again referred to in the Karanthai copper plates, between Saliyamangalam and Ammapet feeding 51 villages including Tirukkoilpattu.
Satellite imagery and revenue records shed light on the boundaries of the Pereri, Dr. Balasubramanian disclosed.
The revenue collected from the 51 beneficiary villages amounted to 51,050 kalam paddy and that was disbursed to 1,080 Vedic scholars housed in the region, as per the inscriptions on the Karanthai copper plates that were put out on the eighth regal year of King Rajendra Chola I.
The temple is being renovated with the assistance of Panchayat president Duraikannu and cohabitants Sundaramoorthy, Gopinath and Panchapakesa Gurukkal, among others, who also contributed to the research findings.
While excavating during the renovation of the Shiva temple, a decapitated Buddha statue in Padmasana was unearthed, according to Dr. Balasubramanian.