Tinian (Micronésie) : 3,500-year-old pottery and artifacts
Tinian (Micronésie) : 3,500-year-old pottery and artifacts
Archeologist uncovers ancient pottery
Arvin Temkar
Source - http://www.guampdn.com/article/20120130/NEWS01/201300308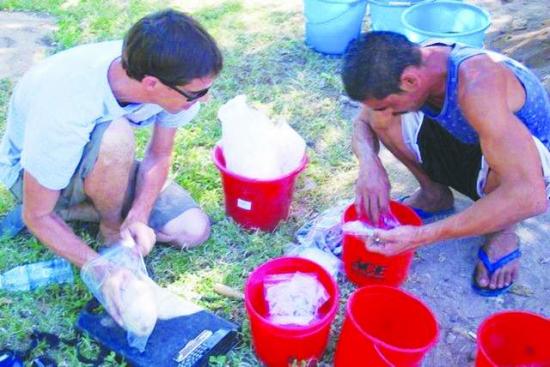 Dr. Mike Carson, left, and Lino Villagomez place artifacts, found at the House of Taga archaeological site, into storage bags for labeling. / Photo courtesy of Shannon Murphy
A former University of Guam archaeologist has uncovered 3,500-year-old pottery and artifacts in Tinian, a find that could add to theories about how people first came to Micronesia.
Mike Carson, a lecturer at Australian National University, and his wife, Hsiao-Chun Hung, discovered the artifacts at the Taga historical site in early December, according to the Richard F. Taitano Micronesia Area Research Center Archaeological Laboratory at UOG.
The House of Taga, most notable for a set of large, latte stone pillars, has been the site of previous excavations in the mid-20th century. Carson took the digging deeper and discovered a treasure trove of Marianas redware pottery.
Carson couldn't be reached for this article, but John Peterson, a UOG archaeologist, confirmed the find. Marianas redware is thin-walled pottery with a characteristic red hue and distinct geometric patterns, Peterson, said.
While a little bit of this type of pottery has been found in the Marianas before, including at the House of Taga site, the recent find adds a significant amount to the collection.
"There is a massive amount of material now to document," Peterson said.
Migrations
As the theory goes, about 3,000 to 3,500 years ago, sea levels around Asia began to drop, Peterson said. The main road in Tumon, for example, would have been completely under water 6,000 years ago.
Coastal Asian people, those around the south coast of China, Vietnam, Thailand and the Philippines, were sea-faring and nomadic, so when the sea level started dropping, people had to travel further to find necessities, historians have said. The changes could have wiped out mangrove habitats, a food source for the nomads, so they started making wider migrations, eventually ending up in the Marianas, Peterson said.
While the notion of trekking days on end in handcrafted boats seems foreign to us now, it was common practice for these ancient men and women, Peterson said. They could pick up a coconut on a beach and guess how far it had traveled just by the condition it was in.
Based on linguistic studies and excavations, experts believe that it's likely there were multiple migrations to the Marianas from the Philippines over thousands of years, said Don Farrell, an author and historian who lives on Tinian. The people developed a common language and culture that became Chamorro culture.
"We're gradually learning this was a very extensive network of settlement," Peterson said.
Carson and Hung also discovered post holes for stilt houses and fireplaces at House of Taga, said Peterson. This suggests people might have actually been staying long-term in the Marianas earlier than historians previously thought.
Farrell said Carson's and Hung's work can't fully be validated until they have the opportunity to analyze their findings, but the find would certainly "establish a huge database that all researchers will be able to use in the future."
The artifacts will be property of the Commonwealth of the Northern Mariana Islands and likely will be curated in a Tinian collection or Saipan museum, Peterson said.