Tisbury (G-B) hoard and the oldest known museums
Tisbury (G-B) hoard and the oldest known museums
PART.2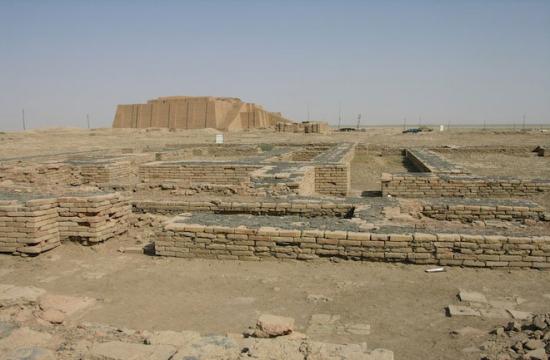 Ennigaldi-Nanna's Museum in Turkey. M. LUBINSKI
If the new theory -- that prehistoric Britons had museums -- is correct, these would predate Ennigaldi-Nanna's Museum in Turkey, shown here. Dated to 530 B.C., it previously was considered to be the oldest known museum. Its ruins are located in modern-day Iraq. The curator was Princess Ennigaldi, the daughter of the last king of the Neo-Babylonian Empire.
A clay cylinder that may be among the earliest known museum labels. SIR LEONARD WOOLLEY
A clay cylinder inscribed with a description in three languages was used in Ennigaldi-Nanna's Museum. It accompanied an ancient artifact. Despite the recent finds in the U.K., the inscriptions on this cylinder are still considered to be the earliest known "museum labels."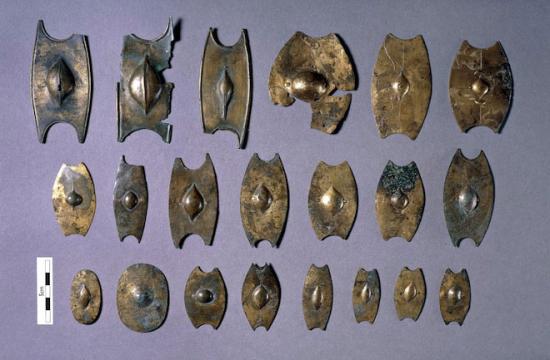 Miniature Iron Age shields. BRITISH MUSEUM
A collection from Salisbury, England includes 463 pieces ranging in date over some 1,500 years. Among the collection are these miniature Iron Age shields. Even if an early metalworker used them as samples, some other individual(s) not from the modern period later acquired them and added the extra objects.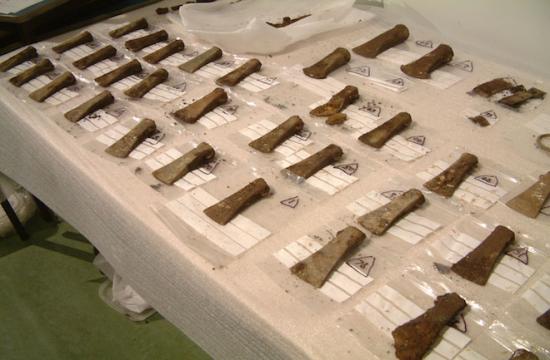 A collection awaiting conservation. SALISBURY & SOUTH WILTSHIRE MUSEUM, DOT BOUGHTON
A collection awaiting conservation is this large hoard from Hindon, England. Pitts said it is "a compact mass of metalwork, with Bronze Age socketed axes and rings, an early Iron Age heeled socketed sickle, and three iron socketed spearheads."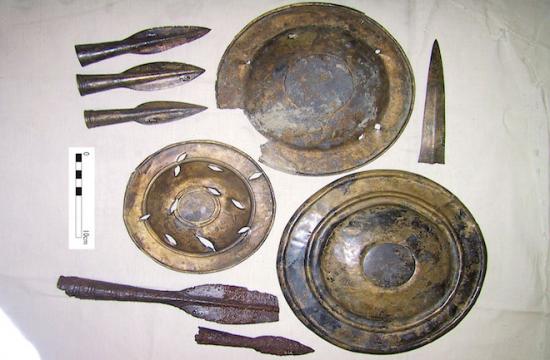 Bronze horse harness decorations. WILTSHIRE MUSEUM, DOT BOUGHTON
These items from Melksham, Wiltshire, were found in a riverbank hoard. The discs, which show piercings from swords or spears, were bronze horse harness decorations, according to Boughton and Pitts. They probably were imports from central Europe dating from 800-600 B.C. The other objects shown here include bronze and iron spearheads.
Metal items dating from 2200 to 100 B.C. BRITISH MUSEUM
This portion of a collection was unearthed in Danebury, Hampshire. The metal items date from 2200 to 100 B.C. "Perhaps when a piece of foreign or dated-looking metalwork was found, a community elder or leader was consulted, who suggested it should be kept as a tangible link with the past -- second in significance only to nearby stone circles, burial mounds or other prehistoric monuments," Boughton explained. She added, "Perhaps, even, people felt a brief connection with distant ancestors of their own community. If that is right, these prehistoric people had some idea of time and its passing -- not just in years or decades, but centuries or millennia."