The mummy of the pharaoh Amenhotep II's foster brother found
The mummy of the pharaoh Amenhotep II's foster brother found
Rossella Lorenzi
Source - http://news.discovery.com/history/ancient-egypt/long-lost-mummy-of-pharaohs-foster-brother-found-140523.htm
The skeletonized mummy of Qenamun
The mummy of the pharaoh Amenhotep II's foster brother may have been found in a former monastery, according to archival research into 19th-century documents.
The mummy, now reduced to a skeleton, is believed to be that of Qenamun, the chief steward of Amenhotep II (about 1427–1400 B.C.) who was the 7th Pharaoh of Egypt's 18th Dynasty and likely Tutankhamun's great-great-grandfather.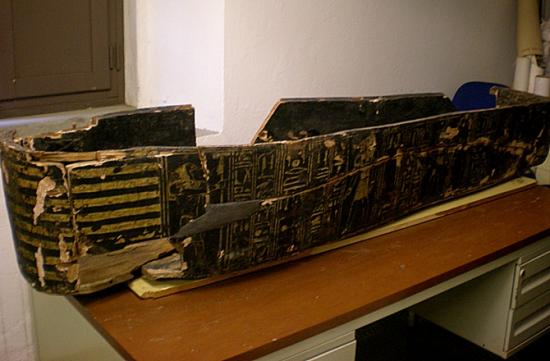 The Sarcophagus Being Restored.
Qenamun was effectively Amenhotep II's foster brother, as his mother, Amenemipet, was the chief royal nurse of the future king. The two grew up together and the bond endured in adult life, with Qenamun enjoying a high and powerful status.
But the whereabouts of Qenamun's afterlife journey had remained a mystery -- no coffin nor mummy was found in his large and beautifully decorated tomb in Thebes.
"Identifying Qenamun has been like fitting together long-lost puzzle pieces," Marilina Betrò, professor of Egyptology at Pisa University, told Discovery News.
It all began two years ago when a skeleton resting in a cardboard box was found in a store room of a 14th-century monastery. Located in Calci, a village near Pisa, the monastery now houses one of the world's oldest natural history museums.
"Intriguingly, the skull bore an inscription in black ink stating it was one of the mummies brought from Egypt by Ippolito Rosellini, Europe's first Egyptology professor," Marilina Betrò told Discovery News. She holds the same chair at Pisa University that Rosellini did.
In 1828 the Pisa academic left for Egypt with Jean-Francois Champollion, the French philologist who had recently deciphered the Rosetta Stone.
Financed by the grand-duke of Tuscany, Leopold II, and the King of France, Charles X, the joint Franco-Tuscan expedition brought to Europe a treasure trove of ancient antiquities. At the same time, it yielded a survey of the monuments of Egypt and their hieroglyphic inscriptions, which, thanks to Champollion, were readable for the first time.
On Dec. 29, 1829, back from Egypt, Rosellini wrote a report to Grand Duke Leopold II. Attached to that letter was a list of 1878 antiquities he had packed for the journey back to Tuscany -- 660 were acquired by excavations, while 1,218 were purchased.
Rosellini stated he chose to take the best intact items, leaving behind several other objects because of shipping costs.
"Until a few years ago, only the draft of that letter was known, and it lacked the list. We found it in the National Archives in Prague, where all the documents of the Habsburg-Lorraine family are kept," Betrò said.
The list of the 660 antiquities began with the description of 11 mummies. Seven are currently on display in Florence's Egypt museum, while records about three others -- a woman, a man and a child -- reveal they were destroyed and never made to the Florence museum. The eleventh mummy remained a mystery.