Tepoztlan (Mexique) - Findings Reveal Early Occupation
Tepoztlan (Mexique) - Findings Reveal Early Occupation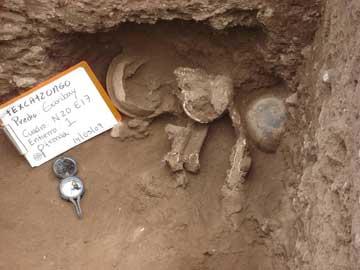 Ceramics, human skeletons and architectural vestiges reveal an occupation that dates from 1,500 BC.

Prehispanic ceramics, human skeletons and vestiges of dwelling and ceremonial areas are part of findings registered by archaeologists throughout a decade of explorations at Tepoztlan, Morelos; this discovering reveals that the site had an earlier occupation than the one registered until now, which goes back to 1,500 BC.

This date surpasses the chronologies known until now which record vestiges of a settlement of Xochimilca affiliation dated between 1200 and 1500 of the Common Era.

This was announced by archaeologist Giselle Canto from the National Institute of Anthropology and History (INAH), who has conducted several excavations in 20 plots of the locality, of extensions that go from of 800 to 70,000 square meters.

At those plots the INAH researchers have registered findings of very ancient objects; some of them reveal that occupation of the site goes back to the Early Pre Classic period (1500 to 1000 BC).

Due to the urban growth of Tepoztlan, a way to protect the Prehispanic vestiges is the creation of archaeological reserves; under this scheme, 5 have been established in some of the investigated plots.

The INAH specialist detailed that among the diversity of material found, ceramic pieces are the earliest ones.

"The homogenous features that vestiges present do not allow us to locate them in a precise cultural group. Vestiges correspond to the ceramic style named Tlatilco, found throughout the Basin of Mexico, Morelos and Puebla; we cannot determine if these objects were part of a specific culture, we need more information to establish it".

Archaeologist Jaime Resendiz, also part of the research, remarked that the discovery of vessels, offerings and sculptures that also corresponds to the Early Pre Classic period; from this material, a 49 centimeters high hollow feminine figure stands out.

During their recent participation at the conferences part of the commemoration of the 10th anniversary of Tepoztlan Center of Historical Documentation, both archaeologists also referred to the finding of a pyrite mirror associated to one of the skeletons that, according to studies conducted, corresponds to an elderly person of undetermined sex.

"The mirror was a transitional object that helped the departed to enter the other world by using their reflection on the surface; it is a small fragment in a bad conservation state that has the same temporality".

Associated to the same funeral were found Tlatilco-style vessels of the jug kind, used in rituals of birth and death and during the rite of passage from adolescence to adulthood. These vessels had a hole in the bottom so they were not utensils but ceremonial objects.

Several terracotta and stone replicas of ceremonial buildings were found in dwelling vestiges. Other relevant object recovered is a carved stone with the representation of the calendar sign of 5 Rabbit that corresponds to 1438 AD, found at the base of El Tepozteco mount.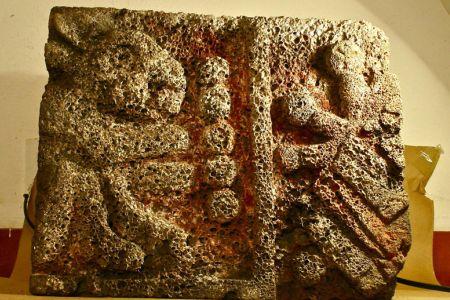 Regarding the architectural findings, archaeologist Resendiz mentioned that rests of 4 ceremonial centers that date from the Late Pre Classic period (500-100 BC) were found, as well as a 20-meters-high ritual building from the Early Post Classic (1200-1250 AD), "age when Tepoztlan reached 15,000 inhabitants".

"This was an important lordship; in spite of the findings, we cannot determine the groups or cultures that inhabited Tepoztlan in its different occupations before the arrival of Xochimilcas".

Parting from these investigations, archaeologist Giselle Canto considers necessary to reformulate the site's chronology, since the discoveries conform a more complex scenario.

Finally, archaeologists evaluated that after 10 year of research "there is still road to travel, but we have the first archaeological findings of a society that reached 15,000 dwellers, with an excellent organization and a changing architectural style", concluded Canto