Ten years of Berkeley find
Ten years of Berkeley find
University of Bristol
Source - http://bristol.ac.uk/news/2014/june/berkeley-finds.html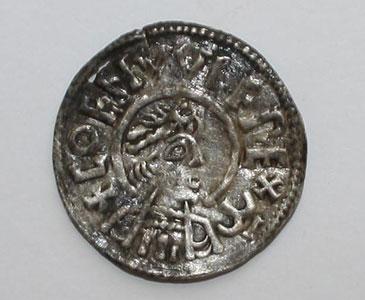 A very rare silver Anglo-Saxon penny of Coenwulf 796-821 AD
A selection from over 1,000 artefacts unearthed by University of Bristol archaeology students over the past decade during their annual excavations at Berkeley Castle and the Edward Jenner Museum go on display this week in an exhibition devised and created entirely by undergraduates.
Every summer for the past ten years, students and staff from theSchool of Archaeology and Anthropology have conducted excavations at the Gloucestershire castle, which dates back to the mid-1100s, and the neighbouring gardens of the former home of Edward Jenner, Georgian pioneer of the smallpox vaccine.
During this decade of digs, they have unearthed a wealth of finds which have shed new light on the long and eventful history of the castle and its environs.
The finds going on display span the history of Berkeley with a special focus on the Anglo-Saxon, Norman, and High Medieval occupation.  One of the more precious items is the Anglo-Saxon aestle, a gilded gold page turner which would have been owned by a monk, and testifies to the presence of a minster on the site during the 800s AD.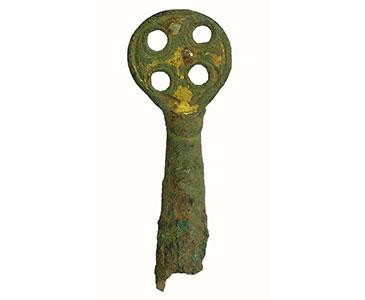 Anglo-Saxon aestle dating from the eighth or ninth century AD
Viking material will also be on show, including a small bronze bracelet, that may have been traded all the way from Viking Dublin during the 900s AD.  A heraldic pendant of De Monthiemer, a medieval noble from the thirteenth century, will be on display in the castle.  Accompanying nearly every display is a collection of coins which stretch from the Roman occupation of Britain, to the eighteenth century.  Even Dr Jenner's dog will be on display!
Jack Fuller, the second year archaeology undergraduate who spearheaded the creation of the exhibition alongside fellow undergraduates Wil Partridge and Jasmine Evans, said: "Working on the dig is one of the highlights of my year, a chance to really test what you have learnt over the year in a real research environment.
"While it has been nice to escape some of the rain, this museum project has been a special challenge, but the prospect that the public can see the work the University has been doing is really exciting!  This project has taught us all a variety of transferable skills that are not always easy to learn, such as graphic design, finds photography, archaeological illustration, archiving, and more."
Horse harness pendant of De Montiemer, dating from the thirteenth century
The exhibition at the Edward Jenner Museum.  Artefacts from the Castle digs will go on display during the Festival of Archaeology in July.