Tell Habua (Egypte): Ancient Egyptian fortress unearthed
Tell Habua (Egypte): Ancient Egyptian fortress unearthed
Rany Mostafa
Source - http://www.thecairopost.com/news/132836/travel-antiquities/ancient-egyptian-fortress-unearthed-in-sinai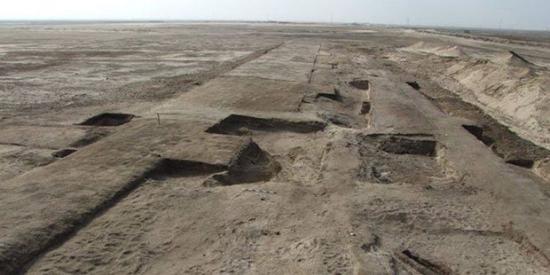 Foundation Of The Fortress Discovered At Tell Haboa - Photo Courtesy Of Antiquities Ministry
The 3,000 year-old ruins and foundations of the largest known fortress in Egypt were unearthed at the ancient fortified city of Tell Habua near the Suez Canal, said Antiquities Minister Mamdouh al- Damaty Saturday.
The fort, also known as the Wall of the Prince, was part of a defensive line in the form of a series of fortresses and military cities. The fortress is one of other fortifications that have been discovered earlier in the site of Tell Habua, the old Tharu, as mentioned in the inscriptions of Pharaoh Seti I at Karnak temple, describing the Horus Military Route, said Damaty.
"The discovery is significant as it reflects the details of the ancient Egyptian military history. It is a model example of Ancient Egypt's military architecture, as well as the Egyptian war strategies through different ages, for the protection of the entirety of Egypt," chief of the excavation team archaeologist Mohammed Abdel-Maqsoud told The Cairo Post Saturday.
The new discoveries corresponded to the inscriptions of the Way of Horus found on the walls of the Karnak Temple in Luxor which illustrated the features of 11 military fortresses, of which only 5 have been discovered, that protected Egypt's eastern borders.
The Horus Military Route is a long road of fortifications that protected Egypt's eastern front from invaders. It was a key starting point for military campaigns during Egypt's New Kingdom period (1580 B.C. – 1080 B.C.), former head of the Supreme Council of Antiquities Abdel Halim Nour el-Din told The Cairo Post Saturday.
The Horus Route extends for 350 kilometers, starts from Tharu, located about two miles northeast of present day Qantara and ends at Egypt's border city of Rafah, according to Nour el-Din.
"The route was fortified by two parallel walls, followed by 11 fortresses acting as early alert points before the arrival of any conquering army to the strategically located Tharu Fortress. In the same area there was an economic society, indicating that it had been a commercial and customs zone where taxes were collected before reaching the Delta," he added.
During the Middle Kingdom Period (2000 B.C. and 1700 B.C), Egypt's military reached as far as the Tigris and Euphrates River, and supported its position with a long chain of heavily fortified settlements at the most vulnerable points in the trade route from the east, he added.