Tel Qarasa (Syrie) - Archaeologists Unearthed Village Dating Back to 11 Thousand Years
Tel Qarasa (Syrie) - Archaeologists Unearthed Village Dating Back to 11 Thousand Years
Archaeologists Unearthed Village Dating Back to 11 Thousand Years in Southern Syria
H- Said
Source -
http://www.english.globalarabnetwork.com/2011032410313/Travel/archaeologists-unearthed-village-dating-back-to-11-thousand-years-in-southern-syria.html

The small village unearthed in the archaeological site of Tel Qarasa (hill) in the west of Swaida province, dating back to around 11000 years constitute a clear example of the first models of urban life in the prehistoric times.

The excavations of the Syrian-French archaeological mission conducted at the site over the last two years showed that Qarasa region knew human presence in the form of tiny villages of 8 round houses whose inhabitants depended on fishing and growing cereal crops and wild fruits for their living.

Wasim al-Shaarani, Head of Swaida Archaeology Department, said the discovered houses indicate that the human groups in the area were fully civilized as they knew the cereal farming and cattle raising.

"The presence and settlement of humans in this region was made possible by the existence of Qarasa Spring which feeds a small lake in the middle of the area," added al-Shaarani in a statement to SANA, noting that the village left the place and moved to the northern mound since about 4000 BC.

Human settlement in the southern mound of Qarasa village started since nearly 2500 BC. The inhabitants then participated in the building of the first cities in the area and the human settlement in the village continued till 200 BC.

Qarasa village was in touch with all the big cities in the region such as the cities of Labwa, Kherbat al-Ambashi and Jawa, in addition to those spreading along Wadi al-Ordon, Golan and Erbid area.

Al-Shaarani pointed out in the statement that before about 650 years of the present time, a collection of beautifully-shaped houses with 1,5 m walls still in good condition inside which a set of earthenware was found.

During excavation works, he added, weapons, agricultural tools made of flint and bone, small puppets and skeletons were found in a big room in one of the discovered houses, showing an advanced level of symbolic culture of the people of the region.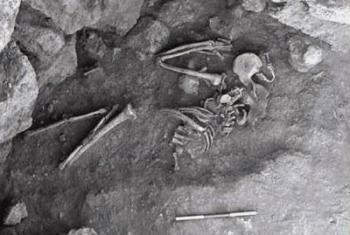 Architectural remains of about 2 m thick basalt walls and various constructions from the Bronze Age were also uncovered in the excavations.

The archaeological survey of the region singled out 4 phases of human settlement dating back to the period between the Final Neolithic period and the Late Bronze Age.

The archaeological findings unearthed in the southern area are being studied by specialists at Swaida National Museum to try to document the periods of time they go back to.

The report of the Syrian-French mission said the excavations have revealed 522 archaeological sites in al-Lajat region from the ancient historical periods of the 7th millennium BC, among which was Tel Qarasa.

Through the archaeological atlas of the prehistoric sites located in southern Syria, the mission has already documented 923 cases of isolated houses from the Iron Age including Qaras site. (SANA)