Tel Ara (Syrie): Burial Chamber Dating Back to Byzantine and Ayyubid Eras Uncovered in Cavern
Tel Ara (Syrie): Burial Chamber Dating Back to Byzantine and Ayyubid Eras Uncovered in Cavern
Burial Chamber Dating Back to Byzantine and Ayyubid Eras Uncovered in Cavern in Sweida
H. Sabbagh
Source - http://www.sana.sy/eng/35/2012/03/26/408526.htm
A national archeological expedition working in Tel Ara in Sweida governorate uncovered an ancient burial chamber dating back to the Byzantine and Ayyubid eras in a cavern.
Hussein Zeineddin, head of the expedition, said that the volcanic cave is located north of al-Hesha volcanic hill, east of Ara mountain, and that it has an arch-like entrance with a roof consisting of handmade arches.
He said that excavations uncovered four semicircular tombs, the first located in the eastern part of the cave and consisting of an oval alcove serving as a grave for an individual or a family, while the second is located in the center of the cavern and is raised from the floor, containing small bone fragments that could have belonged to a young person.
The third tomb is similar to the first one and contains a small grave in the floor, while the fourth is in the western part of the cavern and consists of an alcove full of debris.
Expedition member Yasser al-Sahaar said that it's difficult to pinpoint the exact date of the burial chamber due to the damage it sustained over the ages and the lack of bones, noting that pottery fragments and remains of funerary wares imply that it dates back to either the Ayyubid or the Byzantine era.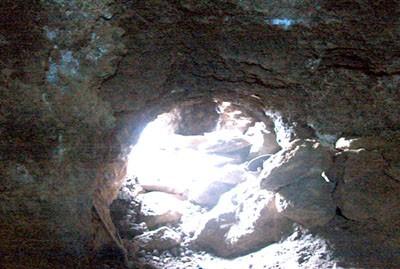 In ancient times, the nearby Ara village was located on an important route connecting Basra and Sweida. It contains remains of an ancient Roman wall and church, in addition to a number of ancient ruins and two keeps, one ancient and one built in 1879.
Ara village is located 15 kilometers southwest of Sweida city. Its name means "expansive land" or "strong bond."