Tarighat (Inde): Elephant figurine unearthed shows Chhattisgarh's link to South Africa
Tarighat (Inde): Elephant figurine unearthed shows Chhattisgarh's link to South Africa
Rashmi Drolia
Source - http://timesofindia.indiatimes.com/city/raipur/Elephant-figurine-unearthed-from-ancient-Tarighat-shows-Chhattisgarhs-link-to-South-Africa/articleshow/47030090.cms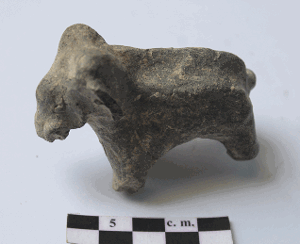 A set of theory feels that the shape of elephant figurine is indisputably like those found in South Africa.
In its latest excavation, unearthing terracotta figurines of elephant at 2500-year-old Tarighat site at Durg district, which archaeologist claim, have been once one of the richest international trading centres in central India, is being believed as another indication that complements connection of Chhattisgarh's ancient traders with South Africa. 

A set of theory feels that the shape of elephant figurine is indisputably like those found in South Africa. 

However, with Indo-Scythian and Indo-Greek coins yielded at Tarighat, the site is said to be not only one of the richest trading centre of import-export in Chhattisgarh, but also a hotspot of affluent lifestyle. Earlier, figurines of Giraffe-like animal and women with unique-knotted hairstyle were also exhumed from the site, which supported the idea of traders having some connection with South Africa. 

According to JR Bhagat, excavation director and archaeologist in culture department of Chhattisgarh, "Shape of elephant in the figurine with large ear and spine bones visible on its back looks identical to elephants found in Africa. Elephants of that shape can't be found in Asia. While Tarighat, at many occasions indicated towards Chhattisgarh being a trading market during 2nd and 3rd century BC, findings Indo-Greek coins and Giraffe figurine links this trade centre to international market." 

Bhagat said that archaeology is a deep and argued subject, hence, scope for more research is always possible. "Chhattisgarh might have had affluent and glorious past but I am yet to find clearer links of Tarighat to international market." 

Partially buying the idea, anthropologist (retd) Ashok Tiwari, former curator, Museum of Man, Bhopal said, "Figurine's anatomy isn't like Indian elephant rather it looks similar to African elephant which has slant forehead, large ears and spinal column visible on the back. Few may argue that elephants in those times would have looked that way but even humans took lakhs of years to evolve and look like how they look presently, while the figurine isn't more than 2500 year old." 

Tiwari explained that ancient traders might have travelled to Africa and would have made figurine after return as decorative purpose, could also have been received as gift from international traders. But figurine co-relates to animal in Africa. "Possibilities can be many, we can draw conclusion when there's much more to find." He added. 

However, theory explained by another archaeologist CL Raikwar says, "Elephant figurine is small-sized and looks like a country art (lok kala). Country art often is result of artists' imagination, though it's also argued that ancient artists engraved what they saw in surrounding. This artist might have thought of fixing a rider on elephant's back, which is why, he made it little stiff and nor rounded, so that rider doesn't fall." 

Tarighat site resumed excavation recently after getting renewal of licence for excavation by Archaeological Survey of India (ASI). Director Chhattisgarh Archaeology Department Rakesh Chaturvedi pronounced the site among one of the important sites in state. 

Located on banks of Kharun river, site depicts interesting and rich lifestyle led by Sarabhpuriya dynasty which was a contemporary of Gupta period in 5th-6th century AD was followed by Satavahans, Kushans, Sung and Mauryans in Chhattisgarh. Three gold coins belonging to Mahindraditya ruler and two of Prasannamatra of 5th century AD was excavated earlier with many pots of copper coins soiled in clay. 

More than 15 varieties of beads were found in large number in almost 2,000 unusual sizes, styles and shapes which indicated that state served as a significant beads manufacturing centre (also called as lapidary centre).