Source - http://www.stuff.co.nz/waikato-times/news/10360939/Wealth-of-discoveries-at-Taputapuatea-stream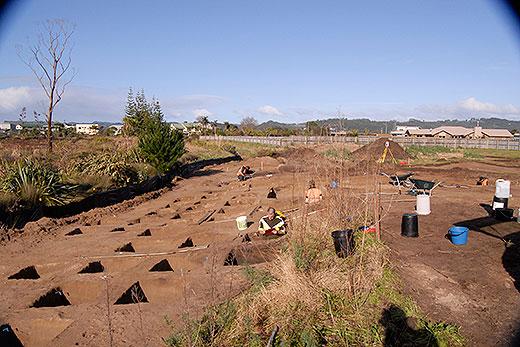 The archaeology crew working adjacent Taputapuatea Stream, near Whitianga. Photo courtesy of Andrew Hoffman.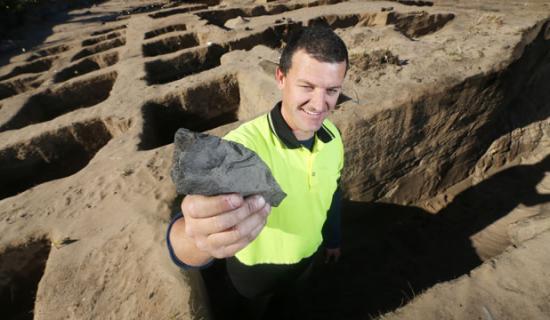 Archaeologist Andrew Hoffman displays a stone adze recovered from an archaeology dig on a new housing development at Whitianga.
Evidence of early Polynesian settlement dating back to the early 1300s has been uncovered within a stone's throw of central Whitianga, in a discovery of national significance.
A team of five archaeologists has spent two months at one of the Coromandel Peninsula's largest excavation sites by the Taputapuatea stream, at a housing development on the outskirts of the Coromandel town.
According to archaeologist Andrew Hoffman, the site has been identified as a Polynesian settlement from the 1300s used for cooking and gardening. It also had a specialist working area for making tools and repairing waka. Among the hundreds of artefacts unearthed are rare large sized hangi oven stones, moa fish hooks, basalt and chert rock tools, a large midden, and flakes of unused rock.
The site revealed a sequence of flooding events that enabled archaeologists to establish that Polynesians would use the site for a season and then move on.
Trenches dug up to 1.5m deep reveal profiles of layers of varied sediments and radiocarbon dating of site artefacts suggest the settlement was occupied between 1310 and 1490, said Hoffman.
A large deep hole lined with large black rocks revealed an earth oven that was still greasy. Hoffman said it was rare to find earth ovens of this size and it was probably used for cooking animals like seals.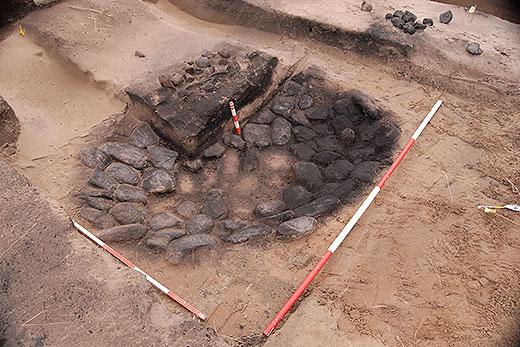 The stone-lined earth oven uncovered by archaeologist Andrew Hoffman and his team at Taputapuatea Stream, near Whitianga. Photo courtesy of Andrew Hoffman.
Heritage New Zealand Maori heritage advisor, Makere Rika-Heke said this discovery was a reaffirmation of some of the old traditions kept by local people which have been played out along the landscape.
The site beside Taputapuatea stream is at the base of a hill that is home to Te Wahine Moeroa o Taputapuatea Pa.
The location has significant links to Taputapuatea Marae on the coast of Raiatea, Tahiti, the ancestral and spiritual homeland of the waka- voyaging ancestors who crossed the Pacific and established themselves in Aotearoa.
It is said that Kupe, the great Polynesian explorer who voyaged to Aotearoa from Hawaiki bathed in the hot springs of Te Whitianga a Kupe after he moored his waka in Mercury Bay. He named the stream and pa after the Tahitian Taputapuatea marae because of its similar natural flora and fauna.
Rapanui (Easter Island), Hawaii, Arahurahu Island in Tahiti, Moorea Island and a reef in the Kermedec Islands all have sites of significance referring to Taputapuatea.
The artefacts and 4000 photographs taken will be analysed and recorded over the next two months.