Tamil Nadu (Inde): On the menhir trail
Tamil Nadu (Inde): On the menhir trail
The destruction of menhirs in Vembur in the Varusha Nadu region is typical of the fate of megalithic burial sites in other parts of Tamil Nadu
T.S. Subramanian
Source - http://www.frontline.in/arts-and-culture/heritage/on-the-menhir-trail/article5037761.ece?homepage=true
There  were fewer than 10 menhirs jutting out of a scrub jungle on the knoll. Most of the scrub jungles, and with them the menhirs, had been cleared to make way for cultivation. All we—a group of archaeology buffs on a tour of archaeological sites in the Cumbum valley in Tamil Nadu, arranged by the Tamil Nadu chapter of the Indian National Trust for Art and Cultural Heritage (INTACH)—could see were tell-tale tyre marks left by earthmovers.
In the hilly terrain of Vembur village, about 60 kilometres from Andipatti in Theni district, knolls and scrub jungles had once been part of the landscape. But no more. "I first came here about 25 years ago to do a survey of menhirs. There were scores of menhirs here at that time. They are getting destroyed fast. At this pace of destruction, in another 10 years everything will be gone," rued V. Vedachalam, retired senior epigraphist, Tamil Nadu Department of Archaeology. Vedachalam then pointed to Kallathupatti village, nestled among hills a few kilometres away, and said hopefully: "Perhaps, the menhirs there have survived." It was getting dark, so we could not go there to verify.
"There were many menhirs and 'goodarams', made of stone slabs, here during my childhood. But they have all disappeared," reminisced 70-year-old Seeni Ammal of Vembur. "Goodarams" are underground cists used for burial and lay adjacent to the menhirs.
The destruction witnessed in Vembur, situated in the Varusha Nadu region, is typical of the destruction of megalithic burial sites in many other parts of Tamil Nadu. Under the increasing assault of urbanisation, megalithic burial sites, be they menhirs, cairn circles with cist burials, stone circles, dolmens or dolmenoid cists, have vanished rapidly.
Menhirs are tall, majestic, monolithic stone slabs planted in memory of the dead—that is, memorial stones that mark graves. In Tamil, menhirs are called "nedunkal", meaning tall stone slabs. The Tamil Sangam literature refers to them as "natta polum nada nedunkal".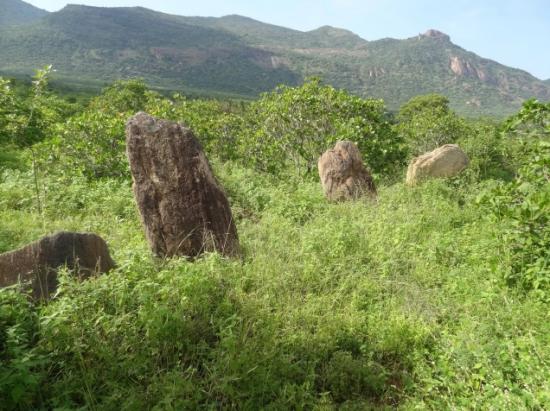 Menhirs are datable from 1000 BCE to 300 BCE. The tallest menhir in Tamil Nadu is more than nine metres in height and is situated at Kumarikalpalayam, near Perunthurai in Erode district. The shortest are about one metre tall and are found in several places.
There are menhirs that stand singly, those erected adjacent to cairn circles entombing cist burials, and those planted close to dolmenoid cists. The "goodarams" in Vembur indicate that the place probably had menhirs in association with cairn circles and cist burials. They must have been destroyed by cultivation.
The Megalithic Age, or Iron Age, is datable to circa 1000 BCE. Mega means big and lith stone. Megalithic burials involved the use of big granite slabs for erecting menhirs and building cists and boulders for laying cairn circles. Menhirs were generally erected for chiefs of clans, the elite in society or those who died in cattle-lifting raids. They denoted the economic power or social status of the dead person.
K. Rajan, Professor of History, Pondicherry University, in his book South Indian Memorial Stones (published in 2000 by Manoo Pathippakam, Thanjavur) says: "The sepulchral monuments raised in memory of the dead comprise different types in Tamil Nadu and Kerala. Some of the monuments were exclusively raised for the heroes who died for noble causes. The basic theme connected with memorial stones in Tamil Nadu is cattle-lifting or cattle-retrieving." These memorial stones showed the "veneration and devotion" that the makers of these monuments had for the dead and their "belief in post-mortem existence besides the benefits of their periodical propitiation by ritual and worship".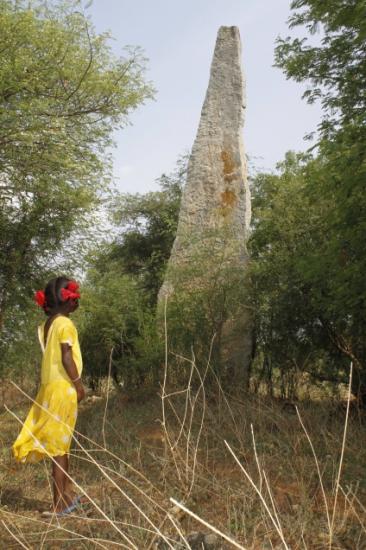 V.P. Yathees Kumar, Assistant Archaeologist, Archaeological Survey of India (ASI), said menhirs were found in the Coimbatore-Tiruppur-Erode-Karur region, and in Vellore, Tiruvannamalai, Dharmapuri, Theni and Sivaganga districts of Tamil Nadu. The villages where they are located in the Coimbatore-Tiruppur-Erode-Karur region include Kodumanal, Mukkudi Velampalayam, Pattalingam Palayam, Ammapatti, Prabhu Nagar, Kothampalayam, Jagadadhi (also known as Bommadhi Kinathupatti), Nattukkalpalayam, Michampalayam, Sundampatti and Kodidasanur. In Sivaganga district, they are found at Natham Porukki village. Menhirs are not found in the southern districts of Ramanathapuram, Tirunelveli and Kanyakumari.
"Menhirs are associated with megalithic graves. In general, these burials are associated with two menhirs, one east-facing and the other west-facing. They were planted just outside the cairn circle, one facing the east and the other the west. In between them lay the cairn circle. But in most graves, only one menhir survives now," said Yathees Kumar, who has studied and documented several menhir sites in Tamil Nadu. When the circle was packed with cairns, the menhirs stood firmly, he explained. No menhirs were found adjacent to stone circles, nor were they found adjacent to urn-burial sites, Yathees Kumar said.
K.T. Gandhirajan, explorer and art historian, calls menhirs "universal monuments" because they are found all over the world. Their shape—they are tall, rectangular unpolished stone slabs—was the same wherever they were found, be it in France, Sweden, Ireland, Armenia, Iran, Serbia, South America or India, he said. He estimated that many hundred menhirs were found in France alone. They were an "early form of memorial stones" belonging to the Megalithic Age, Gandhirajan said.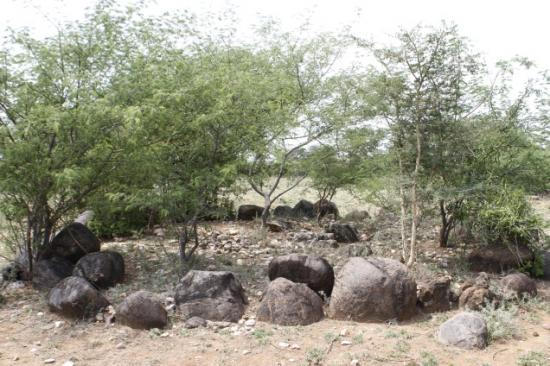 Erecting tall, monolithic menhirs entailed a lot of manpower because it involved slicing out slabs from granite rocks and transporting them to the places where they had to be erected, Vedachalam said. "The megalithic monuments by their very nature of construction would have involved the efforts of the entire community, since the construction of each one of them involved the transport and erection of huge slabs and boulders of stones," says Rajan in his book. Gandhirajan called the erection of menhirs "a joint venture" as they involved "team-work". It showed that people had started living and functioning in groups by then.
In Tamil Nadu, the earliest evidence of memorial stones is found in Tamil Sangam literature, and they are described by more than 25 poets. (The Sangam literature is datable to the early part of the Common Era). The Sangam works such as Tolkappiyam, Akananuru, Purananuru, Malaipadukadam, Ainkurunuru, and Pattinapalai deal with memorial stones in a detailed manner.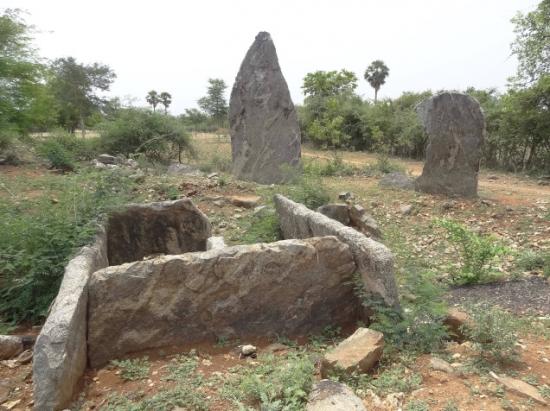 Yathees Kumar's latest discovery of a menhir was in a village called Nattukkalpalayam, 13 km west of Dharapuram in Tamil Nadu, in June 2013. The menhir is three metres tall and about 1.20 m broad. A big amount of cairn packing is found around it.
A menhir has been found in another village by the same name near Pollachi. "Nattukkal" in Tamil means a planted stone, an obvious reference to the menhir.
Yathees Kumar said that when he mapped the locations of the menhirs found in western Tamil Nadu, he found that they were situated on the trade route from Karur in the State via the Palghat Gap to Muziris, the ancient, celebrated port in Kerala. On this trade route, menhirs were found at Kottampalayam, Pallipatti, Nattukkalpalayam (near Dharapuram), Somavarapatti, Aravakurichi, and Nattukkalpalayam (near Pollachi), all of which are located in Tamil Nadu. One had to cross the Amaravathy river on this route. On the Kerala side, menhirs are found at Perattukkavu, Kavasseri, Pulimannam, Kodannur and Kottanallur near Muziris. Tamil inscriptions also spoke about "peru vazhi" (the highway).
These menhirs are found near manufacturing hubs or trade centres where trade guilds thrived. The menhirs must have been erected for wealthy merchants or chiefs of clans who lived in these places, Yathees Kumar said. There was also trade from Karur to Muziris via the Noyyal river. Four menhirs have been found on this trade route at Kodumanal, which was a great manufacturing centre of beads.