Tacna: 37 pre-Inca tombs discovered
Source - http://www.livinginperu.com/news/14482
Thirty-seven pre-Inca tombs, which date back to between 800 and 1445 AD, were accidentally discovered last week while workers were digging trenches as part of the installation of a water system for the Boca del Río settlement, 60 kilometers from the city of Tacna in southern Peru.

Archaeologist Gladys Barreto, who was hired by the Boca del Río consortium to be in charge of executing the construction, said that half of the found tombs contain the remains of children. Also discovered were ceramics, symbolic depictions of boats, wooden harpoons and copper hooks.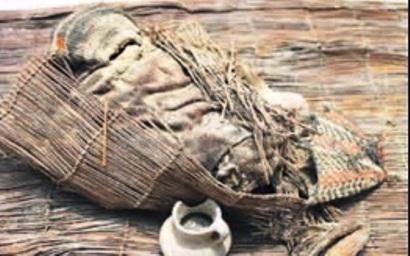 The human remains found last week are currently in custody of Tacna's regional cultural agency. (Photo: Ernesto Suárez/El Comercio)

Barreto believes that the remains are from the period known as the Late Regional Development and are evidence for the exchange between the cultures on the coast and those in the Andean valleys in the Tacna sierra.

She explained that the progression of this culture happened in parallel with similar developments going on in the Tambo and Arequipa valley, as well as regions in northern Chile.

Jesús Gordillo, archaeologist who studies Tacna cultures, says of the society's development: "We are talking about advanced cultures, whose principal economic activity would have been fishing."

He stressed that these remains, along with those found further north in Tomoyo, as well as other regions including the Sama valley, Vituña, the beaches Cánepa and Meca, Ite and Punta Picata shown that the Tacna coast was densely populated during that era.