SUZHOU (Chine) : A Spring-Autumn City Ruin in Mudu
SUZHOU (Chine) : A Spring-Autumn City Ruin in Mudu
A Spring-Autumn City Ruin in Mudu , Suzhou , Jiangsu
Chinese Archaeology
Source : http://www.kaogu.cn/en/detail.asp?ProductID=2691
To address the age, distribution, type and human-land relationship of ancient city sites and burials in the Mudu Basin of Suzhou City and the surrounding areas, CASS Institute of Archaeology and Suzhou Institute of Archaeology had jointly conducted a comprehensive archaeological survey-cum-excavation on pre-Qin sites in the western mountain region of Suzhou and the surrounding areas.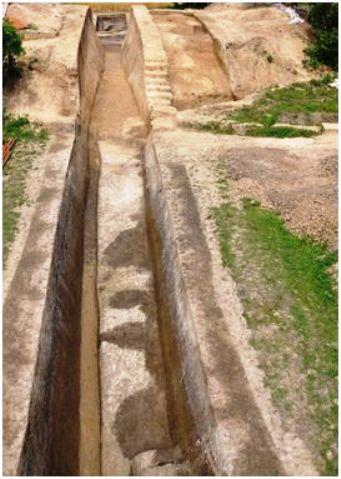 According to results of field surveys in 2009, excavations were conducted at five locations after the approval by the State Administration of Cultural Heritage. A north wall discovered at Wufeng Village of Mudu town has a length of 1150 metres, and the remaining wall has an upper width of 13 metres and a bottom width of 22 metres, which was built as conjunction sections in several parts, with a maximum remaining height of 3 metres. Outside of the wall was a moat over 14 metres wide. Another remains of walls and river course has been found at Xinfeng village of Xukou town. The river course was situated between two sections of the walls, and is over 14 metres in width and 1.9 metres in depth. There are mainly building materials of tiles dated to the Eastern Zhou period in the silt deposits in the river course. It is the first time discovery of such elite materials in the southeast Wu-Yue regions. There are certain gaps between the walls and the river course to form a closely related complex of features, which is interpreted as water entrance remains. In addition, many discontinuous feature of mounds remains at the south and north sides of the Yantou village of Qionglong Mountain Landscape Region, and is interpreted as part of the western wall. The east side of the basin near Mudong Road has a higher ground than the surroundings, and is also connected to the southern wall of Xinfeng, which is interpreted to be related to the east wall. According the unearthed pottery characters, stratigraphy and features of city wall remains, they were remains of late Spring-Autumn period. The south wall and water entrances are closely related, which forms an unique remain of water entrances typical to the ancient cities in the South. Incised pottery, tiles, copper arrowheads, primary porcelain bowls, pottery basin etc. show that they were used during the late Spring-Autumn period. Based on current information, the distance between the north and south walls are 6728 metres.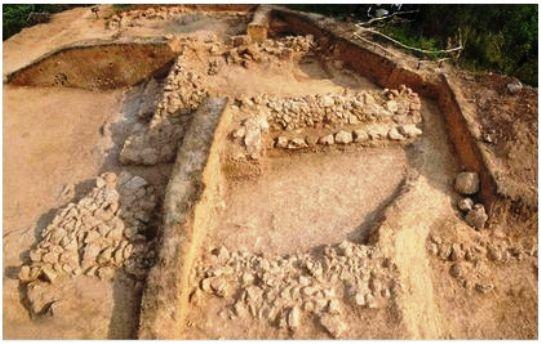 According to preliminary survey, previous investigations and excavation results, many mound burials and stone chamber burials of Spring-Autumn remained on parts of peaks and ridges of Mountains of the Shangfang, Qizi, Guanyin, Wufeng, Zhen, Tianping, Xu and Heng areas in western Suzhou, which many of them were elite burials. During spring 2010, burial No. D33 of the Mountain Zhen North was excavated, and it was embedded on the mountain body by laying a layer of pebbles 0.3 – 0.4 metre thick, then a stone chamber was placed on, and final was sealed by soil on top. The main chamber has an east-west alignment, while the burial pits were formed by stone laid chambers, which has an external length of 13 metres and a width of 9.3 metres, and an internal length of 7.2 metres and a width of 6 metres, and the highest is 1.8 metres. Although the burial has been partially destroyed, two burial goods pits were recovered. there are 48 burial goods in one of the pit K1, including 24 incised hard pottery urns, 4 incised hard pottery jars, 5 pottery tripods and 15 primary porcelain lid bowls. In K2 there are 10 burial goods, including 2 incised hard pottery urns, 3 jars and 5 primary porcelain bowls.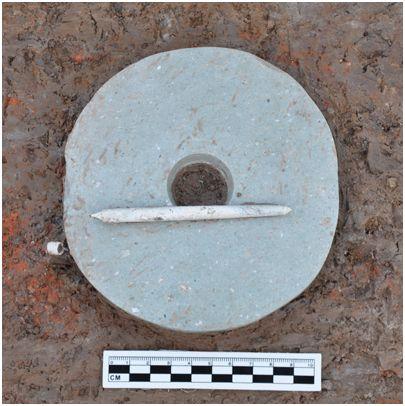 In the past, there were many stone chambers, mound burials, caches of jade storage and general sites in different ranks, but there has never seen a corresponding central site. This archaeological discovery shows that there was a large scale central site near Mudu and Xukou in the mountain areas of southwestern Suzhou. The site is of late Spring-Autumn period with capital characters city type. Taking the central city site as the core, several grades of other sites and burials formulated a complete settlement group. And this settlement group provides an important baseline for understanding the cultural remains of the Suzhou area during Eastern Zhou period, as well as for the reconstruction of society and culture at that time. (Translator: Dr. Li Langlin)