Stonehenge (G-B): occupied 5,000 years earlier than thought
Stonehenge (G-B): occupied 5,000 years earlier than thought
Source - http://www.bbc.co.uk/news/uk-england-wiltshire-22183130
An excavation funded with redundancy money shows Stonehenge was a settlement 3,000 years before it was built.
The archaeological dig, a mile from the stones, has revealed that people have occupied the area since 7,500BC.
The findings, uncovered by volunteers on a shoestring budget, are 5,000 years earlier than previously thought.
Dr Josh Pollard, from Southampton University, said the team had "found the community who put the first monument up at Stonehenge".
'Archaeological blind spot'
The small-scale project has been led by Open University archaeologist David Jacques, who had to plough his redundancy money into it to make it happen.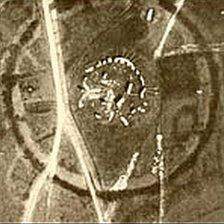 Courtesy of English Heritage The first aerial photograph of Stonehenge was taken in 1906
He first spotted the Amesbury site in aerial photographs as a student.
The photographs, in an archive at Cambridge University, showed a site known as Vespasian's Camp just a mile from Stonehenge.
Assumed to have been completely landscaped in the 18th Century, Mr Jacques realised the area had not been and decided to investigate.
"The whole landscape is full of prehistoric monuments and it is extraordinary in a way that this has been such a blind spot for so long archaeologically," he said.
"But in 1999 a group of student friends and myself started to survey this area of Amesbury."
The site, which contains a natural spring, is the nearest source of fresh water to Stonehenge.
And Mr Jacques, with the theory it may have been a water supply for early man, believed there could be pristine and ancient archaeology waiting to be discovered.
"I suppose what my team did, which is a slightly fresher version, was look at natural places. Places in the landscape where you would imagine animals might have gone to, to have a drink," he said. 
"My thinking was where you find wild animals, you tend to find people, certainly hunter gatherer groups coming afterwards."
And he was right.
Over the past seven years, the site has yielded the earliest semi-permanent settlement in the Stonehenge area from 7,500 to 4,700BC.
And carbon dating of material found at the site show people were there during every millennium in between.
"Here we are in this little nook at the bottom of a hill with a river running round it and it probably had more people coming to it in the Mesolithic period than it's had people coming ever since," he said.
'Tip of iceberg'
For a project that has had limited funding it is already generating excitement amongst other leading archaeologists.
Professor Peter Rowley-Conwy, from Durham University, said: "The site has the potential to become one of the most important Mesolithic sites in north-western Europe."
And Dr Pollard, from the Stonehenge Riverside Project, said "being able to demonstrate that there were repeated visits to this area from the 9th to the 5th millennia BC" was significant.
"I suspect he's just hit the tip of the iceberg in terms of Mesolithic activity focussed on the Avon around present day Amesbury," he said.