Source - http://www.bbc.co.uk/news/world-europe-jersey-26325289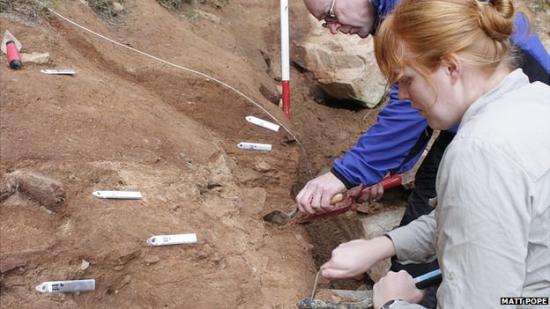 More Neanderthal artefacts have been found at La Cotte de St Brelade than in the rest of the British Isles
An ice age site said to be one of the last known places Neanderthals lived is being studied to assess storm damage.
La Cotte in St Brelade, Jersey, was hit by south-westerly storms including winds of up to 100mph in February.
A British archaeological team commissioned by the Societe Jersiaise will examine the storm damage.
Dr Matt Pope, from the Institute of Archaeology, UCL, said it needed to consider the best solution for long-term preservation.
La Cotte has been investigated since the late 19th Century and has produced a number of finds including hundreds of thousands of Neanderthal tools, piles of butchered mammoth bones and fossilised human remains.
Dr Pope said: "We have isolated an area of the cave in which the recent storms have removed some of the sediment and removed some of the boulders protecting the sediment from further erosion.
"This is probably the most important ice age site in northern Europe. Any threat to it is a serious concern to the academic community and the island."
Archaeologists believe Jersey has the potential to tell more about the story of the deeper evolutionary past of humans in Northern Europe
Neil Molyneux, President of the Societe, said the site was in a very exposed location.
"The scale of this year's storms was such that it required a proactive response to the management of the site," he said.
"This assessment, funded directly by the Societe, is the first stage in that process. The second stage will be the removal of deposits at risk which will be undertaken in conjunction with Jersey Heritage."