South Uist (G-B) : Human history "time capsule" revealed
South Uist (G-B) : Human history "time capsule" revealed
Human history "time capsule" revealed after 20-year investigation on South Uist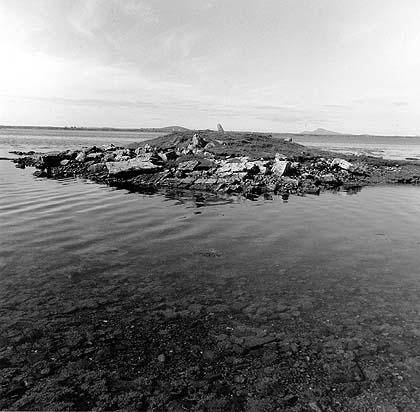 Neolithic cairn, Sig More, at high tide© Courtesy Historic Scotland
Experts are revealing their findings as one of the most productive, long running and detailed archaeological investigations ever undertaken in Scotland draws to a close.

Archaeologists working on the Hebridean Island of South Uist say they have amassed a "treasure trove" of new knowledge from buried settlements preserved beneath the area's sand dunes and moorlands.

The findings, which are being revealed in a series of reports, challenge pre-conceived ideas about the human occupation of the area and provide a detailed picture of life on South Uist which experts are comparing to "almost any of the settlements of similar age anywhere in Europe outside Rome and the Aegean".

Scouring the island from the grassy coastal machair plains to the mountains, teams of archaeologists funded by Historic Scotland have uncovered a series of ancient settlements dating from the early Bronze Age to the early modern era.

Among the hundreds of sites explored are Neolithic tombs, Beaker and early Bronze Age occupations, Norse dwellings and blackhouses.

"South Uist has an extraordinary number of superbly preserved archaeological sites and landscapes from all periods," confirmed Professor Mike Parker Pearson, the editor of the first of the reports, From Machair to Mountains.

"Best known are the settlement mounds of all periods on the island's machair, the coastal grasslands on shell sand, but the moorlands and mountainous areas also contain remarkable remains."

Prior to the South Uist investigations, sites from the middle and later Bronze Age were almost unknown in the Western Isles. Late Bronze Age evidence of burnt human cremations was also found at Cladh Hallan within stone ring settings, as well as burials beneath roundhouses from the same period.

"These structures were built as part of a terraced row and exhibit a marked discontinuity with the past, by replacing the boat-shaped island style of house with the pan-British large roundhouse," explained Professor Parker-Pearson.

"This shift was as much ideological as economic, and sees the arrival of the sun-wise arrangement of interior activities around 1100 BC."

As well as highlighting the changes that took place on the island, one of the most important finds is the way settlement patterns and land tenure show a degree of continuity from the Iron Age to the Clearances.

Archaeological evidence points towards a greater degree of intermixing and continuity than has previously been accepted, questioning the popular view of Scandinavian invaders killing men and enslaving women and children.

The findings will throw doubt on some existing beliefs that the Norse period ushered in a cataclysmic change in the Hebridean way of life.

Five more reports will now follow, detailing the results of major excavations of Norse, Bronze Age and Iron Age dwellings on the island.
The South Uist landscape© Courtesy Historic Scotland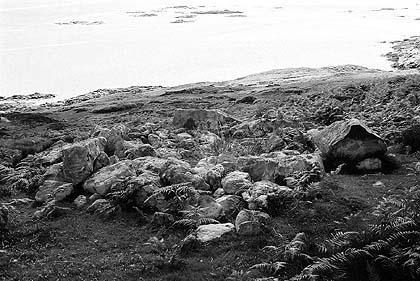 A possible Pictish square cairn© Courtesy Historic Scotland
From Machair to Mountains, published by Oxbow Books (ISBN : 978-1-84217-451-7)