Solnitsata (Bulgarie): 24 carat gold jewellery made 6,600 years ago unearthed at prehistoric settlement
Solnitsata (Bulgarie): 24 carat gold jewellery made 6,600 years ago unearthed at prehistoric settlement
Gian Volpicelli
Source - http://www.dailymail.co.uk/sciencetech/article-3327210/Is-world-s-oldest-BLING-6-600-year-old-golden-pendant-prehistoric-Bulgarian-settlement.html#ixzz3s3BlYjsS
As gold jewellery goes, it could be considered to be quite modest, but a 6,600 year old pendant discovered at the site of one of Europe's oldest prehistoric towns may be the world's oldest bling.
The tiny two-gram pendant was discovered during excavations at the archaeological site of Solnitsata in the Varna region of Bulgaria.
Archaeologists believe the area may have been part of an advanced prehistoric society that was among the first to work out how to process and produce gold goods.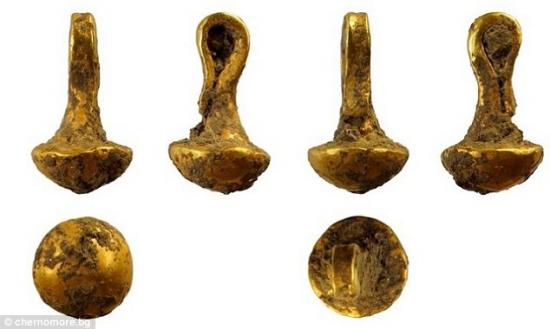 A gold pendant (pictured) discovered on the site of a prehistoric civilisation may have been made up to 6,600 years ago, making it one of the oldest pieces of gold jewellery ever discovered. The two gram piece of jewellery is made from 24 carat gold and may have been worn on a piece of cord
The necropolis at Solnitsata, which means 'Salt Pit', is situated just to the north of the Bulgarian city of Provadia.
It is famous for its two-storey houses and its heavily-walled fortress, thought to date back to about 4,300 BC.
However, the gold pendant could be even 200 or 300 years older than that, according to Professor Vassil Nikolov from Bulgaria's National Institute of Archaeology, the researcher who led the team behind the discovery.
The pendant weighs about two grams and it could have been worn by either a man or a woman, as a sign of high social standing.
'What's interesting regarding the gold jewel that we have found now is that it wasn't discovered inside one of the graves but between them, which might testify to some kind of a more special ritual,' said Professor Nikolov in an interview with Cherno More agency.
'In any case, this jewel is another specimen of the art of jewellery making that was developed at the time,' he added.
Several other gold artefacts have been found at other sites around Bulgarias Varna region.
In 1972 several pieces of gold jewelery were discovered in the nearby Varna Necropolis, just 23 miles east of Provadia.
Professor Nikolov said he believes the whole northern area of Bulgaria might have once been inhabited by a complex prehistoric society.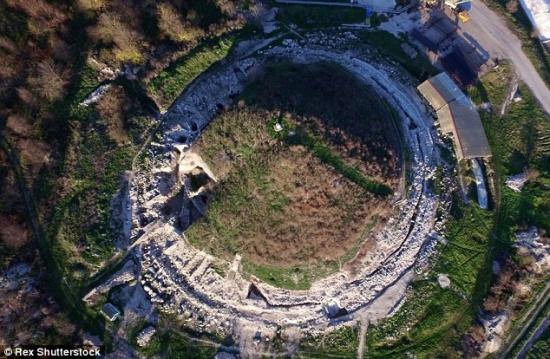 The Bulgarian necropolis of Solnitsata (pictured), is thought to date back to about 4,300 BC. But the gold pendant recently found there could be even 200 or 300 years older
He said: 'There used to be a highly developed civilization on these territories. It was concentrated in two locations.
'There was a major center for the processing of copper and gold near the Varna lakes, and here, in the prehistoric settlement Solnitsata, there was the extraction of salt.
'This society developed for about 200-300 years.'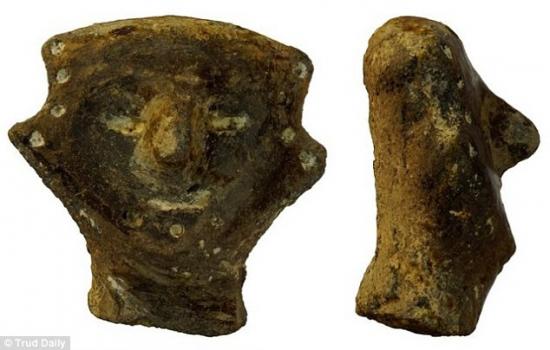 Many other artefacts, including bone carving of idols (pictured) were discovered at the site
He also said salt could have been employed as a rudimentary form of currency, before the arrival of gold and other metals.
A similar system would be used centuries later among the Roman legions, which were sometimes paid in salt - hence the word 'salary.'
The jewel is only the latest surprise emerging from the exploration of the Solnitsata's site.
Samples from the necropolis's skeletons recently revealed that the people living there used to drink cow milk, long before than any other society started to consume animal milk as food.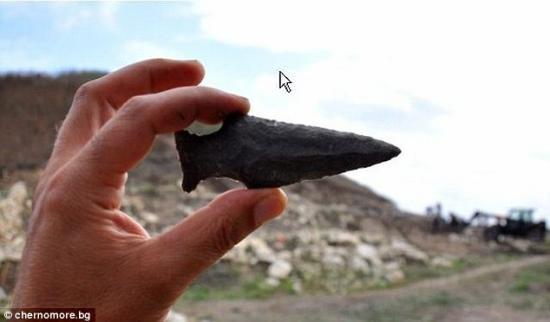 Flint arrow heads (pictured) have also been uncovered at the ancient site, thought to be the oldest prehistoric town in Europe