Shimotsuke (Japon): 1,400-Year-Old Roots of Silk Weaving
Shimotsuke (Japon): 1,400-Year-Old Roots of Silk Weaving
Mitsuru Obe
Source - http://blogs.wsj.com/japanrealtime/2014/03/06/japan-archaeological-find-shows-1400-year-old-roots-of-silk-weaving/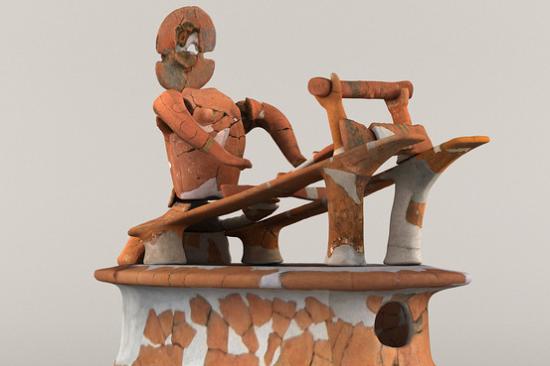 A terracotta image of a person weaving silk with a loom. The figurine was found in a sixth-century burial mound in Shimotsuke, 50 miles north of Tokyo. City of Shimotsuke education board 
Japan's prewar economic development depended in significant part on exports of one item–silk. Young girls recruited from poor farm families worked day and night to make Japan the world's biggest silk exporter, allowing it to purchase raw materials, warships and other Western industrial technology.
Now an archaeological find is showing the industry's ancient roots. In the first such discovery in Japan, researchers unearthed a terracotta figure depicting a woman weaving silk on a loom. The find came from a sixth-century burial mound, or kofun, in Shimotsuke, some 50 miles north of Tokyo.
The unglazed pottery figure, known as haniwa, provides evidence that techniques of silk weaving already existed in the sixth century and that women played a central role in the manufacturing of silk at that early date.
Shimotsuke used to be a major silk manufacturing region, with the local silk industry designated by the United Nations Educational, Scientific and Cultural Organization as an example of intangible cultural heritage.
Immigrants from China are believed to have brought sericulture and silk weaving to Japan around the fifth century. Rice farmers grew mulberry trees and wove silk during the off-season.
The figure of a weaving woman, 69 centimeters high, was found near the burial chamber of an 80-meter-long tomb mound, where a local chieftain or a prominent weaver was apparently buried, said Tomonori Kimura, a official in charge of cultural affairs for the city of Shimotsuke.  The city unveiled the find this week.
Silk was apparently used to make kimonos and may have been offered as a gift to the court, according to the researchers.
They also discovered a clay figure depicting a more primitive loom, 22 other clay figures and some 360 unglazed pots.
Such grave mounds were built between the third and the seventh century by the ruling clan that went on to establish Japan's present-day imperial household. The practice was also widely adopted by local chieftains.
Various kinds of terracotta figures were buried with the dead, including horses, birds, swords, shields and soldiers. The exact reason for such clay offerings is not known, but Mr. Kimura speculated that they may have been meant to honor the achievements of the deceased during his or her lifetime.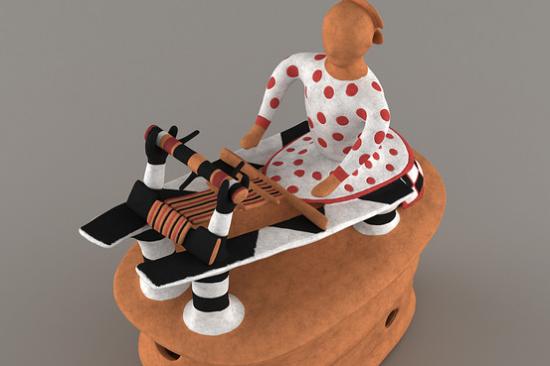 This reconstruction shows what a sixth-century figurine of a woman weaving silk might have originally looked like. City of Shimotsuke education board