Shallow grave bones linked to Burke and Hare
Shallow grave bones linked to Burke and Hare
Rory Reynolds
Source - http://www.scotsman.com/lifestyle/heritage/shallow-grave-bones-linked-to-burke-and-hare-1-3256053
The death masks of notorious Edinburgh grave robbers Burke & Hare. Picture: Rob McDougall
Bodies found buried in a shallow grave behind an upmarket townhouse are believed to be among the final victims of the callous body snatchers made infamous by Burke and Hare.
Five skeletons found in an Edinburgh garden have been dated directly to the period in which the theft and sale of cadavers was rife, Scotland on Sunday has learned.
Experts have said the four adults and one child may well have been victims of the "resurrectionists" who plied their trade in selling recently dead bodies to medical schools.
The discovery by construction workers was made in September 2012 in a garden to the rear of a large townhouse on Grove Street in the Haymarket area of the capital, which was undergoing renovation.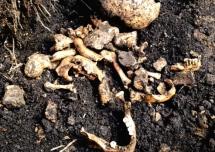 Archaeologists have only now determined that the five date back to the early 19th century following studies by Historic Scotland and consultants Guard Archaeology.
Altogether around 60 bones were found, including four adult jawbones and others believed to be from a child.
The bodies are thought to be those of criminals or dwellers of the poor houses. Those that were not claimed were frequently used for either dissection, to be anatomical skeletons, or both.
Irish immigrants William Burke and William Hare murdered 16 people in Edinburgh in 1828 and sold the bodies as dissection material, but it is thought unlikely that the pair were responsible for the five found in Grove Street as the notoriety of their crimes means that all their victims are believed to have been accounted for.
John Lawson, from the Edinburgh City Council Archaeology Service, was the first to examine the remains on site.
He said: "At the end of the Enlightenment period there was significant demand for cad­avers and which indeed outstripped supply, and that led to a thriving illegal trade, with Burke and Hare clearly the most infamous of those who supplied bodies to medical schools.
"We can't rule out that those found on Grove Street were sold by the resurrectionists, as they were called, although it might be a stretch to say it was Burke and Hare themselves, given their crimes are well-documented."
He said that most would be used for dissection, with the skeletons of others used to teach anatomy to students.
But Lawson said it was still unclear why they would have been buried in the garden.
He said: "It is a very good question and one which we haven't been able to answer. 
It is possible that, given the fact they may have been acquired illegally, that someone should wish to bury them, or it could have been as simple as a house clearance. We will probably never know for sure. What we do know is that these were used to train the surgeons of the future and are a relic of our heritage, of that early stage of modern medicine.
"I'm not sure how far the project will go but there are techniques to determine where the remains came from by the kind of water they drank, the diet they had.
"It was just a chance discovery but despite the length of time passed we always like to put the person into context, how old they were, how they died, who they were."
Maureen Kilpatrick, a lead archeologist at Guard, said: "We found four right-sided jaws and we also had enough bones likely to be a young person.
"There were quite a few little holes in them which were to cater for wires, which leads us to believe they were used for anatomical purposes.
"We found they were likely to date back to the early 1800s, and although there were no medical professionals living in the house, we believe they had friends who were."
Kilpatrick said that before the Anatomy Act of 1832, which came in following Burke's execution in 1829 and widespread public anxiety over the illegal trade in corpses, there was a thriving business in cadavers.
She said: "The act regulated the use of bodies for dissection and other medical uses, but before then grave robbing was not uncommon. And those that weren't stolen were often criminals who died in prison and those from poor houses. Edinburgh was a major centre for medical study at that time and both the university and the private medical schools around Surgeons' Square had a great need for bodies to train doctors.
"We'll never know if they were criminals or from poor houses, or equally if they were exhumed from their graves, and although we are still bringing our findings together it does appear we'll be left with a mystery."