Sempringham (G-B) - Dig unearths more than 45,000 medieval artefacts
Sempringham (G-B) - Dig unearths more than 45,000 medieval artefacts
Dig unearths more than 45,000 medieval artefacts in just seven weeks
Source - http://www.thisislincolnshire.co.uk/news/site-Medieval-marvels-excite-experts/article-3440540-detail/article.html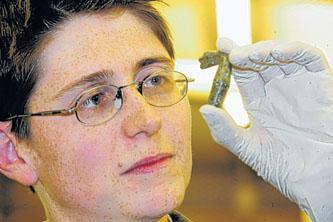 Collections officer Anthony Lee with a medieval copper alloy tap.
More than 45,000 medieval marvels unearthed in Lincolnshire have excited archeological experts.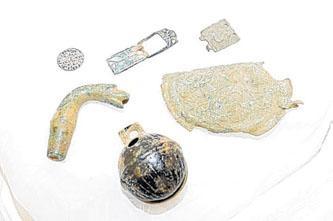 Some of the medieval finds.
The finds were brought into the light at a single site in Sempringham, south of Sleaford, during a dig that took ten archeologists seven weeks to finish.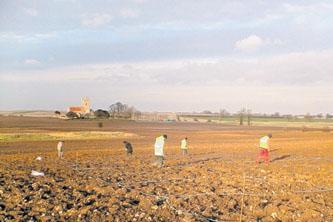 The dig site at Sempringham, near Sleaford.
Sempringham was once the focus of religious pilgrimages and aerial photographs of the area reveal a 12th-century abbey, comparable to Westminster Abbey in size.
Many of the artefacts are being housed at The Collection's archive in Lincoln and officers hope some of the finer finds will be on display for the public.
Archaeological collections officer Antony Lee said: "The finds have only just come to us. We have been waiting to get hold of them for a while because it is a very important site with some fascinating material coming from it.
"It continues evidence of the only monastic group in England so it is not only exciting because it is coming from a Lincolnshire site, but for those reasons too.
"We hope to be able to get some of the more impressive finds on display in The Collection so members of the public can enjoy them as well."
Among the finds was a very rare tap, from which water was drawn, that offered insights into the layout of the building.
Paul Cope-Faulkner, a medieval expert from Archaeological Project Services who participated in the fieldwork, said: "We didn't expect to find anything as extraordinary when we began the project.
"To unearth a tap in this condition is incredibly rare; only six similar items exist in the country.
"During the dissolution of the monasteries in 1538, Henry VIII disposed of their assets and metal items such as this were usually put into furnaces and melted."
The tap's location helped the team to locate the nun's dining room, as hand-washing was part of a ritual performed before eating.
The priory that once stood at Sempringham was founded in 1139 as a home for the only English monastic order that catered for both men and women.
That it was the site of a former monastery was unknown until archaeological excavations conducted in 1939 by Lincolnshire Architecture Society revealed a layout of the buried Medieval monastery and the Tudor House and gardens that replaced it.
Andrew Wells, head of countryside management at The Crown Estate, which owns the site, said: "This is an astonishing find. The site has been used for agriculture, however, it will now remain fallow, becoming part of Natural England's higher level stewardship scheme.
"We are thrilled to be preserving the land and its historical features for future generations."